I created this dairy free coffee ice cream recipe especially for my boyfriend. He loves coffee ice cream, but always feels terrible after having store-bought ice cream. I tested another coffee ice cream recipe made with a little bit of very strongly brewed coffee, but it turned out to be a failure because the water in the coffee created ice crystals which ruined the consistency. I found that actual coffee grinds works best because you still have the nice ice cream consistency along with the strong coffee flavor. I used decaf so we wouldn't get a coffee buzz, but if you do want that buzz feel free to use regular!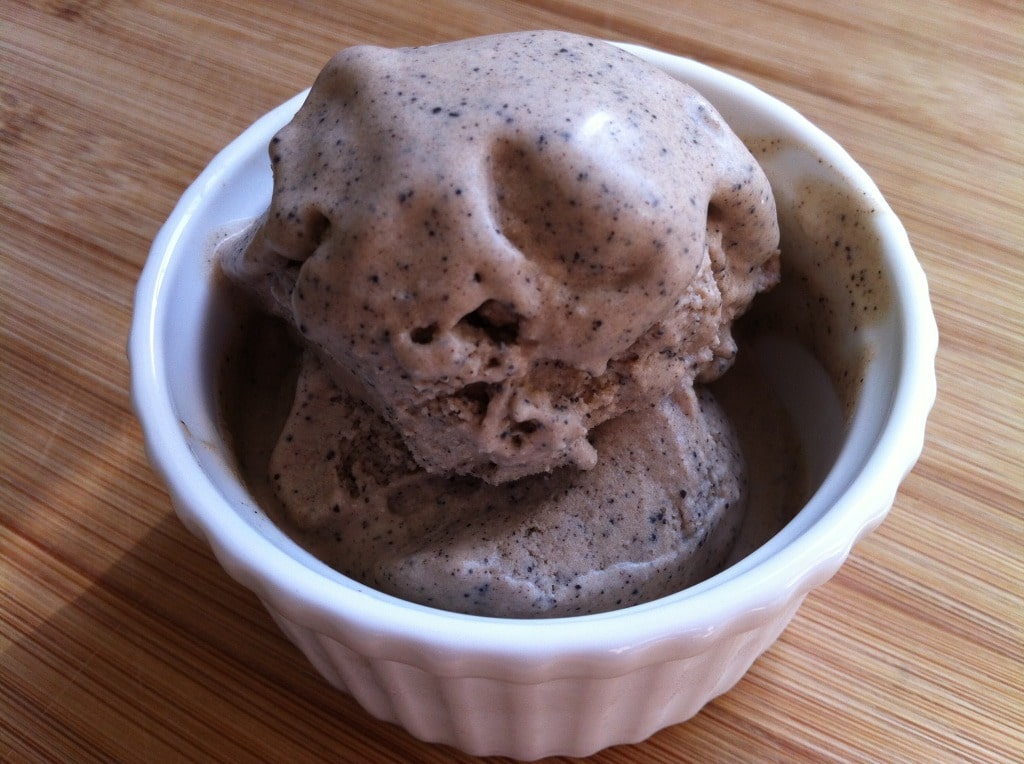 Dairy-Free Coffee Ice Cream Recipe:
Serves 1-2
2.5 tbsp raw honey
1/2 tsp vanilla
1/4 tsp salt
2 tbsp decaf coffee grounds
1. Make sure that your coffee is ground very finely. If you have one of these coffee grinders, it should word fine as long as you grind it until it's a fine powder. If you're using a large or commercial grinder, make sure it's set to espresso.
2. In a bowl combine all ingredients and whisk well.
3. Let cool in the fridge for a while (some ice cream makers suggest that you do this before you start churning).
4. Follow directions for your particular ice cream maker.
If you don't have an ice cream maker, but would like to make homemade ice cream, consider getting one! You can get a pretty inexpensive one like this for about $25 or you can get a really fancy one like this for about $85. I bought a lower end one a few years ago for about $25 and it's nice to have around on hot days when you want a cool treat. Mine's not an amazing fancy ice cream maker because I don't use it all the time, but it gets the job done and is nice to have around. I can make frozen yogurt, dairy-free ice cream and raw milk ice cream without additives and processed sugar!
Like what you've read? Use the box below to sign up for my FREE newsletter to keep up to date on my latest posts!
Subscribe to the FREE newsletter
This recipe was included in the following blog link ups:
Disclosure of Material Connection: Some of the links in my blog are  "affiliate links." This means if you click on the link and purchase the item, I will receive an affiliate commission. Regardless, I only recommend products or services I use personally and believe will add value to my readers. I am disclosing this in accordance with the Federal Trade Commission's 16 CFR, Part 255: "Guides Concerning the Use of Endorsements and Testimonials in Advertising."
FREE "6 Easy Tips to Quit Sugar" Guide!
By submitting your name and email you are consenting to receive a free copy of "6 Easy Tips to Quit Sugar" as well as regular newsletter emails from Healy Eats Real including information about our products and special offers. You can unsubscribe at any time.