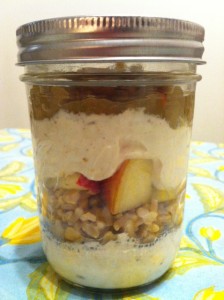 Do you know how to stay full in the morning? Do you ever have breakfast and then get hungry an hour later? It's probably because you're not eating a truly balanced breakfast. This used to happen to me all the time and I didn't realize that what I thought was a "healthy breakfast" was actually incomplete. I call this one the Power Breakfast Parfait because it has all the elements of a delicious and healthy breakfast that will keep you full all morning and provide you with important nutrients. The protein in the yogurt and the fiber in the apples and applesauce will help keep you full. The sprouted oats are high in antioxidants. The probiotics in the lacto-fermented apple sauce promote better digestion. There are no processed sugars to overwork your body and make you suffer from a sugar crash, and the chia seeds and ground flax seeds contain omega-3 fatty acids. I now have some variation of this parfait for breakfast just about every morning. It's a great way to start the day! I sometimes assemble a few of these for the week and then have an easily accessible quick breakfast to pull out of the fridge in the morning.
Power Breakfast Parfait
Ingredients
1 cup unsweetened yogurt of your choice
1 tbsp palm sugar or honey
1 tbsp ground flax seeds
1 tbsp chia seeds
½ cup cooked sprouted oats or oat groats Where to buy sprouted oats
⅓ cup chopped apple
⅓ cup lacto-fermented apple sauce from the coconut mama
Instructions
Before assembling the layers of the parfait put the yogurt in a separate bowl and sweeten it with either palm sugar or honey, then add the ground flax seeds to the yogurt and mix well.
Layer the ingredients in a pint-sized jar. Of course, you can add the ingredients in any order you want, but this is the order I did: First, put in half of the yogurt, then add the chia seeds, then the oats, follow that with the apples. After the apples add the rest of the yogurt and top it off with the applesauce.
This post was included in the following blog link ups:
Real Food Forager- Fat Tuesday
The Healthy Home Economist- Monday Mania
Simply Sugar & Gluten Free- Slightly Indulgent Tuesday
Kelly the Kitchen Kop- Real Food Wednesday
Natural Mothers Network- Seasonal Celebration
The Nourishing Gourmet- Pennywise Platter
Food Renegade- Fight Back Friday
Get My FREE "6 Easy Tips to Quit Sugar" Guide!
Get instant access when you subscribe!

Get My FREE "6 Easy Tips to Quit Sugar" Guide!
Get instant access when you subscribe!