I have to say, I'm so excited to tell you about how to stop cramps by including this one food in your diet! Ever since I can remember, I've had pretty severe cramps and the fact that I've experienced relief because of this food makes me so happy!
My experience with painful cramps:
Over the past couple years I've tried a lot of stuff to stop my cramps and nothing really worked. I didn't want to have to take ibuprofen every month because it can be very hard on your liver and gut, but I just couldn't avoid it, the pain was too much and if I didn't take ibuprofen, I would be suffering.
Want Even More Delicious Sugar Free Paleo Recipes??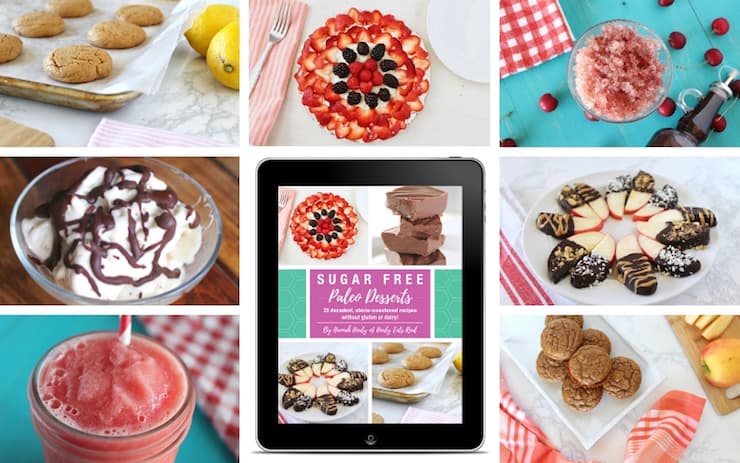 Now you can satisfy your sweet tooth and stay on track of your healthy diet with indulgent delectable paleo sweets and treats that are SUGAR FREE. This keto chocolate chip cookie recipe and others like it are featured in my ebook
Sugar Free Paleo Desserts
...
My book Sugar-Free Paleo Desserts can help you stick to your sugarless lifestyle without feeling deprived of the joys of the occasional sweet treat.
Each recipe has been crafted to bring out the sweetness and flavor that the natural sugarless ingredients have to offer.
Imagine This...
Your daily sugar cravings GONE
Your appetite normalized
Being able to enjoy a sweet treat without it causing a sugar binge or cravings
Having more energy and actually feeling ready and willing to get out and experience life
Clearer skin when you look in the mirror in the morning
Dropping down on the scale without much effort
Enjoying the flavor of healthy foods again without having to add tons of salt or sugar
All 35 recipes in Sugar-Free Paleo Desserts are gluten-free, grain-free, dairy-free and sugar-free...but you wouldn't even be able to tell from the decadent richness of the 3-ingredient fudge or the creamy brightness of the coconut cream fruit tart. Sugar Free Paleo Desserts Cookbook includes over 30 delicious recipes like…
♦ Rich Chocolate Fudge … ♦ Watermelon Slushie… ♦ Chocolate Nut Butter Cups… ♦ Cookie Dough Balls …AND MORE!
My
Sugar Free Paleo Desserts
ebook provides the flavorful nutritious recipes that hits the sweet spot every single time...all without added sugar! Treat Yo Self! You owe it to yourself to have a delicious treat without having to resort to unhealthy processed sugar-laden desserts…
There are a lot of other things that contribute to PMS like a poor diet or foods containing phytoestrogen like soy, but I feel like I had done everything including fixing my diet and lifestyle and STILL had cramps. Keep reading to find out which food really helped me stop cramps!
Menstrual Cramps Are A Sign of Hormonal Imbalance–You're not supposed to have them!
I learned this valuable information from the book Quit PMS, which I highly recommend! It has so much great information on what causes painful cramps and how to stop cramps naturally.
The #1 Food that Stopped my Cramps: MACA
I'm just as amazed as you are. I'm all about natural holistic health, but I've never thought that just adding maca to my diet would have such an immediate and strong reaction. I learned about it from the book Quit PMS which explains how maca can:
• Aid in the body's response to stress
• Increases libido
• Improve energy
• Reduce PMS
Maca is a root vegetable native to South America. It is what's known as an adaptogenic substance that is known for it's ability to balance hormones naturally and even boost libido. It's even referred to as "Natural Viagra".
I won't get too personal with this post, but let's just say that I definitely noticed the "increased libido" aspect of it as well as the hormonal balancing part.

How to choose the right kind of Maca
When buying maca make sure you get raw or at least low-temperature processed so that the beneficial properties are intact. If you get maca that has been heat treated it may not have the same effectiveness.
I like to use this powdered form of maca that is raw and organic.
How to Stop Cramps with Maca
My favorite way of incorporating maca into my diet is by putting it in smoothies. I usually have a smoothie every other day for breakfast, so I include about 1/2- 1 tsp of maca in my smoothie every other day.
You can also get creative and make recipes with maca. You can add it to baked goods or make things like chocolate maca truffles.
If you don't like the flavor or are out of ideas for adding maca to your food, you can also try taking maca supplements like these.
Other Ways to Stop Cramps if Maca Isn't Working for you:
Even though maca was a godsend for me, our bodies all respond differently to natural treatments, so it is possible that maca may not have the same effect for you.
There could be a number of other factors that are contributing to your PMS like poor diet, lack of exercise, hormonal imbalance, elevated stress levels or toxic overload.
Luckily, Quit PMS can help you figure out what works for you. It is a comprehensive guide that covers:
Estrogen dominance
Macronutrients
Hormone balancing
Good foods for periods
Bad foods for periods
Detoxing
Stress reduction
Supplements
Better period products
This article from thank your body or this one from our small hours is also helpful when trying to figure out the source of your cramps.
Good and Bad Period Foods
One of my favorite things about Quit PMS is that it lists "bad period foods" and helps you eliminate foods like vegetable oils, soy, nuts (for some people) and other foods that contribute to PMS.
It also contains information on "good period foods" like fermented foods and healthy fats like coconut oil that help combat cramps.
There are 35 recipes included in Quit PMS that support healthy hormone function and help eliminate PMS.
If you want to learn how to naturally balance your hormones, learn about the right foods for your period and stop PMS symptoms once a for all, get Quit PMS!
Healy Eats Real readers get a
special discount coupon

for Quit PMS! Use

HEALYEATSREAL

at the checkout for

25% OFF

!
You'll also get a
FREE BONUS

ebook "Superfoods to Avoid"!
Did you like this post? Give it a +1 below!
FREE "6 Easy Tips to Quit Sugar" Guide!
By submitting your name and email you will receive a free copy of the 6 Easy Tips to Quit Sugar Ebook and are consenting to receive regular newsletter emails from Healy Eats Real including information about our products and special offers. You can unsubscribe at any time.