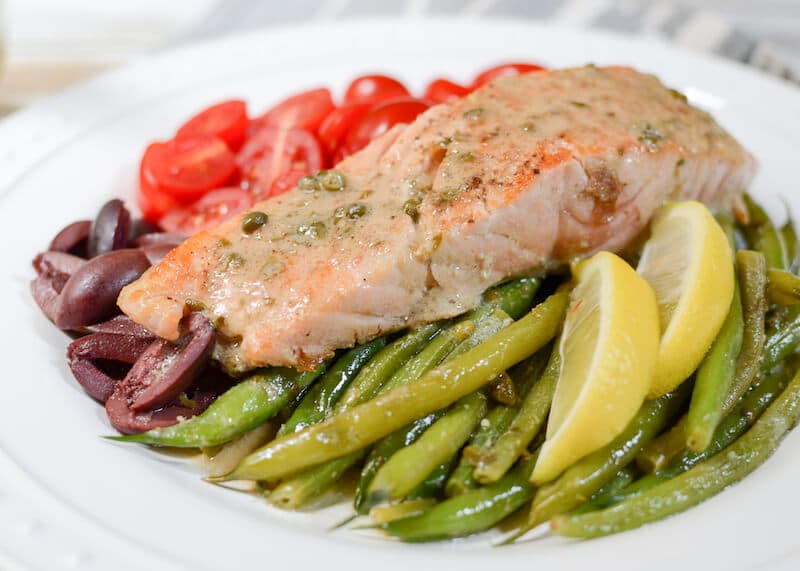 This fresh Salmon Nicoise Salad Recipe tastes like a "treat yourself" meal, but it's deceptively easy to prepare and the flavors are craveable. In my opinion, few foods taste better than a perfectly cooked salmon filet. Juicy and succulent with a soft, buttery mouth feel – this health powerhouse feels so indulgent.
I love to prepare salmon at home because it's more affordable than ordering it at a restaurant and because it's quick and versatile. You can grill, broil, poach, or bake salmon. I like to pan-sear it on the stovetop because it cooks quickly and I can keep an eye on it. I cook my salmon filets quickly — just a couple of minutes per side to bring it to a "medium" temperature — but feel free to cook yours longer if desired.
This recipe uses bright, distinct flavors – vinegar, mustard, capers, olives – and they all work well together, lightly perking up your crisp veggies and mild salmon. I made this dish on a Sunday afternoon and by Monday morning I had finished the second portion for breakfast. I just couldn't stop thinking about it until it was gone!
I always use wild salmon because there are all kinds of dangers to eating farmed salmon!
Salmon Nicoise Salad Recipe:
Salmon Nicoise Salad Recipe with Mustard and Caper Dressing
Ingredients
1 garlic clove, minced
3 tablespoons red wine vinegar
1 tablespoon whole grain mustard
1 tablespoon capers, rinsed and minced
¼ teaspoon sea salt, plus more to taste
2 tablespoons, plus 2 teaspoons olive oil, divided
¾ pound green beans trimmed
2 6-ounce wild salmon filets
Black pepper, to taste
1 pint grape tomatoes, halved
⅓ cup pitted Kalamata olives, halved
Lemon wedges, for serving
Instructions
In a large bowl, combine garlic, vinegar, mustard, capers, and ¼ teaspoon of the salt. Whisk in 2 tablespoons of the oil. Transfer 1 tablespoon of this dressing to a small bowl and set both aside.
Steam green beans until crisp-tender, about 5-7 minutes. Transfer to the large bowl containing most of the dressing and toss to coat.
Meanwhile, season salmon with salt and black pepper as desired. In a medium nonstick skillet, warm remaining 2 teaspoons oil over high heat. Add salmon and cook until fish is opaque on one side, 1-2 minutes. Turn salmon, pour reserved dressing over it and cook until fillets are opaque on the surface and slightly translucent at the center, about 1-2 minutes more.
Divide green beans, tomatoes, and olives between two plates. Top each plate with a salmon filet. Serve with lemon wedges.
Danielle Cushing is a registered dietitian and the blogger behind The Every Kitchen. Her blog focuses on easy recipes using accessible ingredients that can be made in every kitchen. She also enjoys exploring how food nourishes our bodies and minds as well as our relationships with each other. Danielle writes from her home in Chicago where she lives with her dog and cat. Connect with her on Instagram @theeverykitchen.
Get My FREE "6 Easy Tips to Quit Sugar" Guide!
Get instant access when you subscribe!

*NOTE: Recipes on this site have only been tested with the exact ingredients listed on the post. I cannot speak on any substitutions made to the original recipe.
Get My FREE "6 Easy Tips to Quit Sugar" Guide!
Get instant access when you subscribe!