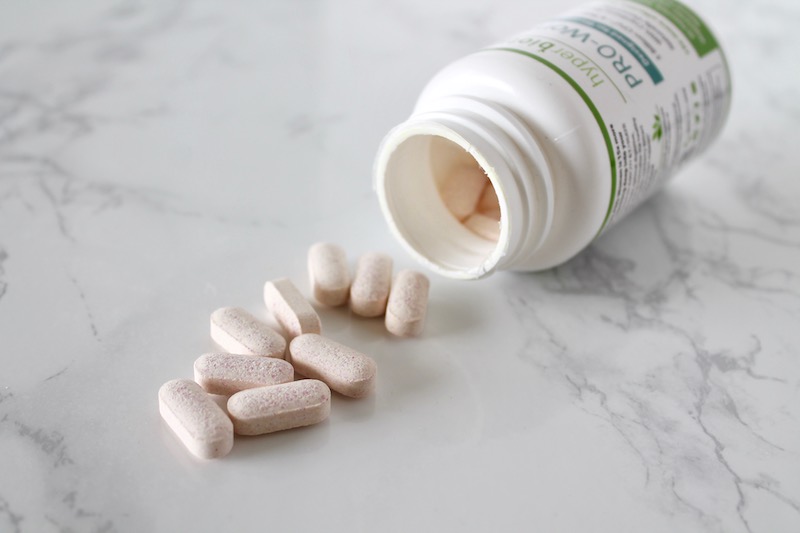 There are many health benefits of probiotics for women. You may think that probiotics are just for digestion, but there are lots of ways they can support womens' health specifically.
For a long time, bacteria was thought of as a bad thing, but over the past several years we've learned that bacteria is a very important part of the body. Every one of us has what's called a microbiome, which is the collection of good and bad bacteria that live within us.
Having a healthy microbiome with lots of good bacteria is so important for overall health. Probiotics are basically good bacteria to help keep our insides happy and running smoothly!
The Probiotic I Recommend…
Hyperbiotics is an excellent brand of probiotics available at Target that I recommend for staying balanced.
5 Health Benefits of Probiotics for Women
1. Supports a Healthy Balance of Yeast
As many women know, having a good balance of vaginal yeast is so important.
That is why taking probiotics can be so beneficial for supporting a healthy balance of yeast, because they can keep the body filled with good bacteria (probiotics).
Certain probiotics strains like Lactobacillus Rhamnosus and L. Fermentum help maintain normal vaginal flora.
That is why I love Hyperbiotics Pro-Women because it includes L. Rhamnosus and L. Fermentum for supporting vaginal flora.
2. Promotes Digestive Health
Having healthy digestion is a huge part of feeling your best.
Healthy eating, regular exercise, lowering stress and making sure your gut has a wealth of good bacteria can all contribute to a healthy digestive system.
Probiotics help to bring beneficial bacteria to aid in a happy gut!
3. Supports Healthy Urinary Tract
A healthy microbiome within the body that includes lots of good bacteria is essential for urinary tract health. Furthermore, additional support from D-mannose (the compound found in cranberries) can help maintain a normal urogenital environment.
Hyperbiotics Pro-Women combines probiotics, D-Mannose and cranberry extract to maintain a healthy urinary tract.
4. Boosts the Immune System
A large amount of immune cells reside within the gastrointestinal system. Keeping a healthy gut is crucial for a good functioning immune system.
Good bacteria in the gut does all kinds of things to support your immune system and keep you feeling your best.
Probiotics are just that…good bacteria, so they can promote a good functioning immune system.
5. Supports Good Energy Levels
Feeling tired when you have things to do is the worst! I know personally how tough it can be to get through your busy day when you're feeling like snoozing.
Probiotics may help with supporting energy so you can keep your day going without crashing!
The Best Probiotic for Women
Hyperbiotics Pro-Women blend is the perfect resource for those who want all the benefits of an effective probiotic while also getting additional targeted support especially for women.
Hyperbiotics Pro-Women can aid in balancing yeast
Hyperbiotics Pro-Women supports a healthy urinary tract
Hyperbiotics Pro-Women may reduce bloating
Hyperbiotics Pro-Women contains D-mannose and cranberry extract
Hyperbiotics Pro-Women may support healthy weight loss
Hyperbiotics Pro-Women promotes a strong immune system and good digestion
So, now that you know all the amazing benefits of probiotics for women, make sure you #followyourgut to Target and stock up on hyperbiotics!
This post is part of a social shopper marketing insight campaign with Pollinate Media Group® and Hyperbiotics, but all my opinions are my own. #pmedia #HealthiestDaysAhead http://my-disclosur.es/OBsstV
These statements have not been evaluated by the Food and Drug Administration. These products are not intended to diagnose, treat, cure, or prevent any disease. Probiotics support many facets of overall health when taken regularly as part of a balanced diet and healthy lifestyle.