If you are aiming for an effective adrenal fatigue diet to help you recover, it is so important to avoid these six common foods. When you have adrenal fatigue, the food that you eat can be either incredibly healing or very harmful.
If you live an extremely high-stress life, fueled by very necessary gallons of coffee, lattes, and espresso, you are a prime candidate for adrenal fatigue. In our fast-paced, technologically-intimidating world, it's no wonder that adrenal fatigue has become so widespread.
What is Adrenal Fatigue?
Adrenal fatigue is a disorder caused by the exhaustion of our adrenaline-supplying adrenal glands. See, our body interprets stress as danger and starts flooding our body with adrenaline for fight or flight situations, until we completely deplete our adrenal stores.
In search for more adrenaline, our body begins stealing energy from our hormones like DHEA, progesterone, and cortisol. This cortisol imbalance sets off a cascade of issues like…
a rise in insulin
signals the body to begin storing fat for energy
slows the metabolism
preserves fat (in case you are starving and in danger)
So, if you seem to be gaining weight out of nowhere and yet you haven't changed your diet or exercise regime, adrenal fatigue might be the culprit.
Symptoms of Adrenal Fatigue
Feeling unusually fatigued all the time, often described as "my bones feel like lead." (the hallmark of adrenal fatigue)
An increasing inability/lack of desire to get out of bed .. . feelings of dread of rising in the mornings (this is a big one)
Great dizziness when standing up after sitting
Hair loss, especially around the outer eyebrow (common with Thyroid disorders, too)
Heightened cravings for salt and sugary foods
Fast weight gain, especially around the abdomen
Low blood pressure
Brain Fog
Loss of Libido
Food allergies and heightened allergic responses
The Importance of Replenishment and Rest
One of the most important things you need to know about adrenal fatigue is that you need to rest and take it easy on yourself in order to heal. In fact, treat your body like you are recovering from running a marathon, because those ultimate marathon runners often end up with adrenal fatigue after those stressful events . . . and end up in the same place you are. Simply over-exercising can make adrenal fatigue worse too.
Although the right diet and supplements help to heal adrenal fatigue, it's equally important to address stress with rest, meditation, low-impact exercise (like yoga, walking and swimming) and affirmations.
The Importance of a Healthy Foods on an Adrenal Fatigue Diet
How we eat is drastically important for healing and protecting the adrenal glands. So, if you are suffering with constant tiredness, you should strive for an adrenal fatigue diet plan that is full of healthy whole foods like…
You don't want to go too low on carbs either since this can actually make adrenal fatigue worse. You need to avoid anything that creates any kind of "roller-coaster-y" effects in the body.
6 Foods to Avoid On Any Adrenal Fatigue Diet:
The worst enemies of adrenal fatigue, like the foods below will spike blood sugar and further deplete you of very precious hormones; ones that work to keep you happy and energetic.
1. Sugar
When we eat sugar, our body signals the adrenals and pancreas to begin churning out more insulin and cortisol to process sugars. Long term use of sugar contributes to low levels of key hormones, like estrogen and cortisol (this is why adrenal fatigue causes the low libido). This further demand upon the stressed out adrenal glands, inhibits recovery from adrenal fatigue at every turn, leaving you even more exhausted.
Avoiding sugar for your adrenal fatigue diet might sound depressing for sugar lovers, but you cannot signal the body to begin the healing process until you do! Period. Click here for some great ideas on how to beat sugar cravings.
2. Soy
Soy is in our diet everywhere unless we take great steps to avoid it. Soy can block iodine absorption in our bodies (this is the source of salt cravings so common with adrenal fatigue!). And women need iodine to avoid thyroid disorders of all kinds.
Soy is also a phytoestrogen (a compound that mimics real estrogen) and we need our real estrogen badly with adrenal fatigue. But soy begins competing with our natural estrogen, reducing its effects within our body. The result? Depression, weight gain, and a slowed metabolism (like with menopause).
3. Dairy
If you have adrenal fatigue it's best to avoid any foods that you might be allergic or sensitive to and do not know it. Adrenal fatigue can aggravate and worsen food allergies, causing great stress in the body that leads to chronic fatigue. Plus, dairy contributes to part of that swollen middle you get with adrenal fatigue (some of that is also inflammation).
Even if you are not lactose intolerant you might be casein intolerant. Casein is a protein very similar in molecular structure to gluten, and most people who are gluten intolerant are casein intolerant too.
4. Alcohol
Alcohol is rich in simple carbs and is a quick stimulant that people with adrenal fatigue often crave. It is also one you should avoid like the plague. Alcohol is what is called a "naked carbohydrate." It sets off a blood sugar rollercoaster that will worsen adrenal fatigue.
Alcohol's harsh demands on the adrenal glands ultimately exhausts the system. Like sugar feasts and caffeine-filled drinks, alcohol might temporarily mask the symptoms of adrenal fatigue, but will ultimately lead to worse ones.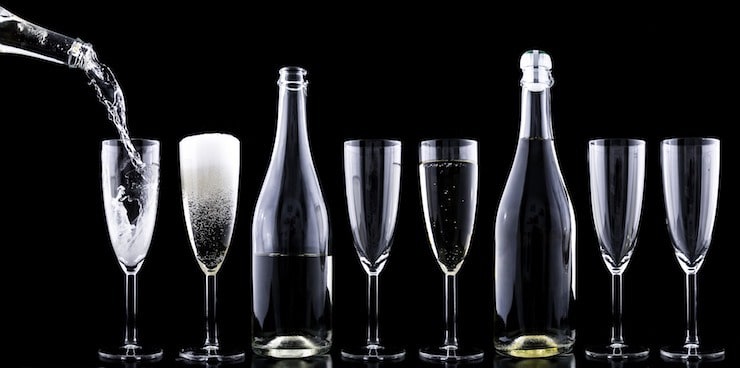 5. Gluten
If you really want to heal from adrenal fatigue, you first have to unearth all the causes which could be contributing to and exacerbating this disorder. If gluten intolerance is one of the causes behind your adrenal fatigue (and food allergies are just another form of stress upon the system), you need to address this if you can even hope to get better.
Gluten intolerance, like adrenal fatigue, causes like symptoms of inflammation, weight gain, and that draining fatigue you are experiencing.
An undetected gluten sensitivity will send you into the late stages of adrenal fatigue if left unaddressed. Elimination diets are key in unearthing all disorders that are stressing your system and contributing to your adrenal fatigue in order to recover.
6. Caffeine
I left the hardest one for last. Part of the reason we can throw ourselves into the late stages of adrenal fatigue is that we've been using caffeine and other stimulants to get through the day.
But each cup of coffee or energy drink tells our adrenals to release our stress hormones again—further aggravating the very problem we are trying to heal.
In fact, it is the most counteractive behavior we can engage in, sadly.
Unfortunately, with adrenal fatigue we are so starved for energy that we use stimulants like coffee to get us through the day. But the truth of the matter is, your symptoms will get worse and you will drive yourself deeper into imbalance if you keep using caffeine to get you through the day.
Even though it will be really tough to stop drinking coffee in order to heal from adrenal fatigue, it really is the best thing for your body. It doesn't mean you can never have coffee again, but hold off until you've healed.
How to Test Your Adrenals So You Know What to Do to Heal…
Although the symptoms of adrenal fatigue can be very telling, the best way to really know what is going on with your adrenals and how to treat it is to test your adrenals with a salivary cortisol test. This is the best way to know whether your cortisol is too high or too low and will help you know what to do to get your energy back.
Unfortunately, most regular doctors don't offer this test, so you can either ask for one from a naturopathic doctor or order one yourself from True Health Labs like I do (this is the at-home test kit I get– use my code HEALY5 for 5% Off).
I get my adrenal testing done with True Health Labs and test every so often especially when I'm feeling extra fatigued and think something might be going on with my cortisol. I then go over the test with my nutritionist to figure out a plan of action and decide which supplements would help be based on my test results.
If you don't have a nutritionist or naturopathic doctor yet, using the tools in the The Adrenal Fatigue Solution book to help you understand your cortisol test can be very helpful as well.
True Health Labs offers a discount on their Thyroid and Adrenal tests to Healy Eats Real readers. Use code HEALY5 at checkout!
More Adrenal Fatigue Resources:
Sources:
About the author:
Rhonda McGary is a former literature and composition professor turned professional health and wellness content marketing specialist. She is also a certified chef and nutrition geek.