5 Worst Cooking Oils You Think Are Healthy…But Aren't
This post may contain affiliate links. As an Amazon Associate I earn from qualifying purchases. Please read the disclosure policy.
You may be surprised to find that some of the worst cooking oils are ones that you may have been told are "healthy". If you care about your health, make sure you're not using any of these five worst cooking oils.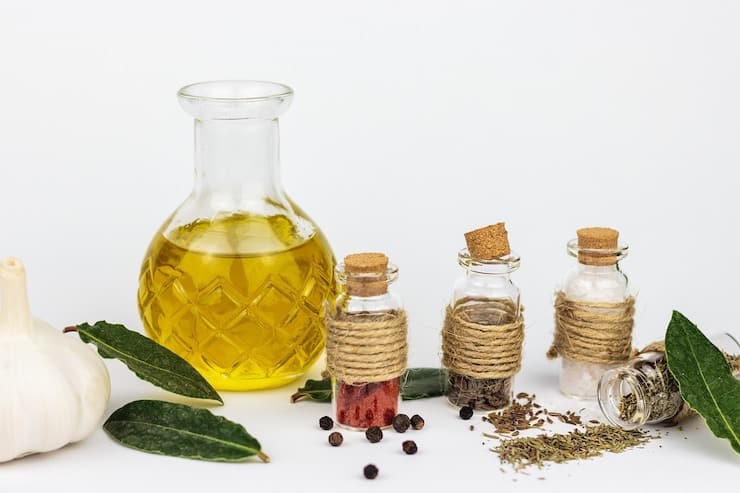 There is a lot of misinformation surrounding cooking oils in the media. This article goes through the scientific research to help clear up some of that information so you can make an informed decision about the best oils to use for you health.
When examining the healthy quality of cooking oils, there are three main things that we want to look at:
Whether it contributes to inflammation
The ratio of omega-6 to omega-3 fatty acids
How it is processed
Inflammation is the root of disease
The root of most diseases including heart disease, diabetes, arthritis, metabolic disease, cancer and more is inflammation. So one of the most important things to do for your health is to lower inflammation and avoid things that cause it.
So, what causes inflammation?
There are many different causes of inflammation, some of the biggest contributors are…
Inflammatory foods (sugar, fast food, factory farmed meat, processed food, alcohol, etc.)
Stress
Environmental toxins
Oils high in omega-6 fatty acids
Lack of sleep
Chemicals in cleaning products, cosmetics, etc.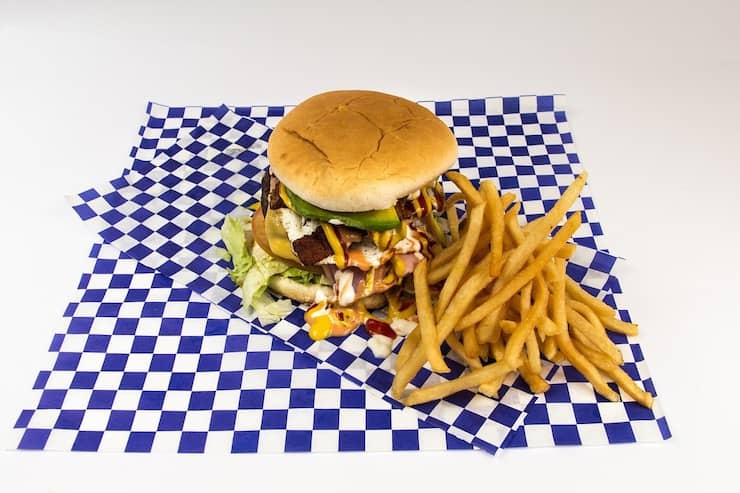 What are omega-6 fatty acids? And What do they have to do with inflammation?
Omega-6 and omega-3 fatty acids are polyunsaturated fats. Although they do play an important role in the cellular functions of our bodies, when they get out of balance, it can lead to a whole host of health problems.
In order to understand why omega-6 fats cause inflammation, we need to first talk about the importance of the ratio of omega-6 to omega-3 fatty acids in our diets…
The Ratio of Omega-6 to Omega-3 Fatty Acids is What Matters
Too much omega-6 fatty acids can cause inflammation, clogged arteries, heart disease and an increased risk of cancer.
This study shows that a high intake of omega-6 fats may contribute to a higher risk of breast cancer.
What ratio of omega-6 to omega-3 fats should we have?
The world health organization's (WHO) recommended ratio for omega-6 to omega-3 fatty acids is about 4:1, meaning that for every food you eat containing omega-3 fatty acids, you should eat no more than 4 times the amount of omega-6 fatty acids. There are even more conservative recommendations that it should be even lower, like 1:1.
The average ratio of omega-6 to omega-3 fatty acids in Americans is between 10:1 to 25:1! That is well into the red zone according to the WHO's recommendations.
This is surely because of the increase in the use of vegetable oils and corn and soy additives in almost every packaged food. The omega ratio in corn alone is 46:1!
Even foods like meat, eggs and dairy can be high in omega-6's because most animals are fed corn and soy. If you do eat animal foods make sure you get grass fed, pasture raised and organic to avoid high omega-6s.
So when we look at cooking oils, remember: High omega-6 content may be linked to higher chance of disease.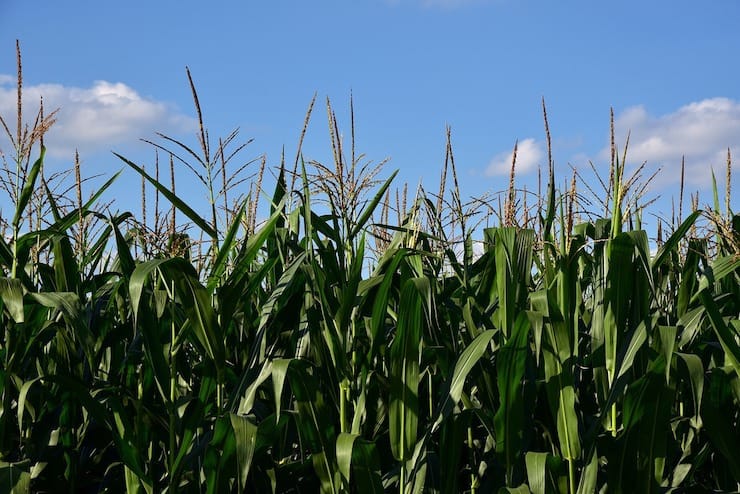 Is saturated fat actually bad for you?
Because of old faulty data (mainly the lipid hypothesis), mainstream medicine has been recommending oils low in cholesterol and demonizing saturated fats because it was believed that dietary cholesterol led to heart disease. This could not be farther from the truth. Dr. Johnny Bowden explains,
We've been taught [that saturated fat is bad] based on some research that was done in the 60's and 70's which has since been shown to be extremely faulty, that research couldn't even get published today, it's been taken apart, but most well meaning doctors who have no time anyway just don't have time to actually read the details of the research because in that research it shows pretty clearly that cholesterol doesn't really lead to heart disease. It's a bad predictor."
On the other hand, there is ample research that proves there is no connection between saturated fat, cholesterol intake and an increased risk in heart disease. A 2009 study found that…
A meta-analysis of prospective epidemiologic studies showed that there is no significant evidence for concluding that dietary saturated fat is associated with an increased risk of CHD [coronary heart disease] or CVD [Cardio vascular disease]"
Heart surgeon Dr. Dwight Lundell explains that cholesterol and saturated fat DO NOT lead to heart disease, but inflammation does. He goes on to say..
The injury and inflammation in our blood vessels is caused by the low fat diet recommended for years by mainstream medicine. What are the biggest culprits of chronic inflammation? Quite simply, they are the overload of simple, highly processed carbohydrates (sugar, flour and all the products made from them) and the excess consumption of omega-6 vegetable oils like soybean, corn and sunflower that are found in many processed foods."
Why does it matter how oils are processed?
Processing can contribute to the unhealthiness of cooking oils in a few ways..
Extraction leading to oxidation
Many processed oils are made from seeds or beans that are not very easy to extract oils from, so they have to use industrial power like intense heat to extract the oil. This process often leads to oxidization of the oils which create free radicals which are proven to contribute to disease.
Chemical solvents and bleaches
Many industrial processed oils use carcinogenic chemical solvents like hexane or bleaches to cover the rancid smell or flavor of the oil after it has been extracted.
5 Worst Cooking Oils that Aren't Really Healthy:
If you really want to know the background of why these oils below are not healthy and why you've been told the wrong information that they ARE healthy, make sure you read the information above.
1. Grapeseed Oil
I know this one is going to be a big shocker for a lot of people. Especially since grapeseed oil is constantly marketed as such a healthy cooking oil. Well, the "health" of grapeseed oil (and most of the other oils on this list) is all based on misleading information and myths about cholesterol and heart health (I've explained this all above, so if your skipping ahead, go back and read it if you really want to understand why grapeseed oil is not heart healthy!).
Grapeseed oil is about 70% omega-6 fatty acid which, as I explained above is way too many omega-6s. Too much omega-6s PUFAs causes inflammation which is the true cause of heart disease and can lead to other health problems like cancer and autoimmune disorders.
It is also an industrially processed oil, so it becomes oxidized while it is made.
Oils that are high in omega-6 polyunsaturated fats like grape seed oil are very fragile and therefore prone to oxidation. When an oil oxidizes it creates free radicals which can also lead to cancer, inflammation, hormonal imbalance and thyroid damage. Even cold pressed grapeseed oil may not be harmed during processing, but it is still high in omega-6s.
Most people consume too many omega-6s in the diet (from corn, soy and processed foods) so should work towards lowering them and raising omega-3s (from fish, seafood, flax and chia).
It's not going to kill you if you use a bit of grapeseed oil here and there, but it's not an oil you should be using all the time as your primary cooking oil.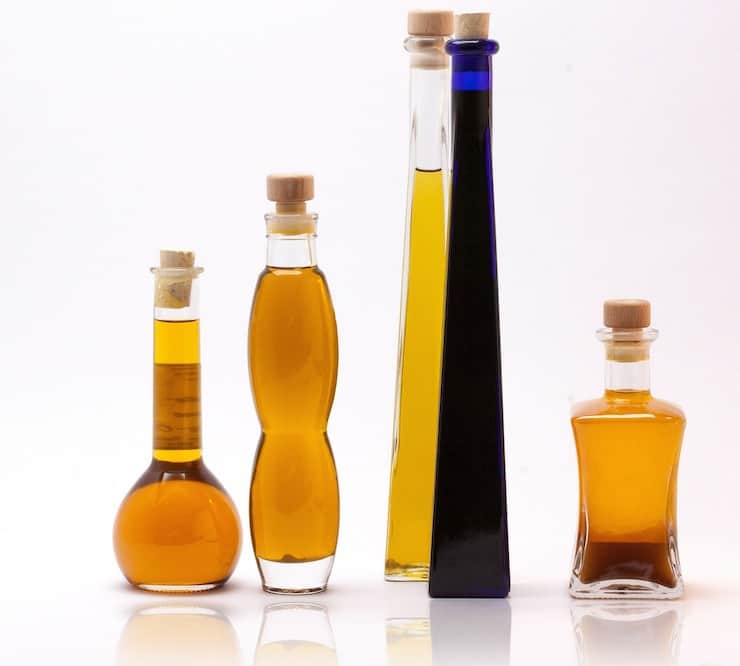 2. Canola oil
To create canola oil, one must take the crude oil that has been heat extracted from rape seeds (what canola oil is made from) and refine, bleach and deodorize it. The fact that canola oil is processed under high heat causes it to go rancid, which then creates the need for industrial carcinogenic bleaches and deodorizers like hexane.
Even though the rapeseeds that canola oil is made from contain omega-3s fatty acids, these fatty acids are fragile and subject to oxidation through heating. If you think about it, other oils that are high in omega-3s would never be used for cooking. Fish oil and flaxseed oil are high in omega-3s, but are never heated because they are sensitive to oxidation. If you look at a label of a flax seed oil bottle it will say not to heat it.
Like I mentioned before, cold-pressed oils that are not heat treated in a factory with chemicals are still fragile oils. They will oxidize and become rancid once you cook with them.
Unfortunately, people have been told for so long to avoid saturated fats and replace them with refined oils that they have an imbalance of omega-3 to omega-6 fatty acids. Is it any wonder that heart disease is still the leading cause of death in the US?
3. Vegetable oil/Soybean oil
Although vegetable oil sounds nice and natural because it seems like it's made of vegetables, about 99% of the time a bottle of vegetable oil is actually just soybean oil. You can even look at the ingredients in a bottle of vegetable oil next time you go to the grocery store… you'll likely see just one ingredient "soybean oil."
Soybean oil is 54% omega-6, which like I discussed above is too much omega-6 and can lead to inflammation and health issues.
Soy is something that is best avoided or at least reduced in consumption unless it is fermented (like tempeh, natto or fermented soy sauce). Soy is high in phytic acid and trypsin inhibitors which means that it blocks the absorption of many vitamins, minerals and proteins.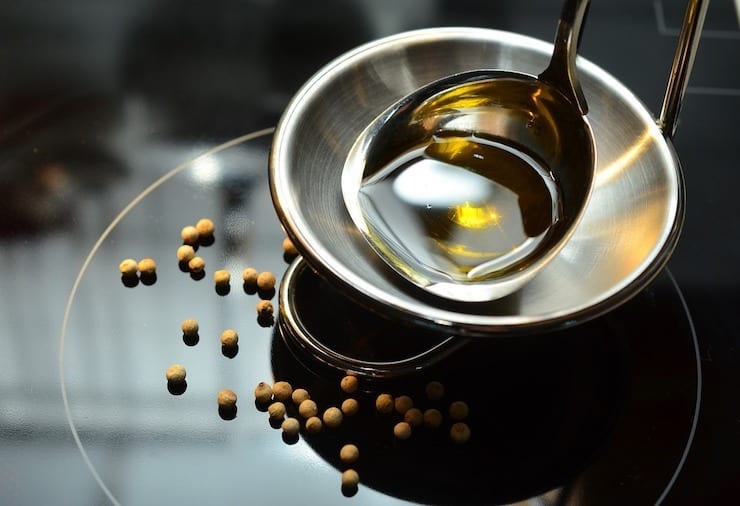 4. Margarine or Vegan Butter Substitutes (Earth Balance)
For a long time margarine was a danger because it was high in trans fat which contribute to heart disease. However, nowadays people are wise to the dangers of trans fats, so most margarine does not contain trans fats, but it's still not a good choice for consumption.
Butter substitutes like margarine, smart balance and earth balance are mostly a mix of canola and soybean oils. You can revisit #2 & #3 of this list to read more details about why these oils are not healthy, but basically, soybean oil is too high in omega-6 fatty acids which can lead to inflammation and other diseases. Canola oil is highly processed and treated with chemical deodorizers and solvents.
On top of that, Earth balance also includes corn which is notoriously high in omega-6 fatty acids.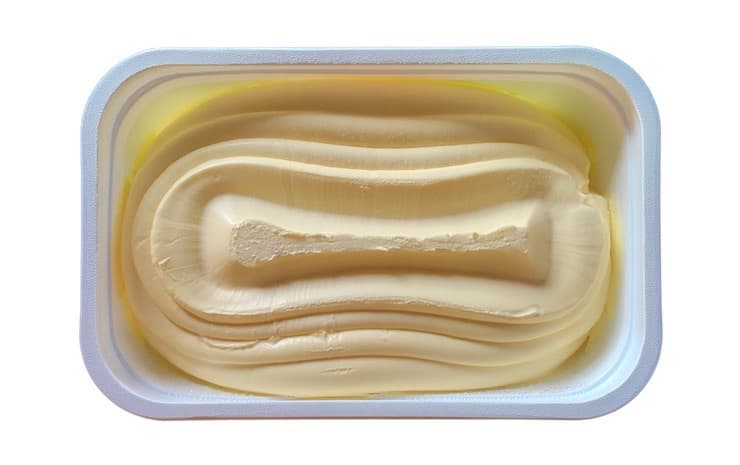 5. Corn Oil
There is a popular misconception that corn is a vegetable. It is actually a grain. Corn originated and was bred from a tall grass-like plant that somewhat resembled wheat.
Corn oil has 58% omega-6 fatty acids, which, like I mentioned above is too high and can lead to inflammation.
Which Cooking Oils Are Healthy?
So, now that we've covered which oils are unhealthy, you probably want to know which oils are good to use. Want to know which oils specifically are healthy and why? Check out my article 6 Healthiest Cooking Oils.
This article was originally published in September of 2013, but has been republished in July 2018 to include updated research.
Sources: