In my house, we try to use as many natural household products as possible and that includes cleaning products, soap, deodorant, etc. Buying all of that natural stuff at the store can be costly, but it's really pretty easy to make most of it at home. Which is why I'm sharing this DIY shaving cream recipe.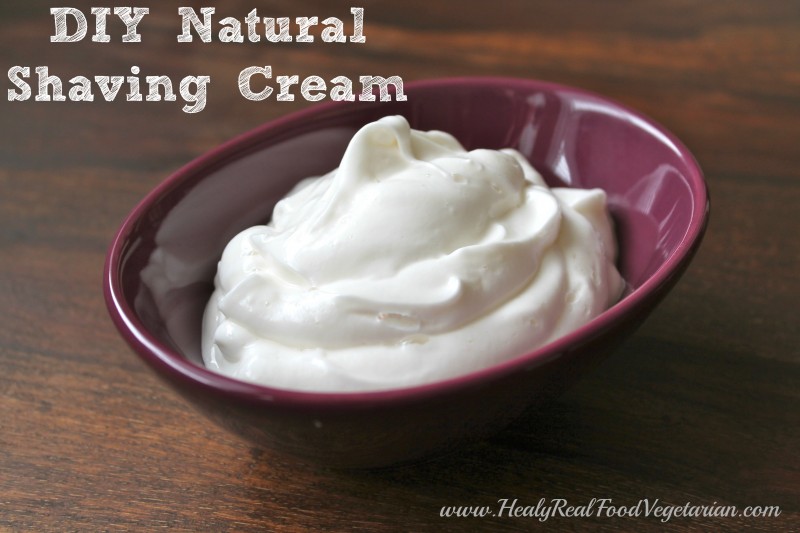 My boyfriend had been using a very chemically laden store-bought one, so I told him I would make him some. He wanted it to be just like the ones out of the cans that are nice and fluffy, so I'm glad I was able to "whip" this one up… pun intended!
This will last quite a while in the fridge, I think I've had mine last in the fridge for at least 3 weeks, probably more. What my boyfriend does is he keeps a few days worth in a jar in the bathroom for easy access and refills it from the stash in the fridge when it runs out.
Why I use Young Living Essential Oils:
For this recipe and ALL recipes, I use Young Living Essential Oils. Yes, you can buy essential oils anywhere, but they are not always going to be pure and 100% therapeutic grade, which means that they might not even be effective for the uses that you want them for!
I only choose Young Living because after doing some research and comparing different companies, I've found that Young Living seems to be the most reputable company. I love the fact that unlike most other companies, Young Living actually owns and operates farms to cultivate plants like lavender, oregano, sage, frankincense and more which are used in their oils. Young living also goes to great lengths to guarantee and test oil purity and strength. Their oils are of the best quality and are safe and effective 100% pure therapeutic grade. I've even compared them to my store-bought brands and definitely notice a difference.
Essential Oils You Should Have in Your Home:
Some of the best and most versatile oils to use in many health and wellness applications are lavender, frankincense, peppermint, lemon and some special Young Living blends like thieves, purification and pan away.
If you're interested in getting into the many amazing uses of essential oils, I highly recommend the premium starter kit. It is an amazing value and contains all of the oils mentioned above, plus a home oil diffusor and more! Click here to see the full list of products in the premium starter kit.
If you want to sign up to get essential oils at wholesale prices (24% OFF) click here to learn more.
How To Make DIY Shaving Cream:
Supplies needed: Hand mixer or hand blender
1/4 cup coconut oil (where to buy coconut oil)
1/4 cup liquid castile soap (like this)
2 tbsp cocoa butter or shea butter
2 tsp baking soda
2 drops melaleuca oil aka tea tree (where to buy quality essential oils)—melaleuca oil has a cleansing effect and is great for skin care. Other good oils to used would be frankincense or lavender.
1. Slightly heat the coconut oil and cocoa butter together in a double boiler so they melt, then put them in a bowl.
2. Add the castile soap, baking soda and tea tree oil to the bowl. Then use a hand mixer (like this one) to whip the ingredients. This will create a nice fluffy foamy shaving cream. You can also use a hand blender, but it may not be as fluffy, but it will still work.
**It will last a few days unrefrigerated, but it's best to keep it in the fridge. It will harden in the fridge, so make sure you thaw it before using again. After it has been in the fridge it may not be as fluffy as it was to begin with, but it still works as is, and you can always beat it with the hand mixer again.
✕
Get Your FREE "5-Minute Essential Oil Recipes" Ebook & Join the Essential Oils E-Course!
Get easy 5-minute EO recipes to detox your home. PLUS join the email course to learn how essential oils can support a healthy immune system, digestion, skin, sleep & more!
By submitting your name and email you are consenting to receive regular newsletter emails from Healy Eats Real including information about our products and special offers. You can unsubscribe at any time.