What is the ketogenic diet and can it help you? You may have heard about keto for rapid weight loss, but is it safe and effective?
The keto diet is a popular diet for weight loss, but it may not be suitable for everyone. Learn about who can benefit most from this diet, tips for trying it out and who may want to stay away.
Yet another diet fad explodes into mainstream media promising results of fast weight loss and better health. But is it really a fad and does it do what it promises?
The ketogenic diet is actually not a fad at all. In fact, it is a low-carbohydrate diet that has been around since the 1920's. It was first used to treat patients with epilepsy by researchers at Johns Hopkins University.1
Fasting, or depriving the body of fuel, including fuel from carbohydrates, has been found to decrease appetite, body fat, cholesterol, and balances blood sugar. Scientists found that by following a ketogenic eating pattern, patients were able to achieve the same results as fasting.
How do you eat during a ketogenic diet?
The ketogenic diet gets most of it's caloric intake from good fats like fatty fish, avocados, coconut oil, olive oil and animal fats like ghee and tallow. Don't be afraid of saturated fats! The macronutrient makeup of a keto diet is roughly 75 percent dietary fat, 20 percent dietary protein, and 5 percent carbohydrates (usually less than 20 grams of carbohydrates per day).
How does the ketogenic diet work for fat loss/ weight loss?
The idea is to reduce carbohydrates enough so that the body does not depend on them for fuel. Essentially, by following this diet, one goes from being a sugar-burner to a fat-burner. This happens because when not enough sugar is available in the diet, the body's next preferred source of fuel is fat, either from the diet or from the body's fat stores.
How does this happen? If you do not eat enough carbohydrate-rich foods and your body does not have enough glucose present in the blood, your body turns to fat as an alternate fuel. This creates ketones in the body. Once enough ketones are present in the blood stream, you reach a state of ketosis. During this state, rapid fat loss is typically seen.
Is the ketogenic diet really effective when it comes to weight loss? Studies seem to suggest that it is. In a 2013 meta-analysis of literature in the British Journal of Nutrition, the ketogenic diet was compared to a standard low-fat diet in relation to how effective either is on weight loss. The review revealed that the people assigned the ketogenic diet achieve a greater weight loss than people on a low-fat diet. The authors of this review suggested that the ketogenic diet may be another tool against obesity.2
Are there risks or side effects associated with the ketogenic diet?
As the levels of carbohydrates can be very low, people may experience symptoms such as nausea, fatigue, and constipation. This can be symptoms of the "keto flu", which can happen while your body acclimates to this new lower level of carbs. It can subside after a few weeks. However, if it doesn't go away after a few weeks, you may need to increase carbohydrates enough to feel ok and but not enough to cause the body to exit ketosis.
It's also important to listen to your body. Keto is not for everyone and long term ketosis may not agree with certain folks. If you've tried it for 30 days and still don't feel good, it may not be the right fit for you.
Keto and Adrenal Fatigue
For certain people with adrenal fatigue issues, the ketogenic diet may do more harm than good. If you experience chronic fatigue symptoms and know or suspect that you may suffer from adrenal fatigue, you may want to work on healing your adrenals before starting keto. Learn more here.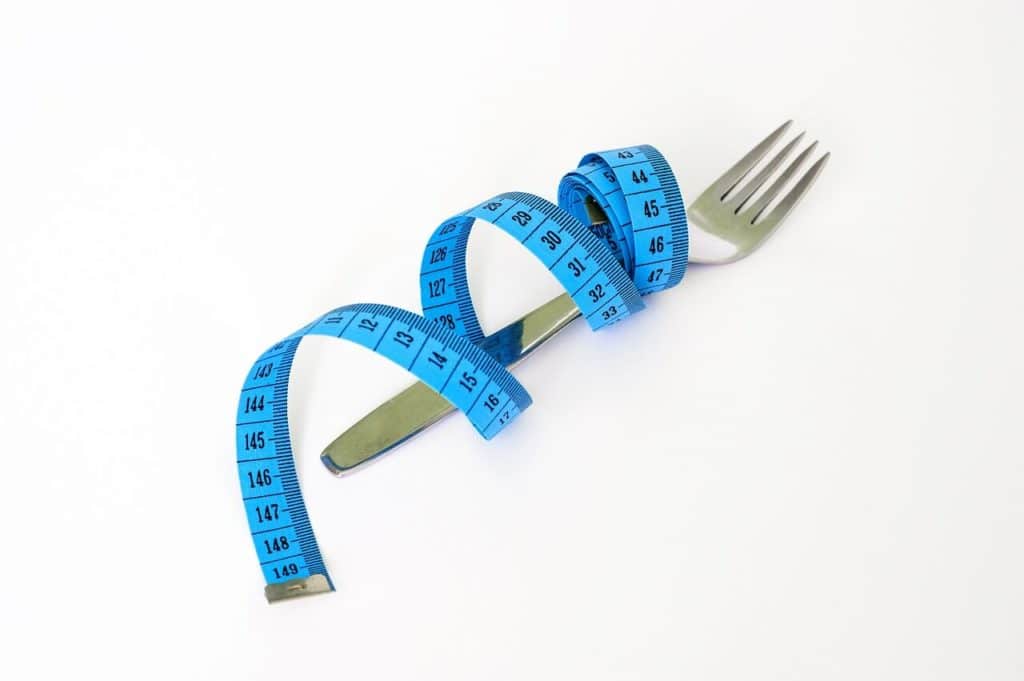 Can you see weight loss results on a modified ketogenic diet?
Simply put, yes. The standard ketogenic diet requires that you get less than 20 grams of carbohydrate per day in order to get the body into a state of ketosis. However, many people have seen success on a modified ketogenic diet that requires them to eat between 30 to 50 grams of carbohydrate per day.
What does 30 grams per day of carbohydrate look like?
Most people think of carbs as bread, pasta, or rice. However, it is important to remember that fruits and vegetables can contribute quite a few carbohydrates to the diet. In fact, carbohydrates in the ketogenic diet should come mostly from vegetables and to a lesser extent low-sugar fruits.
To give you an idea of carb content in popular fruits and vegetables, here are some examples of carbohydrates:
1 cup of blueberries contains 21 grams of carbohydrates
2 cups of strawberries contains 25 grams of carbohydrates
1 medium banana contains 27 grams of carbohydrates
1 cup of kale contains 6 grams of carbohydrates
1 cup of carrots contains 12 grams of carbohydrates
1 whole cucumber contains 10 grams of carbohydrates
Most Popular Keto Recipes
Here are the 5 most popular Keto recipes by Hannah Healy as determined by comments, reviews, and website traffic on this site.
1. Paleo Chocolate Chip Cookie Dough Balls
2. Easy Chipotle Lime Keto Vegan Taco Recipe
3. Healthy Chicken Fingers
4. Chocolate Chip Protein Energy Balls
5. Rich Chocolate Cream Pie
Get the latest Keto Recipes here.
What types of fats should be used on the ketogenic diet?
Remember that the ketogenic diet should include 75 percent of calories from fat. This does not mean eating more processed trans-fatty acids from foods like margarine. This means getting fat from real food sources like pasture-raised lard, avocados, or olive or coconut oil.
Also, when choosing protein sources (about 20 percent of your calories) it is important to choose fattier cuts of meat from pasture-raised or grass fed animals. For example, eating the thigh or the leg of the chicken has more fat than the breast. You can also include pastured eggs and egg yolks and seafood to increase your intake of omega-3 fatty acids.
Can the ketogenic diet help with other health issues?
Degenerative Neurological Disorders
When ketones are used as the primary source of the body's fuel, the brain is able to use this alternate fuel instead of the regular cellular pathways that are not functioning normally in patients with brain disorders. Therefore, a reversal of cognitive impairment can be seen.
A recent 2018 review of the ketogenic diet as a therapy for traumatic brain injury showed that in animals, the ketogenic diet was demonstrated to reduce cerebral edema, apoptosis (cell death), and improve cerebral metabolism and behavioural outcomes.3
Diabetes
Most Americans eat a SAD or Standard American Diet, which includes many processed carbohydrates and sugar. This has created an epidemic of dysregulated blood sugars, insulin resistance, and diabetes. If someone continually eats foods that turn into sugar in the body, insulin, which is a storage hormone, is over-produced and stores any added energy as fat.
Because of the low carbohydrate content of the ketogenic diet, insulin production is decreased. Therefore the ketogenic diet is capable of reversing issues like insulin resistance. A 2016 review in the Journal of Obesity and Eating Disorders found that…
Several studies have shown the benefits of a ketogenic diet for patients with type two diabetes, such as weight loss, reducing hbaA1c, reversing nephrology, cardiac benefits, improvement of lipid profile and even have a potential effect on reversing diabetic neuropathy and retinopathy."4
The ketogenic diet has been used for decades to help with issues such as epilepsy, Alzheimer's, autism, diabetes, and obesity. As everyone is different, if a ketogenic diet is personalised to your needs, it could be a very effective way to lose weight and to improve inflammatory markers and blood glucose balance.
Tina Christoudias is a Harvard-trained registered dietitian with nearly 18 years of experience as a nutrition counselor. Having had personal experience with hypothyroidism, she specializes in diet protocols for Hashimoto's thyroiditis and hypothyroidism and has recently published her book, Tired of Feeling Tired? She is a strong advocate of the Paleo diet and is an Autoimmune Protocol Certified Coach.
References:
1.https://www.hopkinsmedicine.org/neurology_neurosurgery/centers_clinics/epilepsy/pediatric_epilepsy/ketogenic_diet.html
2. Bueno, N.B., de Melo, I.S.V., de Oliveira, S.L. and da Rocha Ataide, T., 2013. Very-low-carbohydrate ketogenic diet v. low-fat diet for long-term weight loss: a meta-analysis of randomised controlled trials. British Journal of Nutrition, 110(7), pp.1178-1187.
3. McDougall, A., Bayley, M. and Munce, S.E., 2018. The ketogenic diet as a treatment for traumatic brain injury: a scoping review. Brain injury, pp.1-7.
4. Azar, S.T., Beydoun, H.M. and Albadri, M.R., 2016. Benefits of ketogenic diet for management of type two diabetes: a review. Journal of Obesity & Eating Disorders, 2(2).
FREE "6 Easy Tips to Quit Sugar" Guide!
By submitting your name and email you are consenting to receive a free copy of "6 Easy Tips to Quit Sugar" as well as regular newsletter emails from Healy Eats Real including information about our products and special offers. You can unsubscribe at any time.