I am seriously so excited to share this recipe will you all! I wasn't really sure how it would turn out when I started experimenting, but I was surprised at the amazing results. This paleo pasta has a delicious doughy pasta-like texture and a yummy savory flavor. Enjoy!
Paleo Pasta- Butternut Gnocchi: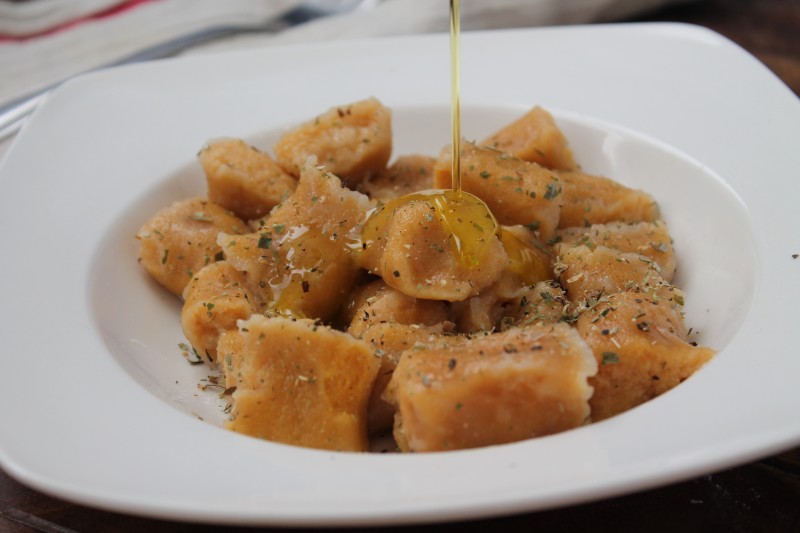 Paleo Pasta Butternut Gnocchi
This paleo pasta is such a fun idea for a nice gluten free dinner. The butternut gnocchi has a delicious doughy pasta-like texture and a yummy savory flavor.
Keyword:
butternut gnocchi, paleo pasta
Instructions
Begin by roasting the butternut squash and sweet potato (use 1 large sweet potato) in a 400° oven for 45-70 minutes or until the squash is tender and you can poke a fork through the flesh. *Tip: Most recipes suggest cutting the squash in half and scooping out the seeds and membrane then brushing it with olive oil and placing it in the oven to roast it. To save time, I just put the whole squash in the oven for the same amount of time, then feel when the squash is soft when you squeeze it with an oven mitt to know when it's done. Once it's done, let it cool, then slice in half and scoop out the seeds and membrane. Either way will work for this recipe. The sweet potato can be put in the oven on an oven safe dish whole.

Once the squash and sweet potato are done, remove from the oven and allow to cool. Once they have sufficiently cooled, scoop out 1/2 cup of the butternut squash flesh and measure out 1/4 cup of the sweet potato flesh and put it in a dish towel and squeeze out as much excess liquid as possible. Then add it to a food processor or mixing bowl. You're going to want to use a food processor or hand blender so you can smooth out the squash and potato into a smooth puree.

Add the remaining ingredients, then use the food processor or hand blender to smooth the mixture so there are no lumps. The dough should be thick enough so that you can squeeze it into a shape with your hand and it holds the shape. If it's not firm enough add 1 tbsp of arrowroot at a time until you get the right consistency.

Cover a large cutting board or countertop with ample arrowroot. Coat your hands with arrowroot and take about one handful of the mixture and roll it into a tubular shape. Roll it on the countertop until it's in the shape of a rope. Use a knife to cut the rope into small bite sized pieces.

Bring a large pot of water with a dash of salt in it to a boil. Once it is at a rolling boil, drop the pieces of "pasta" into the water, do not crowd the pot. Do a few batches at a time so they don't stick together. They will just take a few minutes to cook, when they are done they will float to the top surface of the water.

Continue rolling ropes with the dough, cutting and boiling until the dough is gone.

Add tomato sauce, pesto, olive oil, sautéed vegetables or whatever you like to have on your pasta!
Nutrition Facts
Paleo Pasta Butternut Gnocchi
Amount Per Serving
Calories 247
Calories from Fat 54
% Daily Value*
Fat 6g9%
Cholesterol 163mg54%
Sodium 1268mg55%
Potassium 258mg7%
Carbohydrates 38g13%
Protein 8g16%
Vitamin A 6315IU126%
Vitamin C 7.3mg9%
Calcium 48mg5%
Iron 1.5mg8%
* Percent Daily Values are based on a 2000 calorie diet.