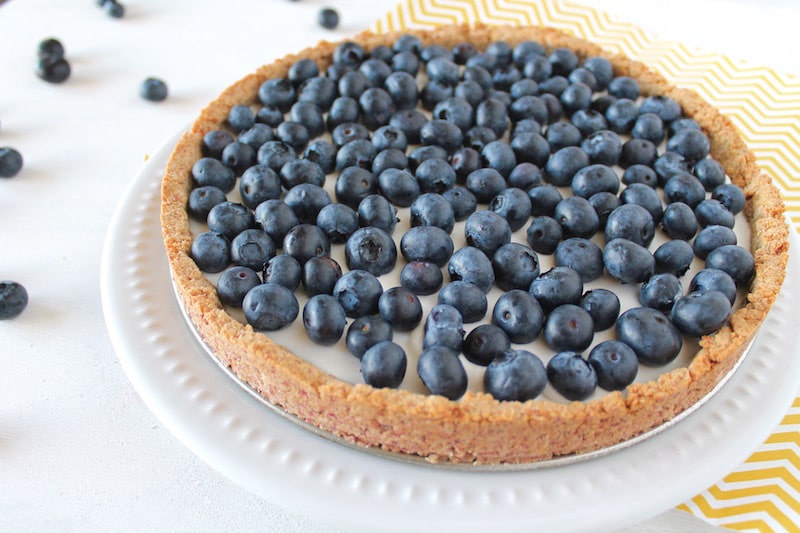 This gluten-free & autoimmune paleo blueberry tart is the perfect healthy treat! Even if you're not on AIP or the Paleo diet, you'll still enjoy this fresh and tasty tart! If you are doing the autoimmune paleo diet or have done it before, you'll love this recipe because you know that desserts are hard to come by on the diet.
For those who don't know what the autoimmune paleo diet is, to put it simply, it is a diet that removes most inflammatory foods to help those with autoimmune diseases heal. It is similar to the paleo diet in that it focuses mostly on whole foods like organic vegetables, pasture raised meats, wild fish, healthy fats and fruit. To learn more about AIP and if it can help you, check out my article here.
My Experience With the Autoimmune Paleo Diet (AIP)
I was on the autoimmune paleo diet for quite a while last year (I've since done reintroductions and have added many foods not allowed in the elimination phase of AIP back into my diet). I have to say that the changes that I experienced from doing AIP were phenomenal. Although I don't have an autoimmune disease, I do have many issues due to hormonal imbalances and adrenal problems. According to Sarah Ballantyne's research, AIP not only helps autoimmune diseases, but it also helps bring hormones back into balance.
Doing AIP really helped get my body back into balance. While on it, I noticed that my waning energy levels bumped up back to regular levels (my adrenal issues had made me tired all the time), my blood sugar issues balanced out and I generally had a more positive outlook! I've heard from many friends and colleagues that AIP has changed their lives, so if you are suffering with an autoimmune disease, I would definitely recommend giving AIP it a try!
Want Even More Delicious Paleo Recipes?? Treat Yo' Self!
Imagine this… By staying on track with a clean-eating lifestyle, you can count on better energy, clearer skin, a healthier body AND peace of mind.
My name is Hannah Healy and I'm the creator of the Healy Eats Real blog and the author of Paleo Vegan Sweets & Treats. I've noticed a huge change in my health, skin, energy and body since I've adopted a clean-eating diet. I've been developing tasty healthy desserts to rave reviews for years!
Now you can satisfy your sweet tooth and your family with indulgent delectable paleo sweets and treats that won't mess up your clean eating lifestyle…..without falling back on eating the same boring food over and over.
Paleo Vegan Sweets & Treats Cookbook includes over 30 delicious recipes like…
♦ Raw Paleo Chocolate Drizzle Cheesecake …
♦ Gooey Chocolate Banana Swirl Cake…
♦ Easy Chocolate Coffee Mousse…
♦ Cookie Dough Balls …AND MORE!
My Paleo Vegan Sweets & Treats cookbook provides the flavorful nutritious recipes that hits the sweet spot every single time.
Treat Yo Self! You owe it to yourself to have a delicious treat without having to resort to unhealthy processed sugar-laden desserts…
Blueberry Tart Recipe (AIP, Paleo, Gluten Free):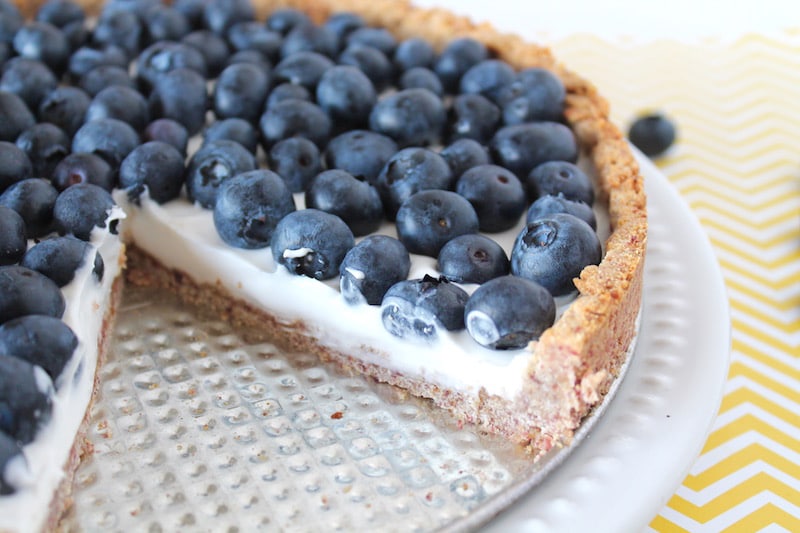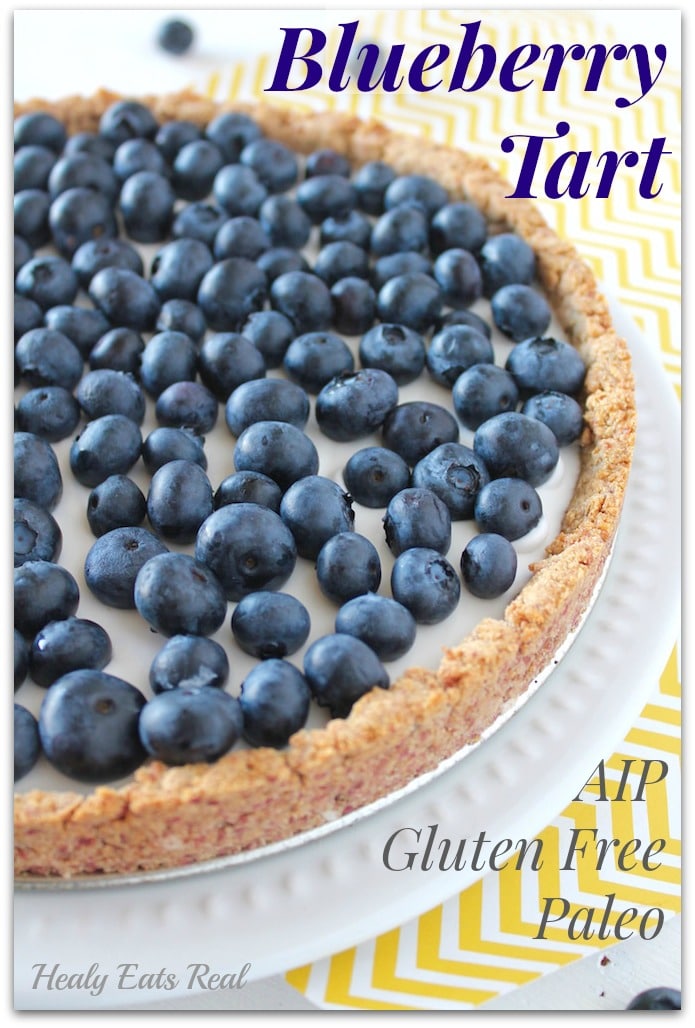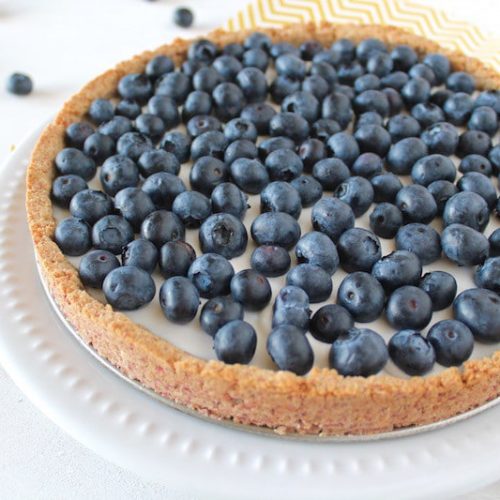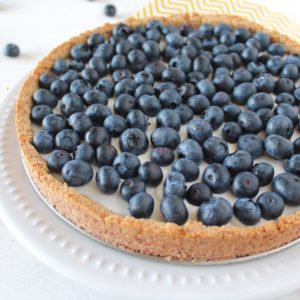 Blueberry Tart (AIP, Paleo, Gluten Free)
This gluten-free & autoimmune paleo blueberry tart is the perfect healthy treat! Even if you're not on AIP or the Paleo diet, you'll still enjoy this fresh and tasty tart!

Cuisine:
AIP, American, French, Paleo
Keyword:
blueberry tart, gluten free tart
Instructions
To make the crust:
Pre-heat the oven to 350°F.

In a

food processor

or high powered blender (like a

vitamix

) add the dates and blend until they are finely chopped almost into a paste (about 1-2 minutes). The pureed dates may stick into a ball--this is where you want to stop.

Add the coconut oil to the food processor and blend for about 30 seconds, this will break up the dates.

Then add the remaining crust ingredients (arrowroot, coconut flour, baking soda, salt, vanilla extract and apple sauce) to the food processor and blend until all the ingredients are fully mixed (about 1-2 minutes). Stop and scrape down the sides of the food processor to get any stuck ingredients and pulse for a few seconds more.

Spread 1 tbsp of coconut oil to grease the 8 or

9 Inch Tart pan

. Then sprinkle the crust ingredients evenly in the pan. Use your hands to press the crust dough evenly into the pan mold, taking care to press the dough all the way to the tops of the sides.

Once the dough is firmly and evenly pressed into the tart pan, place it into the oven for 15-20 minutes or until the sides have started to get golden brown. Then remove the crust from the oven and allow to cool for about 30 minutes or until it is cool to the touch.
Filling:
If you're using the coconut cream, you can scoop the whole thing out of the can into a bowl. For refrigerated coconut milk, you can scoop the coconut cream out of the top into a bowl and leave the clear liquid at the bottom (you can discard the liquid or use it in smoothies). The coconut cream will be hard. Use a whisk to break it up and gently whip it until it becomes the consistency of whipped cream. Add the vanilla and a dash of salt to the coconut cream and mix it. You can also add maple syrup to the coconut cream to make it sweeter if you prefer--I didn't add any sweetener to the coconut cream and for me the crust and blueberries were sweet enough.

Once the crust has cooled, scoop the coconut cream into the crust. Then put the crust and coconut cream in the refrigerator to let the coconut cream set (about 10-20 minutes). If you touch the coconut cream with your finger and it makes a small dent that stays in place, then it is set. Remove the crust from the refrigerator.

Add the blueberries evenly over the coconut cream and you're all set! The tart is ready to be eaten. Keep any leftovers in the refrigerator since the coconut cream can soften.
Recipe Notes
Supplies needed: 8 or 9 Inch Tart pan
Nutrition Facts
Blueberry Tart (AIP, Paleo, Gluten Free)
Amount Per Serving
Calories 305
Calories from Fat 162
% Daily Value*
Fat 18g28%
Sodium 122mg5%
Potassium 271mg8%
Carbohydrates 36g12%
Protein 2g4%
Vitamin A 20IU0%
Vitamin C 4.8mg6%
Calcium 21mg2%
Iron 1.2mg7%
* Percent Daily Values are based on a 2000 calorie diet.