Oh my goodness, this Cobb salad recipe is amazing! With the rich bacon, creamy avocado, bright tomatoes and more, it's the perfect healthy paleo lunch!
I could eat this salad every day if I had the motivation to assemble all of the different parts. You'll notice that the blue cheese is missing from this recipe. That's because I'm a little sensitive to dairy as are many of my readers, so this is a fully paleo cobb salad. However, if you like blue cheese…by all means, add it to the salad!
They say the Cobb Salad recipe originated from the Brown Derby restaurant in hollywood (has anyone seen the Cobb Salad argument episode from Curb Your Enthusiasm?? Very funny!). So hopefully this one lives up to the legendary brown derby cobb! (psst. I think it does!)
If you want to know why I recommend getting pastured chicken, bacon and eggs for this salad, check out my meat label guide to learn more! Making sure these parts are pasture raised will ensure you have a healthy salad on your hands!
Do you ever get stuck in a salad rut?
I probably have a salad almost every day and I sometimes get stuck in a salad rut. I'll have the same salad every time…spring mix, avocado, cucumber, maybe tomato. Sometimes, I'm just too lazy to chop up other veggies to put in it (guilty!), and sometimes I'm just in a hurry so don't have time for much else. After a while I get really sick of it.
BUT, this Cobb salad has really renewed my passion for salads! Hallelujah! It may be a lot of prep to put together this salad, but oh man is it ever worth it. So good!
Colorful Cobb Salad Recipe (Paleo & Dairy Free):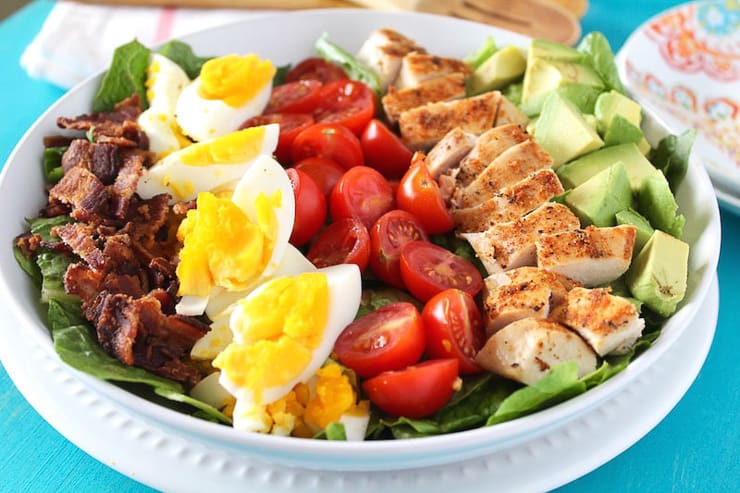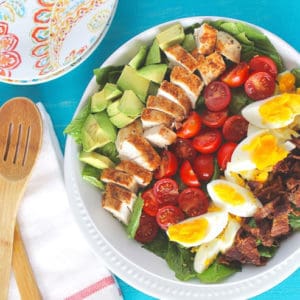 Colorful Cobb Salad Recipe (Paleo & Dairy Free)
Oh my goodness, this Cobb salad recipe is amazing! With the rich bacon, creamy avocado, bright tomatoes and more, it's the perfect healthy paleo lunch!
Course:
Main Course, Salad
Keyword:
easy cobb salad, healthy cobb salad
Ingredients
2

heads

romaine lettuce

1/2

cup

cherry tomatoes

1

avocado

5

slices

pastured bacon
Instructions
For the salad dressing:
Combine all dressing ingredients in a small jar and cover with an air-tight lid. Shake the jar until all ingredients are mixed. Shake the jar before using the dressing.
For the chicken breast:
Start by brining the chicken--this will make it moist and juicy. To brine it, fill a bowl with lukewarm water and stir in about 1 tablespoon of sea salt until it is dissolved. Place the chicken in the bowl of salt water for 15 minutes.

While the chicken is brining. Pre-heat the oven to 425°. Once the chicken is done brining, remove it from the water and pat it dry with a paper towel. Place it in a pyrex baking dish and brush with olive oil. Sprinkle the salt, pepper, garlic powder and paprika over the chicken breast and rub it in.

Place in the oven and bake for about 15-20 minutes or until the breast reaches an internal temperature of 160-170°. Once you remove the chicken from the oven, allow it to rest for a minimum of 15 minutes before cutting it.
For the bacon
Place the strips into a large cast iron pan, then turn the heat to low medium. Allow the bacon to cook, flipping every few minutes for even cooking. Once the bacon has browned evenly and has crisped up a bit it is about done. The bacon will continue to cook slightly after removing it from the pan so remove it just before it reaches your favorite level of doneness. Place it on a paper towel to catch the drippings.

Once the bacon has cooled, transfer it to a cutting board and chop it into small bits and set aside.
For the hard boiled eggs
Place the eggs into pot and fill to cover the eggs with cold water. Add a dash of salt and a dash of vinegar. Turn the heat to high and allow the water to come to a boil. Once the water reaches a boil, turn off the heat and remove the pot from the burner. Cover the pot and let sit for about 10-15 minutes. Then drain the hot water from the pan and rinse eggs with cold water. Once the eggs have sufficiently cooled, peel them, then chop them and set aside.
To assemble the salad:
To assemble the cobb salad start by washing and chopping the romaine lettuce and patting it dry. Place the lettuce in a bowl. Chop the avocado, chicken and tomatoes into bite sized pieces. Arrange all of the chopped toppings into rows over the romaine lettuce. Drizzle the dressing over the salad and serve!
Nutrition Facts
Colorful Cobb Salad Recipe (Paleo & Dairy Free)
Amount Per Serving
Calories 518
Calories from Fat 387
% Daily Value*
Fat 43g66%
Cholesterol 211mg70%
Sodium 1139mg50%
Potassium 818mg23%
Carbohydrates 12g4%
Protein 20g40%
Vitamin A 6105IU122%
Vitamin C 15.3mg19%
Calcium 53mg5%
Iron 2.4mg13%
* Percent Daily Values are based on a 2000 calorie diet.