These coconut flour donut holes are such a fun recipe and really easy to make! They would be a great recipe to make with kids for a birthday party or special brunch.
To me coconut flour is naturally sweet so it doesn't require too much sweetener. There's a little bit of coconut sugar in the donut holes and a little sprinkled around it, but it's a nice sweet treat to have without the addition of too much sugar. Enjoy!
Coconut Flour Donut Holes:
Makes 12
1/3 cup coconut flour (where to buy coconut flour)
1/4 tsp baking soda
1/4 cup coconut sugar
1 tsp cinnamon
1/4 tsp salt
2 pastured eggs
1/4 cup coconut oil (where to buy coconut oil)
Topping:
1/4 cup coconut sugar
1 tbsp cinnamon
2 tbsp coconut oil (where to buy coconut oil)
1. Pre-heat oven to 350°. Combine ingredients in a mixing bowl or food processor and mix well.
2. Set up a mini muffin tin with muffin liners. I use silicone muffin liners that you can reuse and I love them!
3. Roll small amounts of the dough into little balls and place in the muffin liners. Bake for about 10 minutes. Remove from the oven and let cool.
4. Melt coconut oil and set aside. Combine coconut sugar and cinnamon on a plate.
5. Take each donut hole and brush with a little bit of coconut oil (I also used a handy silicone pastry brush for this). Roll the donut hole in the cinnamon sugar. Repeat with all the donut holes.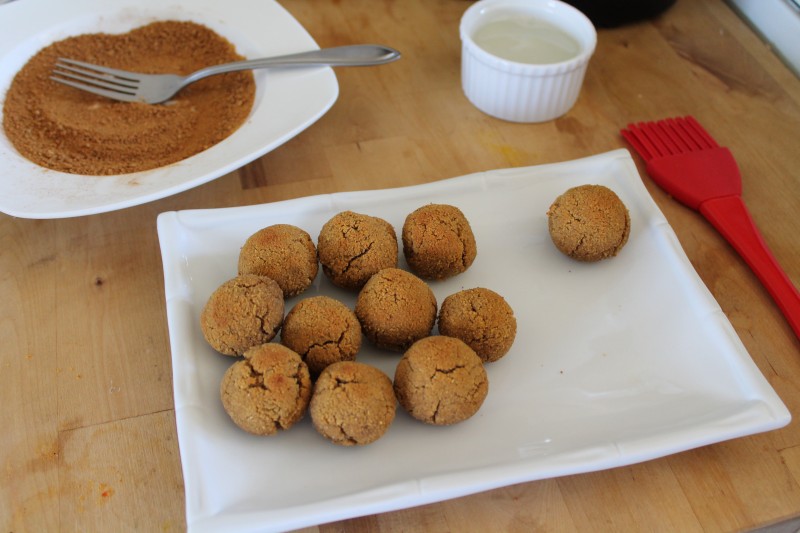 Like what you've read? Use the box below to sign up for my FREE newsletter to keep up to date on my latest posts!
Subscribe to the FREE newsletter
Disclosure of Material Connection: Some of the links in my blog are  "affiliate links." This means if you click on the link and purchase the item, I will receive an affiliate commission. Regardless, I only recommend products or services I use personally and believe will add value to my readers. I am disclosing this in accordance with the Federal Trade Commission's 16 CFR, Part 255: "Guides Concerning the Use of Endorsements and Testimonials in Advertising."