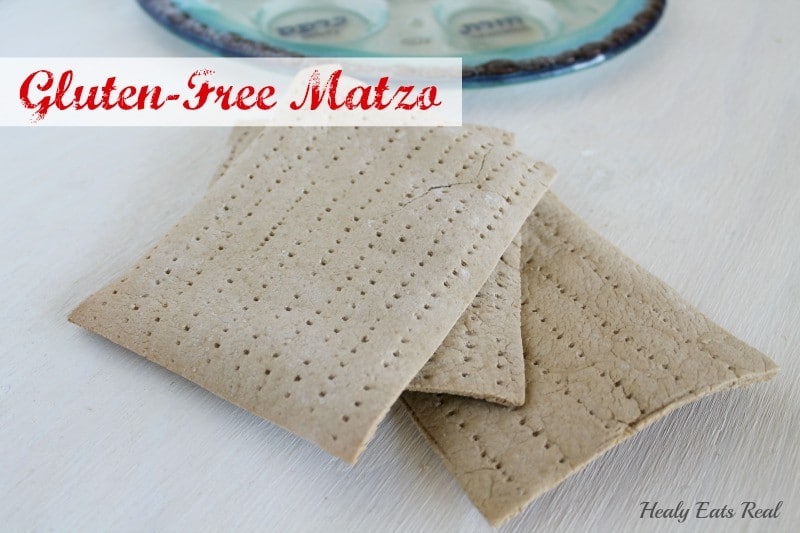 If you aren't familiar with it, matzo (or matzah) is basically unleavened bread that is commonly eaten during the Jewish Passover holiday. You can eat matzo crackers or matzo balls. This is a recipe for matzo crackers. Passover is a holiday that allows us to pass on the story of our ancestors' escape from slavery during ancient times.
Did you know that it's actually a mitzvah to eat matzo during passover? A mitzvah is a commandment or a good deed.
In order for your matzo-eating to be a mitzvah, the matzo has to be made from one of the 5 grains including wheat, spelt, rye, barley or oats. Since oats are the only one in that group that can be gluten-free…that's what I'm using for this gluten free matzo recipe! You also have to get the matzah dough in the oven within 18 minutes of when the flour touches the water.
It is possible to get the dough in the oven within 18 minutes, but make sure you pre-heat the oven and get everything ready beforehand to save time. You may also want to omit cutting the dough into rectangles and pressing on the fork dots to get it in the oven within 18 minutes.
I do want to mention, that if it is important for you to be legitimately kosher for passover or you want to make this from someone who is kosher for passover, you'll also have to make sure that your kitchen is kosher and that you are using the right utensils. This is usually a very involved process, so make sure you check with the right people to be sure. I'm also not sure if the oat flour is legitimately kosher for passover. The oat flour is kosher, but I don't know if it has come in contact with moisture before it made it's way to me.
I did the best I could for my Passover matzo and for me, that's good enough.
You can also make matzo meal out of these crackers if you blend the crackers in a food processor after making them!
Gluten Free Matzo Recipe:
Gluten-Free Matzo Recipe
This simple 3 ingredient matzo recipe is a great activity for passover! You can make it kosher for passover with oat flour!
Author:
Hannah Healy @ Healy Eats Real
Serves:
3-4 sheets of matzo
Instructions
Preheat the oven to 375°. Prepare a baking sheet with parchment paper. Get your floured working surface and rolling pin ready.
Place the oat flour and salt in a mixing bowl. Then pour in the water and mix. The mixture should be firm like a ball of dough. It should be a little bit sticky, but not so moist that it is sticking to your hand and it's hard to get it unstuck. If it is crumbling apart, it's too dry add 1 tsp of warm water until it reaches the right consistency.
Knead the dough for a minute.
Use the rolling pin to roll out the dough as thin as you can get it. At this point, if you do want to get it in the oven within 18 minutes, you may want to omit cutting it into a rectangles and doing the fork dots (just to make it look like the store-bought matzo). You can put it as is in the oven at this point with the rough corners...it still counts as matzo even though it may not look like the store bought stuff.
If you want it to look like store bought matzo, cut the rolled out dough into a rectangle, and use a fork to press dotted lines over the dough. Then take the excess dough and roll in into a ball again (add a tsp of water again to the ball of dough if it has dried out), then use the rolling pin to flatten it and repeat the process until all the dough is gone.
Place the prepared dough onto a cookie sheet and bake for 18-25 minutes until they are firm.

Get My FREE "6 Easy Tips to Quit Sugar" Guide!
Get instant access when you subscribe!

Get My FREE "6 Easy Tips to Quit Sugar" Guide!
Get instant access when you subscribe!