Is Bread Bad For You? You May be Surprised!
This post may contain affiliate links. As an Amazon Associate I earn from qualifying purchases. Please read the disclosure policy.
Is bread bad for you? You may be surprised at the answer! You've probably heard arguments for both sides, but this article offers nutritional advice to help guide you.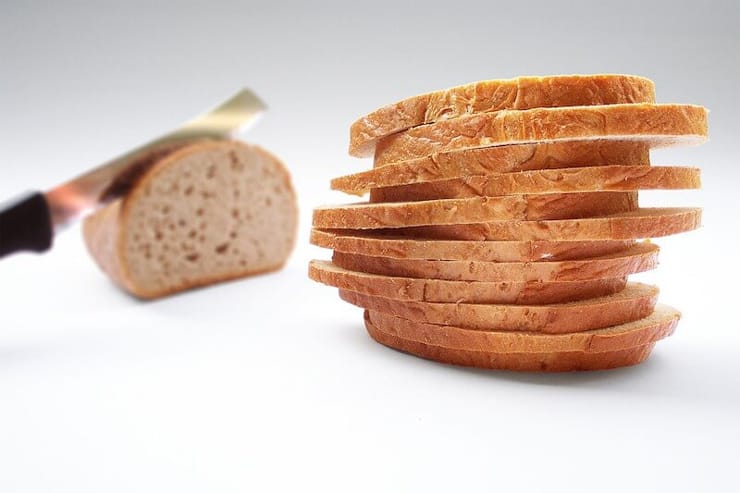 Usually, you hear about how great whole grains are for you, but research shows that refined ones like wheat flour may not be as great as once thought. Continue reading to learn more…
Is bread bad for you?
In most cases, bread is made from wheat. The wheat is refined, which means that the good parts (that include most of the vitamins, minerals, and fiber) are removed. And it's not just white bread, this includes whole wheat too! Therefore, you are left with a nutrition-less, refined flour whose only function once ingested is to increase one's blood sugar.
Imagine this scenario:
For breakfast, you eat a slice of toast with jam. As a snack, you drink a 12 ounce glass of freshly-squeezed orange juice. For lunch, you have a sandwich with peanut butter and jelly. For dinner, you try to be healthy and eat a salad with yet another slice of whole-wheat bread. Unfortunately, this is what a healthy diet seems like to most Westernized cultures. Before lunchtime, most people have had zero nutrition and one hundred percent insulin-producing, sugar-spiking foods!
Think about it. The refined flour found in breads is just as guilty (if not worse) of spiking blood sugar levels as table sugar.
Even if blood sugar levels remain between the normal range, massive fluctuations within the range create an environment within the body that set the stage for diabetes and other inflammatory-related diseases like cardiovascular disease. This is what bread in the diet is helping many to achieve.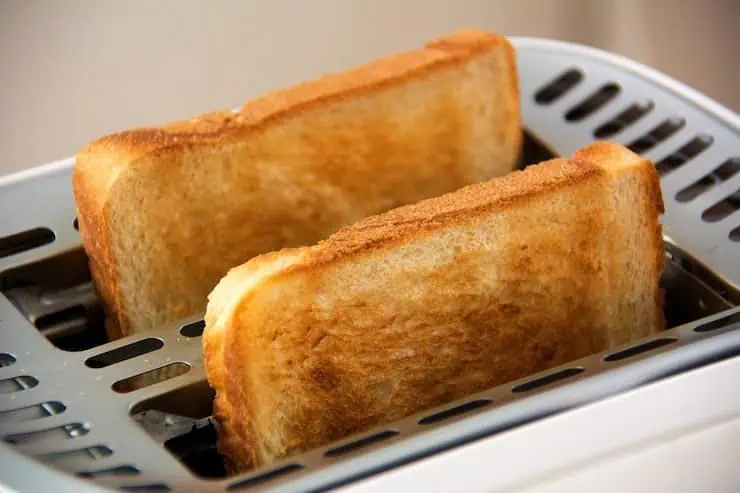 Bread turns to sugar in your body
It should seem common sense to most by now that sugar and foods that contain a lot of it are detrimental to one's health.
Increased sugar consumption is connected to…
a decreased immune system
increased appetite
a fatty liver
decreased satiety signals
and other issues
It is also the biggest reason for the increase in obesity and diabetes that is observed today. (To learn more about how sugar affects your health, read 5 Scary Effects of Sugar on Your Health).
Ok, so, you get it. Avoid sugar. But what does that have to do with whether or not bread is bad for you?
Did you know that eating bread is pretty similar to eating sugar?
One slice of whole-wheat bread contains about 15 grams of carbohydrates, which is immediately transformed into glucose in the blood (glucose is a type of sugar).
One tablespoon of sugar contains the same amount of carbohydrates, which spike blood sugar in the same exact way. Therefore, eating one slice of bread is like eating one tablespoon of sugar. The two foods are basically one in the same.
Bread and toxins
Pesticides and Glyphosate
Bread is typically made from wheat, which is treated with large amounts of glyphosate (a pesticide also known as roundup). Glyphosate is known to disrupt hormonal balance and can interfere with the normal functioning of the thyroid, stress hormones, and sex hormones.1
Toxic Additives
Bread typically has four ingredients, which include flour, water, salt, and slow-rise yeast.
If you were to check out the ingredients in a common pack of store-bought bread, not only will you see those four ingredients (ok, you will see fast-rise instead of slow-rise yeast), but you will see an entire array of toxic ingredients that add to the slow poisoning of your body.
One such ingredient is azodicarbonamide. This is not only used in your bread as a conditioner, but it is the main constituent of shoe rubber and yoga mats. When azodicrabonamide is heated, it becomes carcinogenic. (Gives a new meaning to the toast a lot of people eat for breakfast in the morning).
As you can see, we are not just talking about an "innocent" slice of whole wheat toast anymore. Most store-bought breads not only have refined, genetically-modified wheat, but they also contain toxic chemicals that add to the demise of your health.
You might think just going with more natural and organic bread might be a better option, but as mentioned above, that won't change it's blood sugar spiking properties or gut damaging gluten!
How gluten makes things worse
For those of you that already follow a gluten-free or paleo diet, the dangers of gluten may be obvious to you. However, for those that do not know, bread contains gluten, which is a group of proteins found in wheat, rye, and barley.
In recent years, research has found that gluten found in foods causes inflammation within the body as well as acts as a trigger for autoimmune diseases like Hashimoto's thyroiditis or diabetes.
Gluten is also responsible for exacerbating a "leaky gut" or rather, increases intestinal permeability. When this happens, the intestine does not function optimally and sets the stage for autoimmune disorders.
(Keep in mind that in many breads, extra gluten is added in order to improve the texture of the bread!)
For many, simply avoiding gluten can radically improve the symptoms of a chronic condition.
What about gluten-free bread?
Well, it depends…
Sometimes gluten-free bread can be just as bad as wheat bread if it's filled with sugars, refined flours that spike your blood sugar (like rice flour, potato starch, etc.), bad oils like canola oil and harmful additives.
If the ingredients list is long and you don't recognize many of the ingredients chances are it's not very healthy. If you find a bread that has minimal ingredients, it's probably not too bad on occasion.
Sometimes homemade bread made with things like almond flour, coconut flour or other healthful flours can be a nice occasional treat. If you prefer to buy it, this grain-free bread is a healthy option.
How to avoid bread
You know what they say: everything in moderation. Of course, having bread every once in a while won't kill you (that is if you don't have a serious issue with gluten). However, eating bread everyday is not a good idea especially when trying to lose weight or if you have a blood sugar issue.
Instead of a piece of toast with jam in the morning, have a smoothie with kale, mixed berries, coconut milk, and a grass-fed collagen powder. This kind of smoothie has phytonutrients and antioxidants that fight inflammation and collagen helps to restore things like the elasticity of the skin as well as the lining of the intestinal wall. Kale and berries have a low glycemic index (which is the measurement used for how foods affect blood sugar). Sugar and bread have a high glycemic index.
Instead of a peanut butter and jelly sandwich, have some wild-caught salmon with a colorful salad. The omega-3 fatty acids found in the fish help to decrease inflammation and the vegetables in the salad help to boost the vitamin C in your diet.
Just from these simple examples, you can see that the sky is the limit with how you can easily exclude bread from your diet. Check for gluten-free recipes here.
Although most people think that they cannot live without bread, this is just an illusion taught to you by our modern Westernized lifestyle. Once you replace bread with nutrient-dense foods, you will see that you have been missing out on nutrition as well as taste.
Remember, cutting out bread and sugar from your diet is not the end of the world. Choose a nutrient-dense meal every time you eat and reap the benefits of better health. Once your energy is increased, your mood improves, and your mind clears, trust me, there is no going back.
References:
This post was originally published in July of 2017 but has be republished in June of 2019 to include updated content.