3 Reasons You Shouldn't Worry About The Mercury Levels in Fish
This post may contain affiliate links. As an Amazon Associate I earn from qualifying purchases. Please read the disclosure policy.
Mercury levels in fish…you hear about it all the time. Why it's dangerous, why you have to find fish with the lowest mercury levels, but I don't worry about it and I'll explain why you shouldn't either in this article.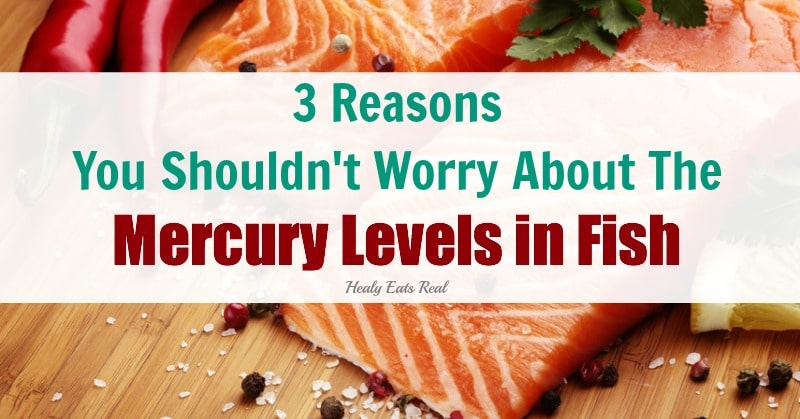 I was worried about mercury levels in fish and avoided it for a long time, so I understand why you would. Mercury poisoning is a serious and scary thing. However, after looking at the scientific research out there, it's clear that the mercury levels in fish are no reason not to eat it. Read below to learn why.
1. Selenium Protects Against Mercury Levels in Fish
Selenium is a mineral that protects the brain. When selenium encounters mercury, they bind irreversibly, which means that mercury can not then be not absorbed by the body .
Selenium has high binding affinity for mercury. This means that when the two elements are found together, they connect, forming a new substance.

This new substance makes it hard for the body to absorb the mercury separately. Simply put, when selenium binds to mercury, mercury is no longer free to bind to anything else – like brain tissue." -Chris Kresser
Because fish and seafood is rich in selenium, that mineral binds to mercury so that it can not be absorbed by your body and therefore can not cause damage.
2. Fish That Contain Higher Levels of Selenium than Mercury are Safe to Consume
If a fish contains more selenium than mercury, then it is safe to eat since the selenium will bind to the mercury and keep it from being absorbed by your body.
The great thing is that most fish consumed by people have higher levels of selenium than mercury, making them perfectly safe to eat.
Fish types with more selenium than mercury include tuna (all types), anchovy, sea bass, shellfish (oysters, mussels, clams, etc.), squid, octopus, cod, sole, wahoo, mahi mahi, salmon, spearfish, hake, red snapper, scallops, grouper, and many more.
In fact, the few unsafe sea foods that do not have more selenium than mercury are limited and include:
Swordfish
Pilot Whale
Shark
King mackerel
Gilt-head Bream
Red Mullet
Tilefish
The FDA and EPA have even updated recommendations for fish consumption based on this information and now recommend that pregnant women should not avoid fish since it provides important nutrients for growing babies.
The draft updated advice recommends pregnant women eat at least 8 ounces and up to 12 ounces (2-3 servings) per week of a variety of fish that are lower in mercury to support fetal growth and development…..The draft updated advice cautions pregnant or breastfeeding women to avoid four types of fish that are associated with high mercury levels: tilefish from the Gulf of Mexico; shark; swordfish; and king mackerel."
3. The Health Benefits of Fish Are Greater Than The Risks
Fish is one of the best sources of DHA and EPA, which are omega-3 fatty acids that are essential for regulating inflammation, improving brain health and cardiovascular health.
Fish is a great source of easy to digest bioavailable protein as well as iodine which promotes good health. According to a 2006 study, fish intake may help reduce the risk of cardiovascular disease—the top cause of death in the United States.
Modest consumption of fish (eg, 1-2 servings/wk), especially species higher in the n-3 fatty acids eicosapentaenoic acid (EPA) and docosahexaenoic acid (DHA), reduces risk of coronary death by 36%….and total mortality by 17%…. and may favorably affect other clinical outcomes."
The Role of Dioxins & PCBs
Dioxins and PCBs are synthetic waste products that pollute our waters and have been shown to be carcinogenic, meaning that they may cause cancer. It's only natural that you should be concerned about them and try to avoid them. However, avoiding seafood because of water pollution is not necessary.
Seafood is not the top source of Dioxin & PCB contamination. Conventionally raised beef, chicken, pork (34%) dairy (30%) and even vegetables (22%) are the top sources of these contaminants. Fish only constitutes 9% of these contaminants.
Concerned About Fukushima Radiation?
If you're concerned about radiation from fukushima I highly suggest reading this article from Chris Kresser. He lists many sources and scientific research that it is not something to be worried about. In it he states,
A typical restaurant-sized portion of Pacific bluefin tuna (200 grams, or 7 ounces) contains about 5% of the radiation you would get from eating one uncontaminated banana and absorbing it's naturally occurring radiation. All foods on the planet contain radiation. Like every other toxin, it's the dose of radiation (rather than its simple presence) that determines whether it's toxic to humans….

…according to Dr. Robert Emery at at the University of Texas Health Science Center at Houston says you'd need to eat 2.5 to 4 tons of tuna in a year to get a dose of cesium-137 that exceeds health limits…That's 14 to 22 pounds of tuna a day…

To date, I haven't seen any credible evidence suggesting that there's even a minuscule risk from eating fish caught in the Pacific ocean. (Please respond in the comments section if you're aware of any such evidence). If you read an article on the internet or elsewhere claiming that Fukushima radiation in seafood is causing problems, check to see if it includes references to studies published in peer-reviewed journals by independent researchers. If it doesn't, I'd advise a healthy dose of skepticism." –Chris Kresser
Wild fish and seafood is the best option when considering sustainability and health. I like to have wild fish or seafood about 2 times per week, but I know lots of folks like to have it a lot more than that (like 3-4 times per week).
So the takeaway here is EAT SEAFOOD! Because it's good for you and you don't have to worry about the mercury levels in fish…that is, unless you happen to be eating a lot of whale and shark meat…
Where to Get Sustainable Wild Fish and Seafood
Locally:
Trader Joe's
Costco
Whole Foods
Your Local Grocery store (usually in the frozen section)
Farmer's markets
Sources: