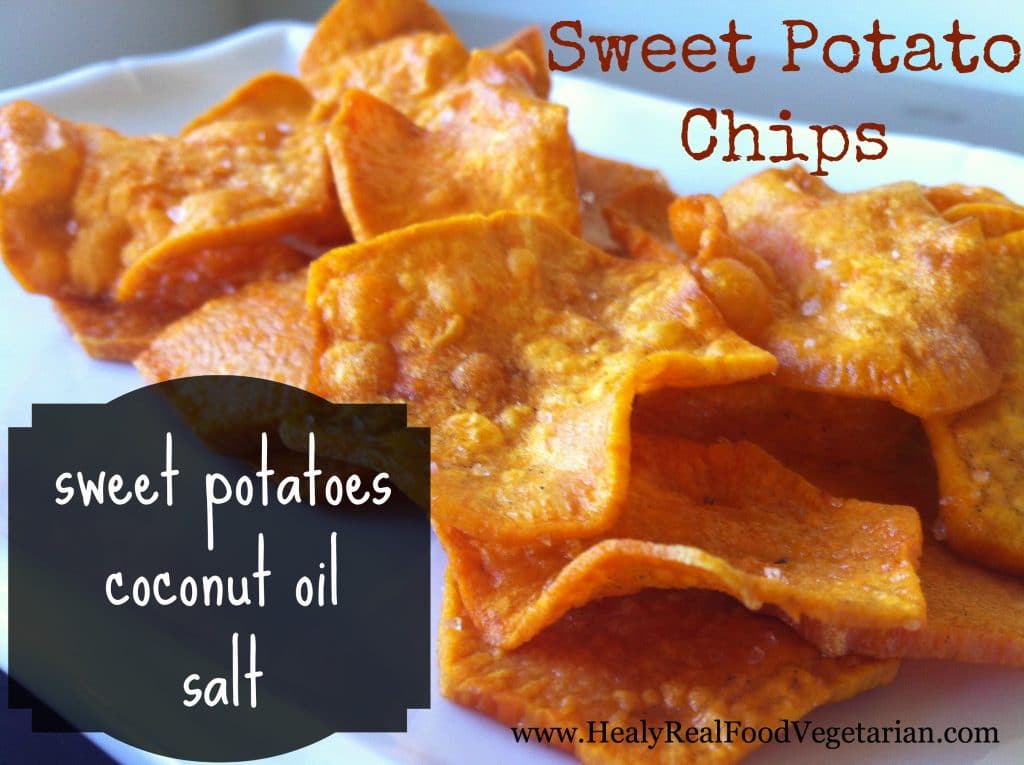 These sweet potato chips are a delicious and healthier alternative to regular potato chips! With minimal ingredients in this recipe, it can be a simple snack to make. You can make a big batch and save some for later or put into lunch bags. I like these sweet potato chips because they are made with coconut oil instead of an unhealthy oil like soy or canola.
Sweet Potato Chips fried with Coconut Oil:
Serves 2
2 sweet potatoes
1/2 cup coconut oil (where to buy) (you may need to add more after frying some chips)
Salt
1. Peel the skin off the sweet potatoes. Cut into thin slices. I used a small 6.5 inch cast iron skillet so that the potatoes could be fully submerged in the oil. If you are using a larger pan you may need to use more oil. Luckily, you can save your used oil for a later use! Just strain it through a cheesecloth to get any residue out.
2. In a shallow pan heat the coconut oil. When it is hot put in a few sweet potato slices. Try not to overlap the slices to much or it may not fry properly. Fry for 3-5 minutes turning the slices over halfway through. Remove them when they look crispy, it's best to eyeball it rather than adhere to a timer because cooking times can vary.
3. Place on a paper towel to catch the excess oil. Sprinkle with salt. Enjoy your homemade sweet potato chips!
Like what you've read? Use the box below to sign up for my FREE newsletter to keep up to date on my latest posts!
Subscribe to the FREE newsletter
"Sweet Potato Chips" was included in the following blog link-ups:
Simply Sugar and Gluten Free- Slightly Indulgent Tuesdays
Allergy Free Alaska- Whole Food Fridays
Disclosure of Material Connection: Some of the links in my blog are  "affiliate links." This means if you click on the link and purchase the item, I will receive an affiliate commission. Regardless, I only recommend products or services I use personally and believe will add value to my readers. I am disclosing this in accordance with the Federal Trade Commission's 16 CFR, Part 255: "Guides Concerning the Use of Endorsements and Testimonials in Advertising."