Why I Stopped Being Vegetarian After 11 Years
This post may contain affiliate links. As an Amazon Associate I earn from qualifying purchases. Please read the disclosure policy.
I stopped being vegetarian after 11 years of meat-free living. Here's how and why I came to this tough decision.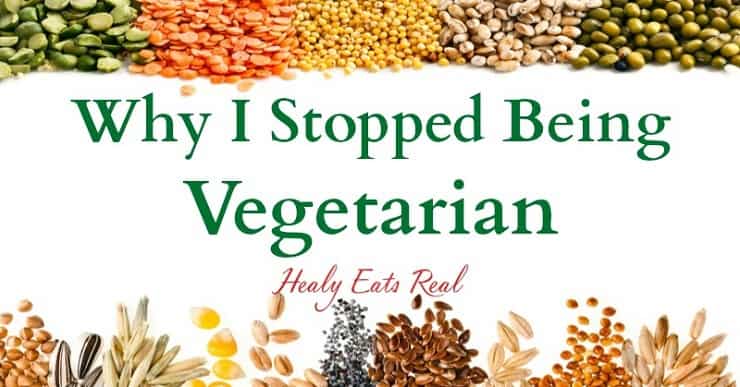 I've been dreading writing this post for months…
After being a vegetarian blogger for quite some time, I don't want to turn my back on my vegetarian and vegan readers. But I have been slowly transitioning out of being vegetarian and including more meat in my diet for a while now. In this post I want to address why I've stopped being vegetarian and talk about my history as a vegetarian, my health and how I came to this decision.
I have felt very conflicted about writing this post for a few different reasons. The thing that I'm most worried about in writing this post is that it spawns a moral debate about the virtues of eating/not eating meat or that it starts another meat-eater vs. vegetarian argument that goes on and on, gets ugly and solves nothing.
Trust me, that is not my intention with this post.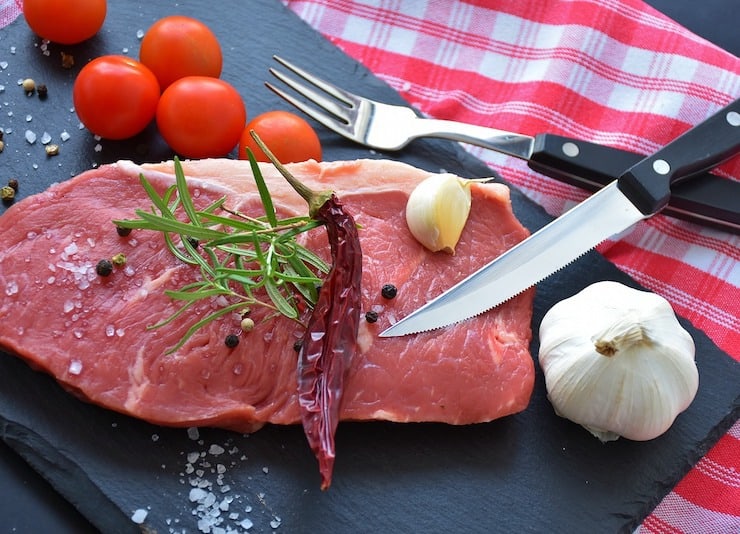 I'm NOT coming out as a meat eater in this post to tell anyone that their lifestyle is wrong. My intention is to just be honest with my readers and to tell you how I arrived at this tough decision.
I want to be clear that I have never believed that there is one right way for everyone to eat. There are a lot of factors that go into deciding what we eat, like how our body responds to different foods, our religion, our culture, our traditions, the environment and so many other things.
So, even though I have decided to include meat in my diet, you won't see me insulting other diets here and I hope that those who eat differently from me will also be thoughtful in their response to this post.
How and When I Started Being Vegetarian
I started being vegetarian in high school around the age of 15. I'm now 26, so I've spent most of my adult life as a vegetarian. I've always loved animals and felt a strong pull to advocate for them since they can't advocate for themselves.
Once I learned about how animals were treated on factory farms, I couldn't continue to support it. It made me sick to see that they were treated more like commodities than living creatures with feelings. It pained me to see the senseless abuse inflicted on these animals. So I stopped eating meat.
My Ups and Downs With Being Vegetarian
During high school I ate a relatively balanced diet, but as soon as I left home to go to college in San Francisco, my diet took a turn and I started to rely on convenience foods. I was still young and I didn't have any extreme health issues as a result of my poor diet (aside from weight gain).
There were a lot of ups and downs with my diet during my college years. In trying to improve my diet, I tried veganism, raw food vegan, fasting and lacto-ovo vegetarian.
A few years after college, I went to live in Spain to do an English teaching program for about a year. I was still vegetarian, so it was really tough to eat a healthy diet there since the Spanish diet is largely centered around meat and seafood. I was in a small town that was very traditional and didn't have much variety when it comes to cuisine. I ended up eating a lot of processed white bread, cheese, pastas and other boxed foods.
When My Health Started to Suffer
It was during my time living in Spain that my health really went downhill. I started getting sick with a cold or flu every few weeks. Sometimes I would get sick and spend several days in bed. When I would finally recover, I would just get sick 2 days later and start the process all over again.
It was incredibly frustrating, but also really scary. Being sick in bed all the time also affected my mood and made me feel depressed. I had never been sick that much in my life and it caused me to take a real look at my diet and lifestyle.
Even though I began being vegetarian for moral reasons–because I loved animals and didn't want to support abusive factory farming practices–I also believed that by being vegetarian, I was automatically doing the healthiest thing possible. Now I know that is not true.
I'm not saying that there's no way to be healthy and vegetarian, of course there are people that do well on a vegetarian diet, but it really depends on your body type and whether you are doing your diet in a healthy way. There are healthy and unhealthy ways to do every diet.
I was eating crap and lots of it…even while I was sick. Sugary snacks, candy, pastries, white bread, american cheese, boxed foods, GMO foods, etc.
Sugar sends your immune system into overdrive and depletes your bodily resources to correct all the damage you're doing. No wonder my immune system wasn't able to recover.
Once I started reading more and more about natural health and nutrition, I realized I had been destroying my immune system and decided to start cleaning up my diet.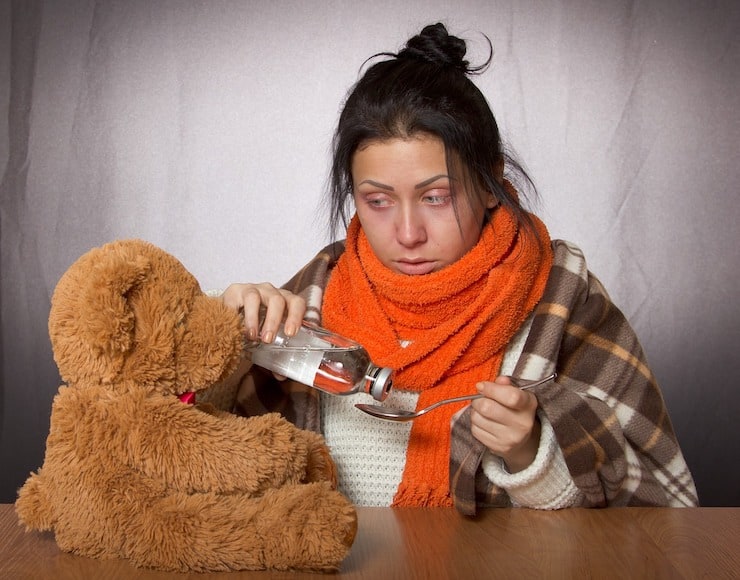 Trying to Improve my Vegetarian Diet
After my health scare in Spain, I slowly took steps to improve my diet. At first I drastically lowered my sugar intake, I started including vegetables with every meal, I included more protein from eggs, homemade lentils, chickpeas or beans.
Then I came back to the US, and as time went on, I researched more and more about what makes a healthy diet.
As a result, I slowly made even more healthy changes to my vegetarian diet. I tried to make most of my meals from scratch with whole foods. I removed soy from my diet, I went gluten-free and I started sprouting or soaking my grains, legumes and beans which helps reduce the anti-nutrient content and makes it easier for the body to digest and to absorb the vitamins and minerals.
I added fermented foods to my diet to aid my immune system and support my gut. I learned about healthy fats and started using healthier cooking oils.
My Best Still Wasn't Enough
Even after all of those changes, I still didn't feel right. I had recurring issues that wouldn't go away no matter how much I tried.
I had constant insatiable sugar cravings that I couldn't shake no matter what I did. On top of that I was hungry all the time. It sounds like a small problem but in reality it made me feel like I was going crazy.
I would eat a full balanced meal with more than enough calories to satiate me. Just short of finishing my meal I would feel so full and bloated that I couldn't take one more bite, so I would stop. Then an hour later–sometimes less–I would be absolutely starving again. It made it hard to go out or go on trips with people, because I felt like I had to eat all the time.
At first, I was told this issue was because of a lack of vitamin B-12 since many vegetarians are deficient in this vitamin that is mainly found in animal foods. So, I tried eating more foods with B-12 like good quality organic grass-fed cheese, yogurt, milk, eggs and I took B-12 supplements. It would mildly help for a little bit, but then the issue would always come back.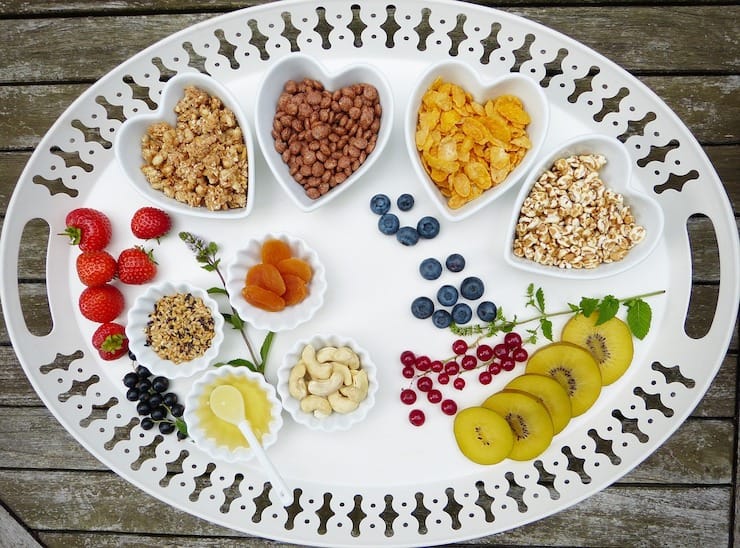 I Finally Discovered What Was Causing My Health Issues
I finally became so fed up and frustrated with these issues that I decided I had to see someone about it so I went to see a holistic nutritionist.
I found that I had been dealing with some previously undetected adrenal, thyroid and hormonal issues. My sugar cravings, unwieldy hunger issues and other problems were a sign of blood sugar imbalances which can come along with hormonal challenges.
If drastic blood sugar fluctuations go unchecked for too long, they can exacerbate or contribute to even worse problems like inflammation, metabolic syndrome, adrenal fatigue, high cortisol, hypothyroidism, and even in worse cases, diabetes.
I didn't want to develop even worse health problems down the road.
I felt so desperate about these issues, that I had been toying with the idea of trying to eat meat and see if it helps, but I felt very conflicted about eating animals. I had been vegetarian for so long and didn't know if I could stomach it nor did I want to if it wasn't necessary.
The Problem with Being Vegetarian
I learned more and more about blood sugar fluctuations, hormones, nutrient balancing, gut health and autoimmune conditions. I realized that, considering my issues, it was very important for me to increase my protein intake with easily digested protein to help keep me satiated longer and lower my carbohydrate intake.
Carbohydrates spike blood sugar and can lead to these blood sugar roller coasters that I had been experiencing. A diet high in carbohydrates can also cause sugar cravings by raising blood sugar levels. It was also important for me to balance vitamin and mineral intake since I was likely deficient in several vitamins and minerals.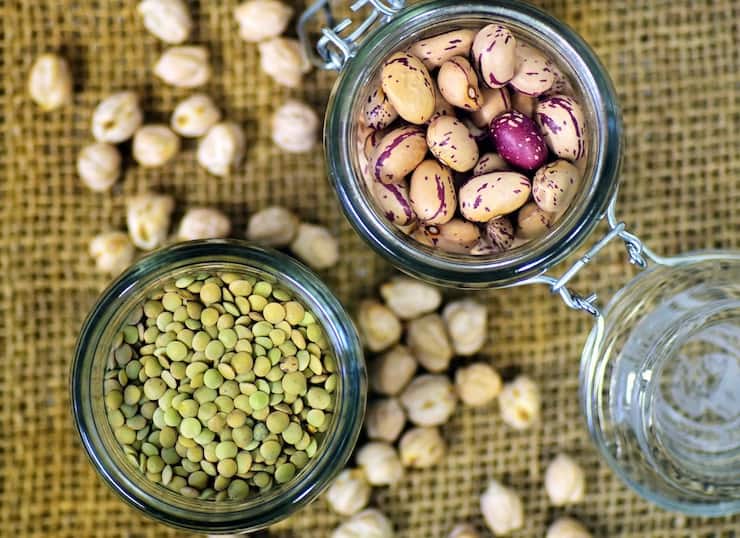 The Issue with Vegetarian Protein Sources
A high protein and low carbohydrate plan can be difficult on a vegetarian diet since most of the protein sources available to vegetarians are also naturally high in carbohydrates and can contribute to hormonal imbalance.
I had stopped eating soy long ago as I knew it wasn't a good protein option. Not only is 90% of non-organic soy genetically modified, even organic soy is very hard to digest and contains anti-nutrients which restrict vitamin and protein absorption.
Soy also contains phytoestrogens which can disturb your body's normal hormone function. For someone who already has hormonal issues, it's best not to add fuel to the fire by eating a lot of soy.
Almost all unprocessed vegetarian protein sources like lentils, quinoa, chickpeas and beans have a very high carb content when compared to their protein content. On top of that, they contain anti-nutrients, phytic acid and lectins that can block the absorption of important micronutrients (vitamins and minerals) and even macronutrients like protein which is ironic since we eat them for the protein.
Grains and legumes can also be hard to digest and can irritate the gut. A healthy gut is an important step in improving immune health and is vital when healing autoimmune conditions and inflammation.
Even though sprouting and soaking grains and legumes can help decrease the phytic acid, it is sometimes not enough, especially if your body is already operating at a disadvantage. On a vegetarian diet, one has to eat large portion of grains and legumes to get a significant amount of protein and by then, you've also consumed a lot of carbohydrates and anti-nutrients. So your body may not even be getting the protein, vitamins or minerals that it needs.
In my case, I needed a high protein, low carbohydrate diet to recover from blood sugar fluctuations, metabolic issues and hormonal problems. Unfortunately, even though my vegetarian diet was as healthy as I could make it with whole unprocessed foods made from scratch, it just wasn't working no matter how much I tried.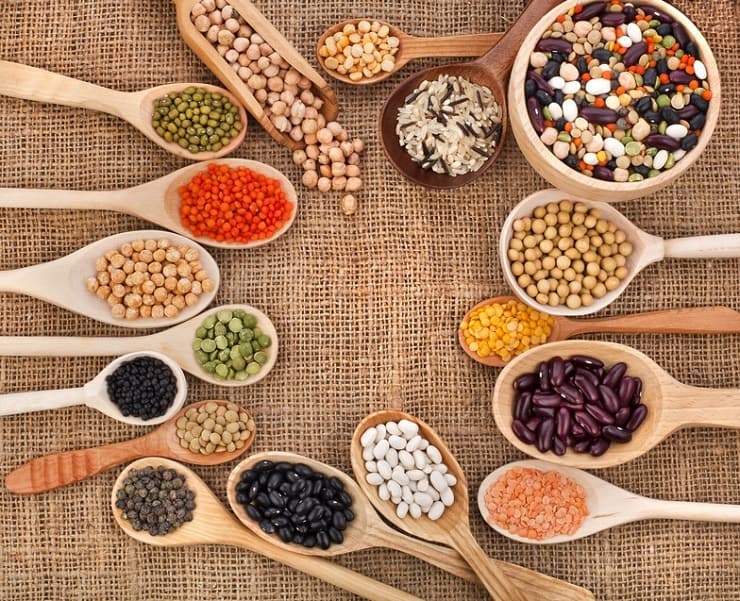 Deciding to Try Meat Again
Once I realized how my vegetarian diet was actually hurting me, I couldn't continue to do it.
Let me make clear though that I am outlining my personal struggle. By sharing my story, I don't want to suggest that there is a one-size-fits-all diet or that no one should be vegetarian. Some folks do fine with high carbs and lower protein. My aim is simply to explain how I arrived at the decision to include meat in my diet again.
It was hard to decide to eat meat again especially considering the fact that I love animals.
However, for the 11 years that I've been vegetarian I've always asserted that I am vegetarian because I'm against factory farming and do not want to support it. I still believe that wholeheartedly.
Factory farming is bad for animals, bad for people and bad for the environment and I will always be against it. I do believe that meat from factory farms is bad for us since the animals are unhealthy, fed GMO corn and soy and pumped full of antibiotics and hormones. Because the animals are unhealthy, this kind of meat can actually contribute to inflammation and poor health.
Although I am including meat in my diet again, this doesn't mean that I have to support the awful practices of factory farming. My main goal is to be healthier, and meat from CAFOs (concentrated animal feeding operations) is far from healthy.
Grass Fed and Pasture Raised Meats
Humanely raised meat that is pasture raised, hormone/antibiotic-free and non-GMO can be very healthy and luckily it is available now more than ever. I'm blessed to live in an area that cares very deeply about responsible humane farming.
Pasture raised meats are humanely-raised, easier for the body to digest and contain bio-available protein and vitamins (meaning that they don't contain anti-nutrients so it's easy for your body to absorb the protein and vitamins).
Factory farmed meats on the other hand have a higher ratio of omega-6s which can cause inflammation because the animals are usually fed grains like GMO corn and soy. Pasture raised meats contain a healthy balanced ratio of Omega-6s to Omega-3s. They also have considerably more CLA, antioxidants, vitamins and minerals than their grain-fed counterparts. (9)
As someone who respects animals, it is essential for me to support farmers that employ humane farming practices by letting their animals roam on pasture, feeding them what they are naturally meant to eat and treating them with respect and gratitude.
It's important for me to know where my food comes from. A prominent part of my food buying experience is researching or asking local farmers at farmer's markets or through email or phone if their animals are pasture raised, if they're humanely treated and whether they are fed GMOs or given any hormones or antibiotics. I know which farms in my area are truly raising their animals responsibly.
I now believe that eating mindfully and knowing where your meat comes from is just as compassionate as being vegetarian or vegan if you really know about the state of our food system. If you're not sure what I'm talking about I urge you to read this article about how a vegan or vegetarian diet can actually be harmful to the environment just like those who consume mass produced food. I believe that buying local from sustainable farmers is the best way to support a healthy environment, healthy bodies and be compassionate to animals.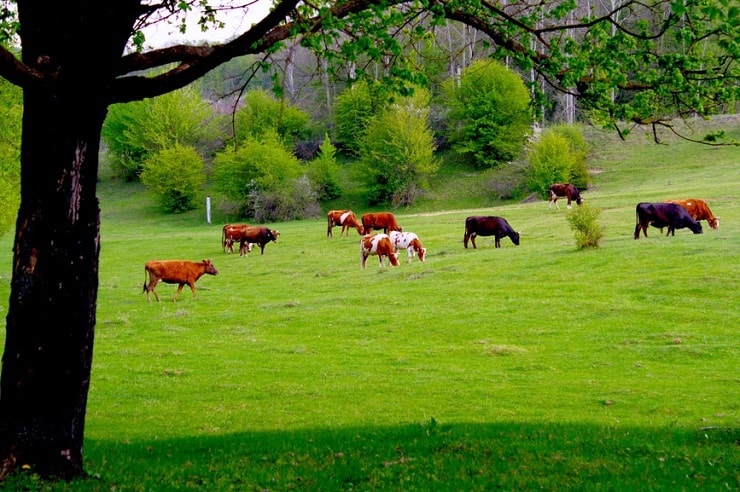 How I Feel After a Few Months of Eating Meat
Although I stopped being vegetarian a few months ago, it has been a very slow transition. It's only recently that I've really begun to make meat a more prominent part of my diet.
I have to say that having more protein and less carbs in my meals has helped with my hunger fluctuations and sugar cravings a lot. Ever since I started having meat or fish for at least 2 meals per day, I've been shocked at how little I crave sugar…especially after struggling with sugar cravings for so long and trying so many different ways to stop them with no success.
Having meals with meat and vegetables makes me feel much more balanced, it keeps me satiated until the next meal and it doesn't make me want to reach for sweet snacks. I also have a lot more energy now. I know it will still take time for my deeper problems to correct, but as it stands now, I'm happy with my decision and feel healthier as a result.
Why I'm Happy that I Stopped Being Vegetarian
So now that the cat is out of the bag (::sigh of relief::) I hope that this article has thoughtfully explained why the option for me was either my health or vegetarianism. Unfortunately, my vegetarian diet was actually making my blood sugar fluctuations, sugar cravings, metabolic problems and hormonal issues worse.
I had to make a choice for my health and even though I do include meat as a part of my diet now, I don't believe that one has to be vegetarian to be an animal lover. I do the best that I can with what I have and make sure to only support farms that treat animals humanely and with respect.
Even though I have chosen to stop being vegetarian, it is never my aim to tell people what diet they should choose as it is a deeply personal decision and I respect that you have chosen one that works best for you. I hope that those of you who read this article will also grant me the same respect for my decision.
Although my blog is here to provide you with interesting articles on wellness, delicious recipes and cooking/kitchen how-to's, this blog is also a reflection of me and my life. Since humanely raised meat is a part of my life now, I want to share it with my readers. I understand if meat is not a part of your life and if this is the case, just ignore any of my posts that make mention to meat or don't apply to you. I will still continue to provide vegetarian and vegan recipes, but will just have a little more variety now.
Thank you for reading and continuing to follow my blog. Your readership means everything to me.