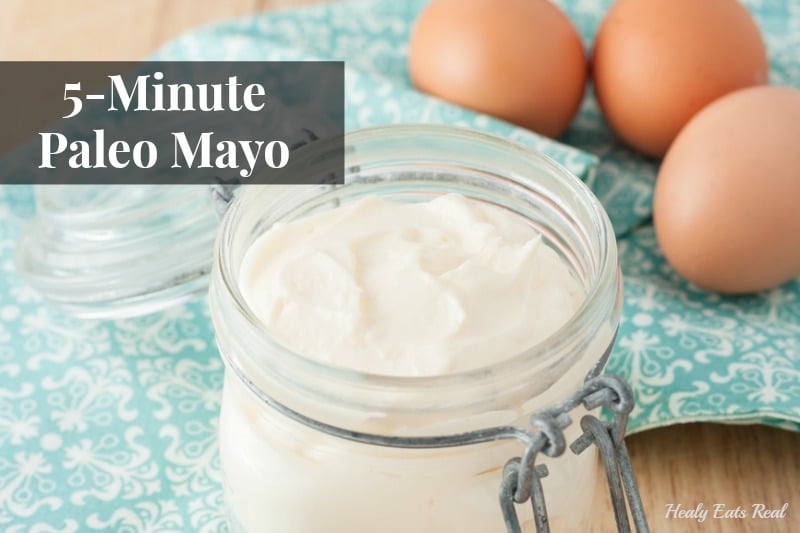 I love this recipe! It's the best paleo mayo ever! For this recipe I find that it works best with an immersion blender, it naturally keeps the acids and the oil separated which is needed for making mayo. I've tried this in a blender and a food processor and it was a total fail! So if you're following this recipe, stick with the immersion blender and a tall container.
Why I Use Avocado Oil
I use avocado oil for this recipe because it's a healthy oil. Of course olive oil is healthy, but when you blend olive oil for mayo the flavor becomes very bitter and intense. Avocado oil is lighter and more mild and works perfectly for mayo (I get mine at costco!). I would never use canola oil or grapeseed oil since they are not very healthy oils, you can read more about that here.
See how to make this easy mayo in my video below:
5 Minute Paleo Mayo
Instructions
In a pint sized mason jar (you'll need a tall narrow container like a jar or a glass), add the egg yolk, lemon juice, water and dijon mustard.
Measure out 1 cup of avocado oil and add it to the jar. Usually mayo recipes require you to add the oil to a blender after you've begun mixing, but this is not necessary with an immersion blender and a tall container (trust me, I've done it many times!).
The oil will naturally separate from the acidic ingredients at the bottom. Place the immersion blender all the way down to the bottom of the container before turning it on.
Then, turn on the immersion blender and keep it at the bottom. You will begin to see the mayo forming on the bottom, once the white mayo starts working it's way up the sides (after about 30 seconds or so) start to bring the immersion blender up to incorporate more of the oil at the top. Once the everything is mixed, you've got mayo! Now just add salt and blend for a few seconds more to mix.
 Like this post? Share the video on facebook below!
Get My FREE "6 Easy Tips to Quit Sugar" Guide!
Get instant access when you subscribe!

Get My FREE "6 Easy Tips to Quit Sugar" Guide!
Get instant access when you subscribe!