This "5 Best Superfoods to Get You Through Fall & Winter" post is sponsored by iHerb, but I only recommend products and services that I have personally tried and believe are of value to my readers. All opinions in this post are my own.
These five best superfoods will help you get through fall and winter happier, healthier and more energized! Each superfood is simple to include in your diet and chock full of beneficial nutrients.
During fall and winter months the weather gets colder, the days get darker and shorter and we tend to stay inside more. All of this can lead to increased sickness, lack of vitamins, less physical activity and lack of energy. I decided to create this list of some of my favorite healthy superfoods that can help combat all of those fall and winter downsides.
Get A Discount On Your Superfoods, Supplements or Baking Supplies from iHerb!
When it comes to superfoods or supplements I usually order through iHerb. They also offer a ton of healthy keto and gluten free foods and baking supplies as well as natural skincare products too!
iHerb carries over 30,000 natural products and ships to over 180 countries. All orders are shipped from climate-controlled distribution centers to ensure the quality of products. iHerb also offers customer service 24 hours a day / 7 days a week in 10 different languages.
Customers can get a discount off their iHerb order by clicking here.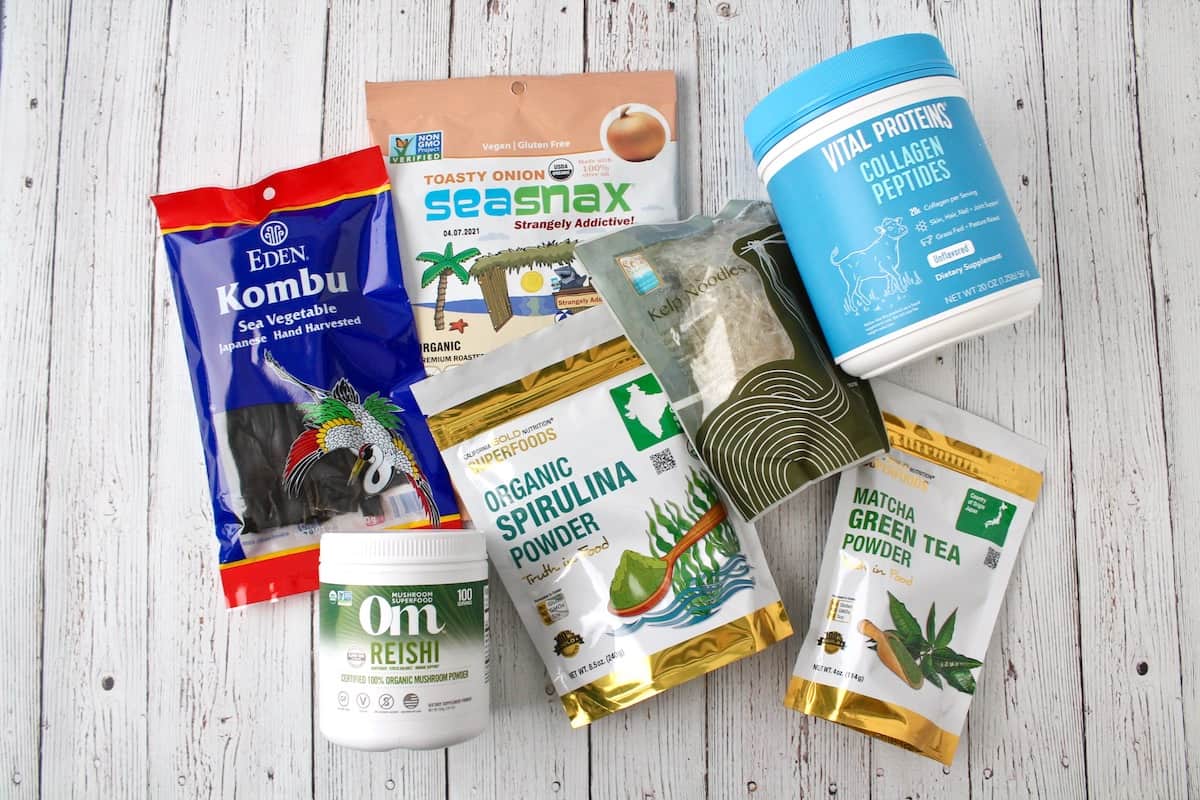 All of the best superfoods for fall and winter mentioned in this post are available on iHerb…
5 Best Superfoods to Get You Through Fall & Winter:
1. Medicinal Mushrooms
During the fall and winter months, it's imperative to keep our immune systems strong and healthy. Enter medicinal mushrooms! These powerful fungi are one of the best immune boosters in addition to many other health supporting properties. The bonus is that they could not be easier to include in your diet even if you're not a fan of mushrooms.
Thankfully some of the best medicinal mushrooms like reishi, lion's mane or chaga come in powdered form which makes it super easier to throw into a smoothie, coffee drink, make into a tea or even bake into a treat!
I like this organic OM reishi mushroom powder which has no weird additives, just pure reishi mushroom. Medicinal mushrooms not only support immune health, but offer a whole host of other health benefits as well.
Here are some of the best health benefits of Reishi mushrooms:
Support the immune system
Aid in weight loss
Support mental health
Promote positive mood
Promote good sleep
Support focus
2. Collagen
Many people tend to be a little more sedentary in the colder fall and winter months because they're not able to get outside as much. Less movement can affect joints and bone density.
Collagen makes up a significant portion of the protein in our bodies, but is not very commonly found in food that we usually eat. That's why it's especially great to take collagen in the colder months since it is such an important support for joints and bones. Collagen has been shown to help maintain strong cartilage. Collagen is also thought to reduce inflammation and support strong bones.
As the weather gets colder and dryer in fall and winter, our skin tends to suffer as well. Thankfully collagen helps skin hydration and elasticity.
One of the easiest ways to include more collagen in your diet is with powdered flavorless collagen. My favorite is Vital Proteins collagen peptides. I have at least 2 tbsp every day in my morning smoothie. It's easy for the body to digest and dissolves in liquids so it's simple to add to smoothies, coffee, baked goods, yogurt or oatmeal.
Here are some of the best health benefits of collagen:
Supports healthy skin, nails and hair
Promotes strong bones and joints
Supports the digestive system and a healthy gut
Aids in healthy muscles
Supports a healthy heart
3. Seaweed
When the days get shorter in fall and winter we tend to stay inside more which can make us more sluggish and tired. Seaweed is rich in tyrosine and is one of the only natural plant-based forms of iodine and omega 3 fatty acids. These elements are important in supporting hormones that affect energy and metabolism.
Seaweed also contains an abundance of vitamins, minerals and antioxidants that support the immune system, heart health and gut health.
There are many different types of seaweed available including nori, wakame, kombu and a multitude of ways to eat it. Some of my favorite ways to enjoy seaweed is these Sea Snax Roasted Seaweed Snack or I also like to add Eden Foods Kombu or Sea Tangle Kelp Noodles to a big pot of soup.
Here are some of the best health benefits of Seaweed:
Supports healthy thyroid function
High in fiber
May lower risk of heart disease
May promote health blood sugar levels
High in antioxidants, vitamins & minerals
Iodine & tyrosine support healthy hormones
4. Matcha Green Tea
When the weather gets colder there's nothing quite as cozy and soothing as a nice cup of tea. Plus it's even better if that tea provides smooth energy as well as other health benefits. That's why matcha green tea is such a perfect superfood for the fall and winter months.
Matcha is a powdered form of green tea with enhanced nutritional properties as a result of the growing process. It's also very quick and easy to make; Just put a little bit of the powder in a mug and fill with hot water. You can even use the powder to bake into treats or to make a matcha latte.
Here are some of the best health benefits of Matcha:
High in antioxidants which may lower risk of chronic disease
Supports a healthy liver which helps flush out toxins
Promotes a healthy brain and may aid in focus, attention and memory
May reduce risk of certain cancers
Promotes a healthy heart
May support metabolism, energy and weight loss
5. Spirulina
Spirulina is an algae from the sea that is incredibly nutrient dense. It's generally a perfect superfood to take any time of year, but during fall and winter your body may be more vulnerable to getting sick, so it's a great time to include immune boosting foods with lots of vitamins and minerals.
Spirulina is notably high in an antioxidant called phycocyanin which helps to fight free radicals and has anti-inflammatory properties which may reduce risk of chronic diseases.
Spirulina comes in powder form which makes it easy to add to smoothies, yogurt, coffee or baked goods.
Here are some of the best health benefits of Spirulina:
Supports heart and cardiovascular health
May reduce risk of certain cancers
May help maintain healthy blood pressure
May help with allergies
Supports muscle strength and physical endurance
Promotes healthy blood sugar levels
Sources: