Immune Boosting Healthy Smoothies (Paleo & Vegan)
This post may contain affiliate links. As an Amazon Associate I earn from qualifying purchases. Please read the disclosure policy.
This Immune Boosting Healthy Smoothies post is sponsored by iHerb, but I only recommend products and services that I have personally tried and believe are of value to my readers. All opinions in this post are my own.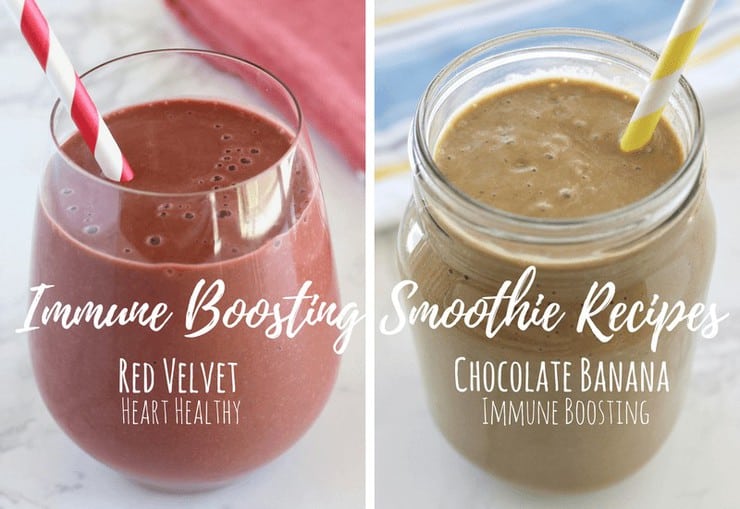 Healthy smoothies are one of my favorite breakfast ideas. They are so easy, quick and versatile. You can basically make it any way you want with different flavors or for different dietary needs. Smoothies are also a great way to get kids to eat more greens without it tasting too "green".
These two immune boosting smoothie recipes are not only healthy, paleo, vegan and dairy free, but they also taste amazing!
Common Mistakes That Make Your Smoothies Unhealthy
It's important to avoid the common smoothie pitfalls that can actually make them unhealthy. Make sure you don't use too much fruit and fruit juice which is basically just concentrated sugar that causes a huge blood sugar spike and messes up your metabolism and makes you hungrier for the rest of the day.
Be sure to include good sources of protein and healthy fats in your smoothies. These ingredients help to mitigate any blood sugar spikes that might occur from the fruit and creates a balanced meal. Use a small amount of frozen fruit and bulk it up with things like avocado, cucumber, greens, nut butter or other healthy additives. Instead of fruit juice use almond milk, coconut milk and/or coconut water.
The Best Healthy Smoothie Ingredients
Both of the immune boosting smoothie recipes below are perfect examples of a well balanced smoothie. They don't contain too much sugar from fruit, they have good sources of protein (from superfood collagen protein) and fat (from avocado and cashew butter). They have a little bit of extra natural sweetness and flavor from stevia and vanilla extract without any added sugar.
Grass Fed Collagen
My absolute favorite protein powder to use in smoothies is grass fed collagen gelatin protein. Not only is it a very easy protein for the body to digest, but it is also a complete protein with beneficial amino acids to support the immune system, metabolism, healthy hair, skin and more. Learn more about the health benefits of grass fed gelatin here.
Cashew Butter
I love adding cashew butter to my smoothies. Not only is it a healthy fat with a little bit of protein, but it also adds a really rich creamy texture and flavor to the smoothie. It's even better than almond butter in my opinion!
Avocado
Avocado is another one of my must-have smoothie ingredients. Don't be afraid of the savory nature of avocado! I only put in a small amount (about 1/4 of an avocado) in my smoothie and you won't even taste it when it's masked by other ingredients like cocoa powder or fruit. Avocados are a very healthy food to include in your diet plus they also act as emulsifiers in smoothies to help it stay creamy, smooth and delicious!
Madre Labs CocoCeps and CocoCardio
I was super excited to try Madre Labs' CocoCeps and CocoCardio drink mixes. They are both cocoa drinks that include antioxidant rich cocoa powder as well as other healthy additions to support the immune system and the cardiovascular system. They are great drinks mixes for health conscious folks who may have dietary restrictions. Both CocoCeps and CocoCardio are organic, gluten free, dairy free, non-GMO, no added sugar, vegan and soy free!
You can add the powder to dairy free milk or hot water to drink like hot cocoa, but I thought it would be even more fun to add them to healthy smoothies!
Both Madre Labs Coco powders tasted delicious and I'm thrilled to make them a regular addition to my morning smoothies. Both of these immune boosting smoothies will probably become my favorite new breakfast recipes to put in my regular rotation!
I also added some CocoCeps to my husband's coffee this morning and he loved it! I'm happy to get some extra immune boosting properties to his coffee.
CocoCeps, Instant Organic Dark Cocoa with Cordyceps and Reishi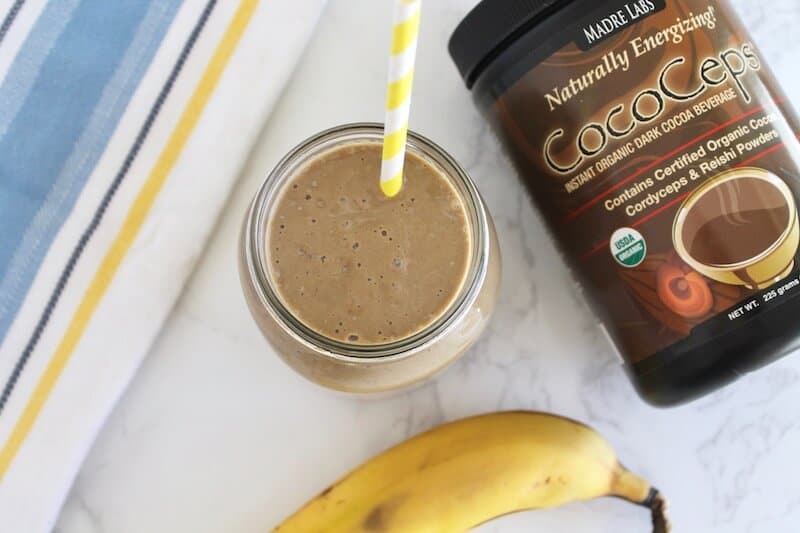 CocoCeps includes organic cocoa powder plus cordyceps and reishi. If you've never heard of cordyceps or reishi, they are mushrooms with incredible health properties. I have been hearing for a while about these traditional Chinese mushrooms that are really great for the immune system and so much more. (Seriously, if you haven't heard about these mushrooms, look them up! They have so many awesome health properties!)
I thought CocoCeps had a great flavor. I was expecting it to have some strange flavor with the added mushroom powders, but it basically just tastes like cocoa powder! These mushrooms naturally have a mild nutty flavor so it pairs really well with the chocolate.
Health benefits of Cordyceps and Reishi:
Promotes energy
Supports the respiratory system
Aids in combating fatigue and stress
Supports the immune system
Maintains hormonal balance
Supports healthy liver function and detoxification
CocoCardio, Organic Cocoa with Beet Juice Powder & Hibiscus Extract
CocoCardio is a blend of organic cocoa powder with beet juice powder and hibiscus extract. It has a bit of a different flavor than the CocoCeps. The beet powder and hibiscus add little hint of sourness which goes really well with the red velvet smoothie recipe below!
Health Benefits of Beets & Hibiscus Extract:
Supports healthy metabolism
Maintains a healthy cardiovascular system
Aids in boosting stamina
Supports detoxification
Maintains a healthy immune system
Ordering Healthy Ingredients from iHerb
I got pretty much all of my non-perishable healthy smoothie ingredients through iHerb.com. They have a HUGE selection of quality ingredients like nut butters, grass fed collagen, flours, cocoa powder as well as vitamins and supplements at a really affordable price. Shipping is free for any order over $20 and every time I order, my supplies come really quickly! Yay!
All of the following non-perishable smoothie ingredients used in this recipe are available to purchase through iHerb. Plus iHerb is a Google Trusted Store and their Customer Service team provides support in 10 different languages! Sweet!
Get a discount on your order on iHerb.com!
Luckily all of these high quality ingredients are available at an affordable price on iHerb.com. So stock up on these high quality ingredients and supplies.
Immune Boosting Healthy Smoothies (Paleo & Vegan)
Heart Healthy Red Velvet Smoothie
The main ingredients in this delicious red velvet smoothie are beet, strawberry, avocado, dairy free yogurt and Madre Labs CocoCardio to add a metabolic and heart healthy boost!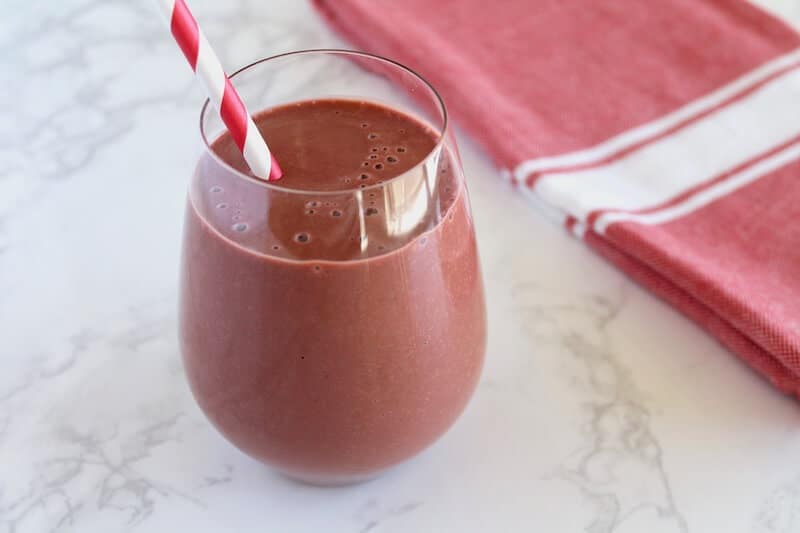 When I was testing this recipe, I was a little concerned that a beet in the smoothie might add a flavor that is too earthy and strong, but boy was I wrong! You can't even taste the beet, but you still get the benefits of it. I would recommend only using a cooked beet (as opposed to a raw beet) since the flavor is much milder. I used the pre-cooked vacuum packed beets that you can buy in the store.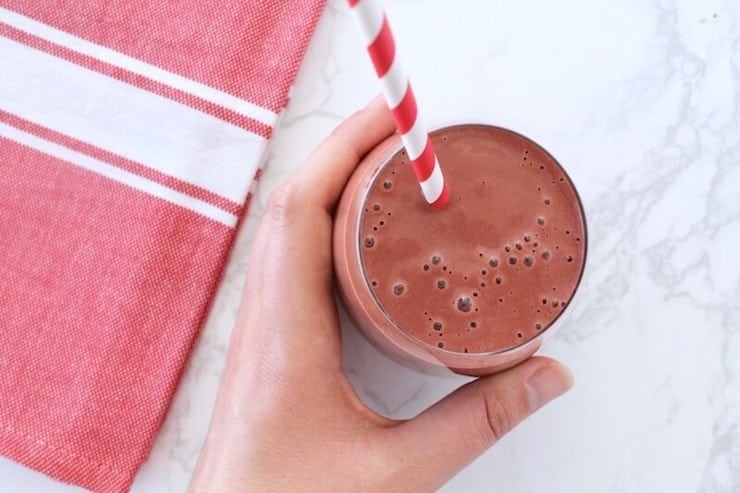 With the combination of the Madre Labs CocoCardio and the yogurt, you get a pretty convincing red velvet flavor with that signature color and none of the unhealthy sugary ingredients usually in red velvet cake. Enjoy!
Immune Boosting Chocolate Banana Smoothie
The main ingredients in this decadent chocolate banana smoothie are banana, avocado, greens, cashew butter and Madre Labs CocoCeps to add an immune system and energy boost!
The addition of avocado and cashew butter makes this smoothie so creamy and smooth that it almost tastes like a chocolate milkshake, but healthier. Plus the chocolate banana flavors are so dominant that you can't even tell that there's spinach in it…perfect for kids!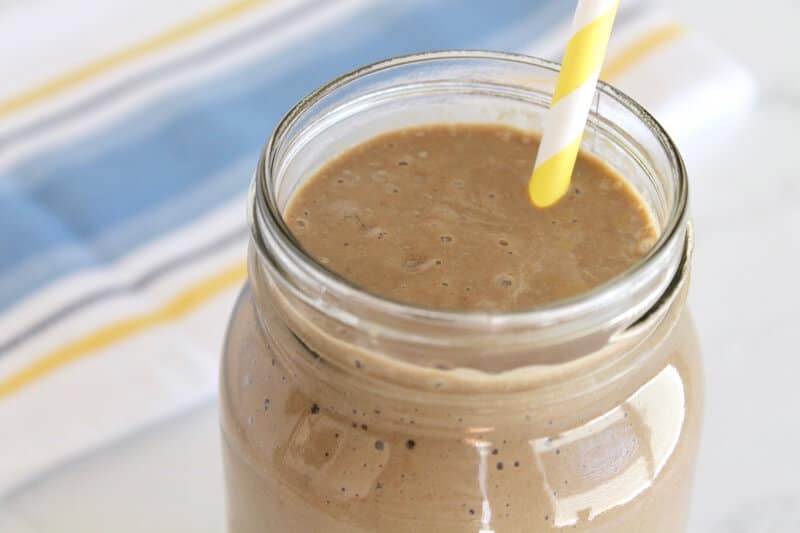 Immune Boosting Healthy Smoothies: 2 Ways
These two immune boosting smoothies are sure to brighten up your morning. The healthy chocolate banana smoothie tastes rich smooth and sweet and adds an immune system and energy boost to your day. The healthy red velvet smoothie gives a heart healthy boost plus a sweet and slightly tangy red velvet flavor!
Ingredients
Immune Boosting Chocolate Banana Smoothie
Heart Healthy Red Velvet Smoothie
Instructions
The directions for both smoothie recipes are the same. I love how easy smoothies are! Combine all ingredients in a blender and blend. Add more almond milk or ice cubes for texture as needed.
Notes
Nutrition Facts for Heart Healthy Red Velvet Smoothie:
Nutrition Facts for Immune Boosting Chocolate Banana Smoothie:
Nutrition
Calories:
362
kcal
Carbohydrates:
29
g
Protein:
24
g
Fat:
18
g
Saturated Fat:
3
g
Sodium:
285
mg
Potassium:
775
mg
Fiber:
9
g
Sugar:
9
g
Vitamin A:
1480
IU
Vitamin C:
15.8
mg
Calcium:
191
mg
Iron:
1.7
mg