15 Healthy Pizza Crust Recipes Made from Vegetables (Gluten Free & Paleo)
This post may contain affiliate links. As an Amazon Associate I earn from qualifying purchases. Please read the disclosure policy.
These amazing healthy pizza crust recipes will knock you off your socks! Made with nutritious veggies like cauliflower, broccoli, zucchini, butternut squash and more, you don't have to worry about getting your daily serving of vegetables with these pizzas.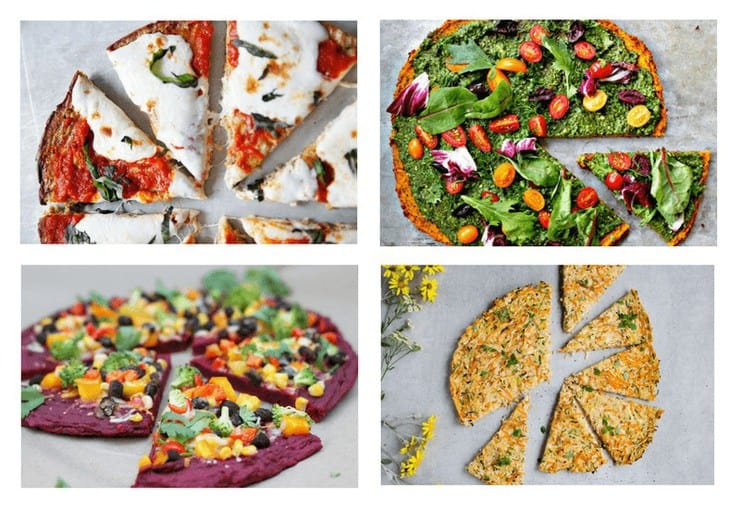 Who knew that you could make pizza crust from so many different types of vegetables? These are also great if you want to sneak in some veggies for your picky eater kid.
When you're trying to eat a healthy diet, most people think that doesn't involve pizza, but when you make your own with nutritious ingredients, it can be part of a good diet!
All of these healthy pizza recipes are gluten-free and many of them are also paleo or low-carb. You can make whichever crust you like and add your favorite toppings like pepperoni, cheese, chicken, pesto or vegetables.
Obviously dairy is not paleo, but sometimes you just need a little cheese from time to time, right? However, if you are strict paleo or dairy-free you can use most of these crusts for pizza and add whatever cheeseless toppings you want.
I tend to avoid dairy because it doesn't agree with me, so I usually go for a no cheese pizza like this AIP pizza with pesto, veggies and sausage on top. But what could be better than making your pizza with vegetables?
15 Healthy Pizza Crust Recipes Made from Vegetables:
1. Easy Grain Free Carrot Pizza Crust
This grain free healthy pizza crust is made from carrots and flax seed, proving that you can enjoy a delicious pizza on a paleo and gluten free diet. It's topped with a super easy tomato basil sauce, kale and dairy free cheese…with pizza this healthy you could eat it everyday!
2. Paleo Eggplant Pizza Crust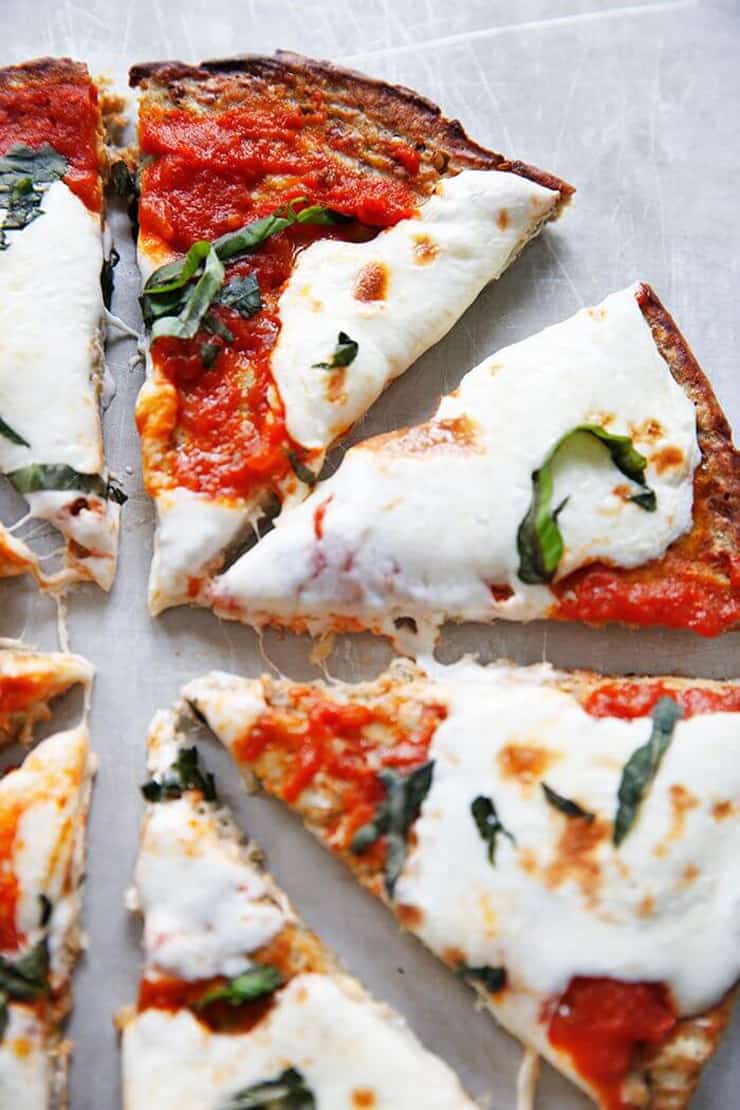 A hearty and delicious pizza crust made from eggplant. It packed with flavor and really easy to make plus it's a great way to sneak extra veggies in to your family's diet.
3. Spaghetti Squash Paleo Pizza Crust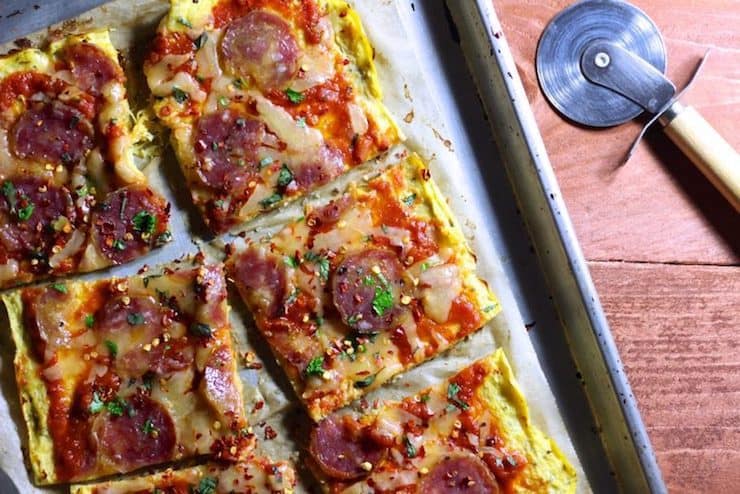 Spaghetti squash is the perfect way to enjoy a lighter, healthier pizza crust. It's thinner and more fragile than a traditional crust so lighter toppings would work best for this but nevertheless it's a delicious option that the whole family will love.
4. Sweet Potato Paleo Pizza Crust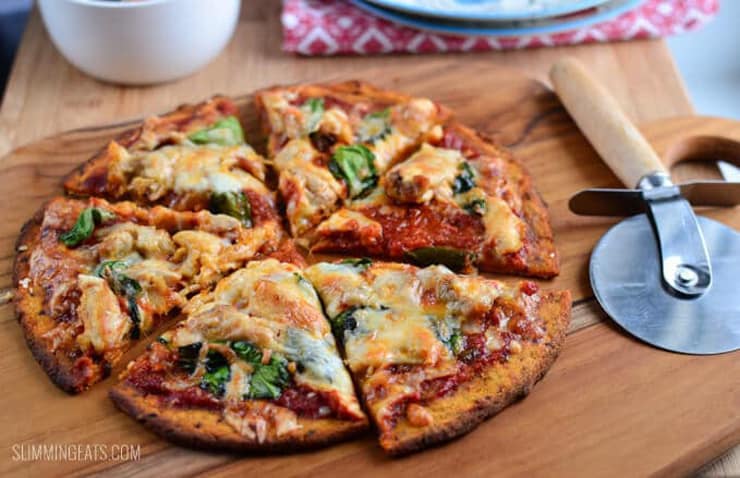 This sweet potato crust is an easy healthy, veggie packed alternative that can also be frozen to make pizza night even easier! It's gluten free, paleo, dairy free, vegetarian and extra delicious.
5. Pesto Portobello Paleo Pizza
Portobello mushrooms are a great way to enjoy a healthier, low carb pizza. There's no need to prep any dough so they're super easy and you can fill them with whatever you like. This is a great one for weeknights when you're looking for some healthy comfort food.
6. Thin Crust Yuca Root Paleo Pizza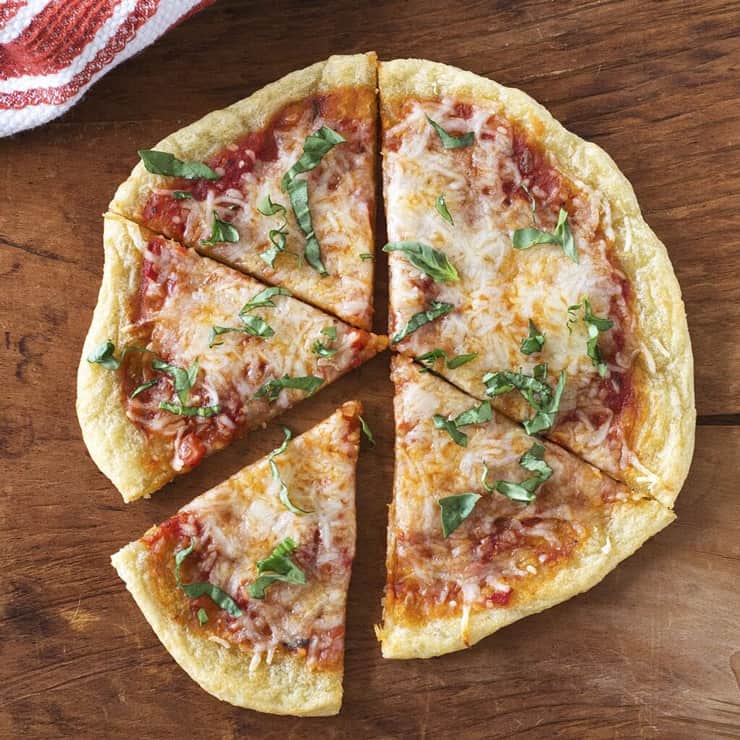 A thin, flaky, crispy and chewy pizza crust that's made with only 4 ingredients! It's super easy to make and better yet it's paleo, grain free, vegan, dairy free, egg free and healthy too! Literally everyone can enjoy this crust and get their pizza fix.
7. Butternut Squash Paleo Pizza Crust
This is probably one of the easier, minimal prep ways of making a grain free pizza crust. It doesn't give you a crunchy, crispy crust that you would traditionally find in a pizza crust but it's a delicious and healthy alternative that's perfect for weeknights!
8. Paleo Pumpkin Pizza Crust
Another pumpkin crust that you'll love! This crust is so easy to whip up and is much lighter on the stomach so won't leave you feeling bloated afterwards. Plus it's a great way of getting some extra veggies into your diet!
9. Paleo Cauliflower Pizza Crust Recipe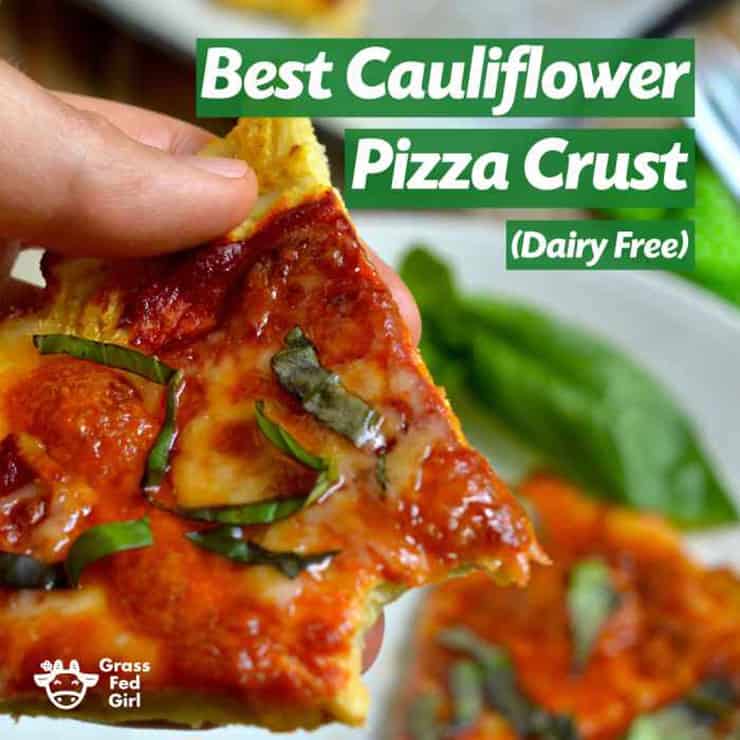 A cauliflower crust is always a winner when it comes to a lighter and healthier pizza option. This one is also paleo friendly and easy to make. Top with whatever you're craving and get you're pizza fix any night of the week!
10. Broccoli Crust Gluten Free Pizza
We've all heard of a cauliflower pizza crust but what about broccoli? This one is extra delicious, gluten free and comes together in only 30 minutes and works great as a healthy alternative to a traditional crust.
11. Gluten Free Beet Crust Pizza
This bright and colorful pizza is super fun and easy to make. The beets give this crust a beautiful deep pink color and will give any pizza that wow factor when you pull it out of the oven. Top with your favorite veggies and enjoy a super healthy pizza night.
12. Butternut Squash Gluten Free Pizza Crust
This grain free butternut squash pizza is the ultimate pizza crust to enjoy during fall or anytime of the year for that matter. It's a softer crust than you're traditional type so it's best made with lighter toppings but it's so delicious and sure to impress you're guests at your next pizza party!
13. Gluten Free Zucchini Crust Pizza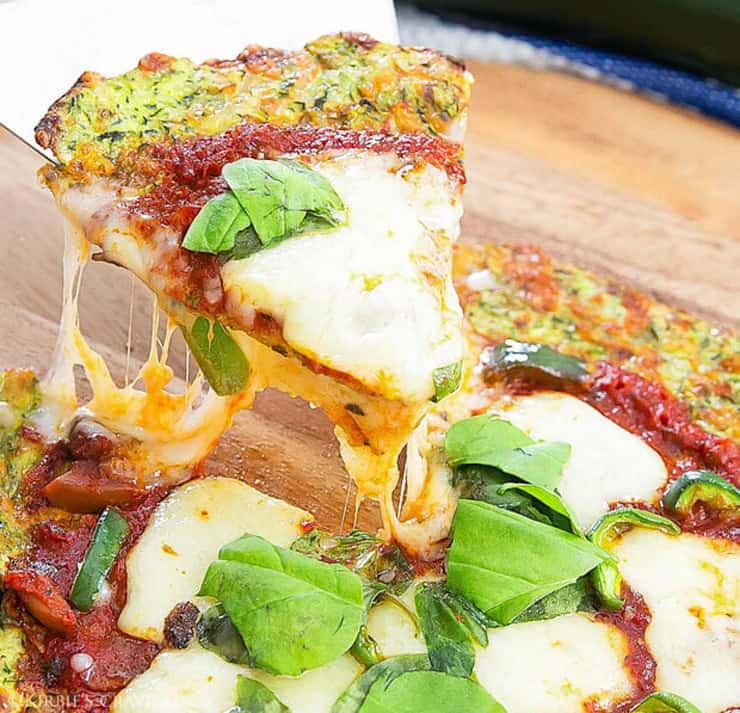 This veggie pizza crust comes out almost like a flatbread crust, it's slightly crispy and chewy and has a ton of flavor. It's a great low carb option plus it's packed with veggies so you can get your pizza fix whilst maintaining a healthy diet.
14. Gluten Free Spinach Pizza Crust
This spinach pizza crust is a great way to get more greens into your diet. It's low carb, incredibly healthy and packed with delicious flavors. Top with your favorite toppings and enjoy a guilt free pizza night.
15. Kale and Spinach Pizza Crust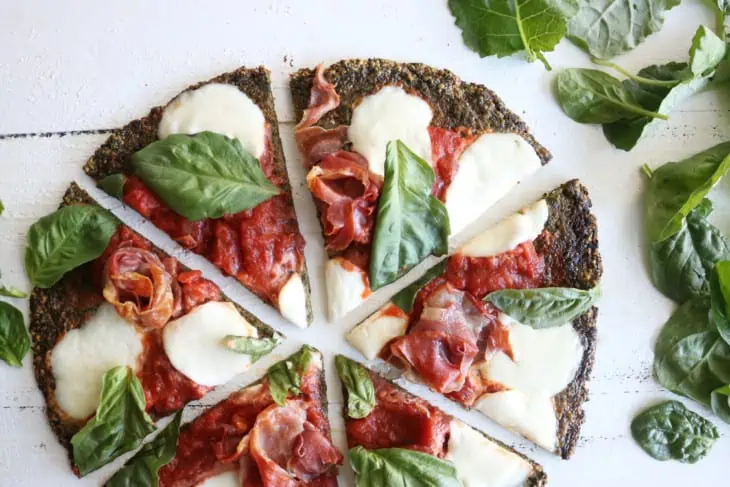 Looking to get those leafy greens in? This kale and spinach pizza crust is a fun way to add more vitamins and minerals to your diet! Top with tomato sauce or pesto and your favorite toppings and enjoy a healthy and delicious meal.