Lemon Garlic Brussels Sprouts with Balsamic Glaze
This post may contain affiliate links. As an Amazon Associate I earn from qualifying purchases. Please read the disclosure policy.
These Lemon Garlic Brussels Sprouts will change your opinion of the humble yet often hated veggie. When cooked correctly they are absolutely delicious, healthy and make the perfect side.

I absolutely love these lemon garlic brussels sprouts! I always find it funny when people in tv shows or books talk about brussels sprouts like they're the worst of the worst, like how people talk about liver and onions (although I know lots of folks who love liver and onions).
Brussels sprouts can be incredibly delicious if prepared well. I feel like any vegetable has the potential to be terrible or delicious depending on how it's prepared. Most of the time cafeteria vegetables are disgusting–lukewarm, half cooked, not fresh, lacking in any flavor or spices–it's no wonder that so many kids hate vegetables.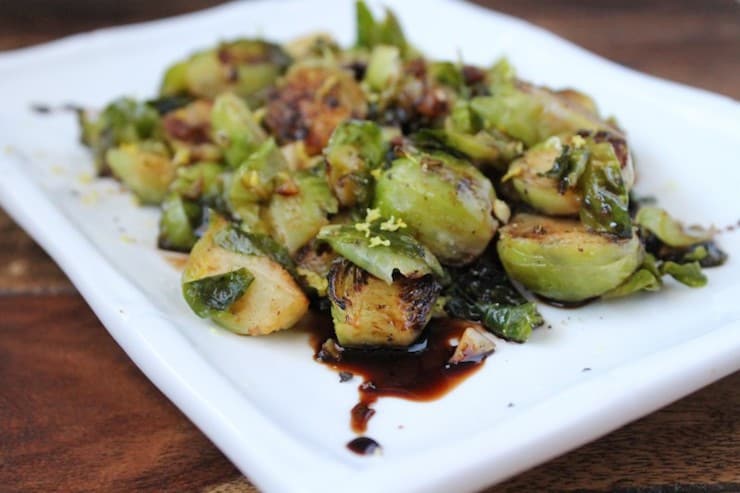 I would hate them too if that's the way I had to eat them! But with the right amount of care and attention, spices and flavors any vegetable can be a winner.
This recipe would make a perfect weeknight dinner side dish or even a great addition to the Thanksgiving or Christmas table.
What To Serve These Garlic Brussels Sprouts With?
These would go down a treat as a side to any festive menu
Serve with grilled meats or fish
In a salad
Try tossing any leftovers into a stir fry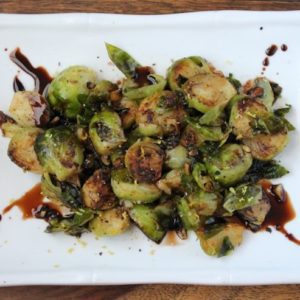 Lemon Garlic Brussels Sprouts with Balsamic Glaze
These lemon garlic sprouts will change your opinion of the humble yet often hated veggie. When cooked correctly they are absolutely delicious, healthy and the perfect side.
Instructions
Balsamic Glaze
Add balsamic vinegar to a small saucepan and heat to a boil then reduce the heat to a gentle simmer.

Stir while the vinegar simmers for about 7-12 minutes until it thickens. For a thicker glaze, simmer for longer (12 minutes). Keep in mind that once the glaze cools it will thicken a bit further.

Set the glaze aside to cool as you prepare the brussels sprouts.
Brussels Sprouts
Wash brussels sprouts and chop off stem end of each one. Then cut each brussels sprout in half lengthwise. Put the brussels sprouts in a skillet and pour a small amount of water in, just enough to come halfway up the brussels sprouts. You don't want to completely cover the brussels sprouts in water.

Do not use a cast iron skillet (you never want to boil water in cast iron). Turn the heat on medium high and cover skillet (if you don't have a cover for your skillet, you can cover it with another large skillet). Let simmer until the brussels sprouts are tender, but not too soft or mushy.

After 5-10 minutes of simmering pierce a brussels sprout with a fork to see if it is tender. If you can pierce the brussels sprout it is done. Strain the water out using a colander.

Finely chop the garlic, then put the ghee into the skillet on medium-high heat. Once the ghee is hot, put the brussels sprouts in the pan and sprinkle with garlic. Sprinkle with salt and pepper.

Let cook for a couple minutes on one side to brown then stir and mix the sprouts to evenly heat. Once the brussels sprouts have browned for a few minutes, they are done.

Put the brussels sprouts on a plate, then drizzle with the balsamic glaze. Then, zest with some lemon (zest really ads great flavor to a lot of dishes). Use a fine grater/zester to shave the lemon peel to lightly sprinkle onto the brussels sprouts. Add a little more salt and pepper if desired and enjoy!
Nutrition
Calories:
244
kcal
Carbohydrates:
23
g
Protein:
8
g
Fat:
15
g
Saturated Fat:
9
g
Cholesterol:
38
mg
Sodium:
60
mg
Potassium:
950
mg
Fiber:
9
g
Sugar:
5
g
Vitamin A:
1785
IU
Vitamin C:
204.8
mg
Calcium:
113
mg
Iron:
3.4
mg