5 "Vegetarian Foods" I Never Eat
This post may contain affiliate links. As an Amazon Associate I earn from qualifying purchases. Please read the disclosure policy.
I often see a lot of misconception surrounding vegetarianism from many people in the real food community and vice-versa. In my opinion the paleo/WAPF/traditional foods movements and vegetarians have a lot in common (see my article Not All Vegetarians Are Created Equal). So, I wanted to create this two part series on what a real food vegetarian eats. I'm starting off with a list of 5 "Vegetarian Foods" That I Never Eat.
Most of the items on my list of 'Vegetarian Foods I Never Eat' are highly processed foods. The "Real Food" movement is most commonly defined by the avoidance of processed foods. Of course, considering the fact that processed food is so prevalent in the American diet, the lines between natural and processed have been blurred. Many packaged food products have the word "natural" written right on it, further confusing average consumers who may not have the time to analyze these products and all the ingredients in them.
In this day and age it's hard to completely avoid processed food and I can't say that I'm perfect, but I do try my hardest to avoid it at all cost. In my opinion, processed food is packaged food (even if it says natural on it!). If you don't know how it was made or can't make it yourself at home, that's a pretty good indicator that it's not natural. However, I think the 80/20 rule is good way to live, meaning that you eat healthy 80% of the time and every once in a while (20% of the time) you go out with friends and get a pizza or ice cream or whatever. Trying to be perfect all the time can cause major stress which is also unhealthy!
This list is not intended as a list of foods that YOU should never eat. It is however a list of foods that I myself do not eat and would encourage anyone to exercise caution before consuming. I often get emails from readers asking me what I eat, so I want to start with what I don't eat. I will share a few foods that are commonly regarded as health foods and are widely considered to be "vegetarian food" that I try to avoid. Whether or not YOU should eat these foods is up to you. Make your own informed decision. Look at all the relevant information out there and decide what is best for you.
1. Tofu
Soy, which is what tofu is made of, has been shown to have many troubling effects on health. Just to name a few: soy is high in phytates (phytic acid) and trypsin inhibitors which makes it hard to digest and even blocks absorption of certain vitamins, minerals and proteins.
To break down this anti-nutrient (phytic acid) in grains and legumes, it helps to sprout or soak them. However, this is not enough for soy. It needs to be fermented to effectively reduce phytic acid. Although Asian cultures have thrived despite consuming soy for centuries, they have traditionally only eaten fermented soy (like soy sauce, tempeh, natto and miso) in very small quantities. When I say traditional, I mean before the industrial revolution came about which allowed food to be created in factories and become highly processed. Of course, today in Asia most people consume as much soy as Americans do, but they also eat a lot of other unhealthy processed foods like us too.
94% of soy is Genetically Modified (GMO). Since soy is one of the most vastly grown cash-crops in the US, it's not surprising that it's in everything. The over-processing of soy can create a dangerous product. Soy lecithin, soybean oil, mono- and di-glycerides and MSG (monosodium glutamate) are all common derivatives of soy.
Soy also contains phytoestrogens which can disrupt normal hormone function. I experienced this hormonal disruption first-hand and have heard testimonials from others with similar stories. Years ago when I used to eat a lot of soy I always had a very irregular menstrual cycle. A woman's period should come roughly every thirty days, but I could never count on mine coming at the same time each month. Sometimes it would be every other month sometimes it wouldn't come for three months, I never knew. I even went to an endocrinologist after a while to see if they could get to the bottom of it, but the doctor wasn't able to explain it and told me that it didn't really matter unless I was trying to conceive. When I started reading up on the issues with soy I decided to stop eating it. It's been a few years since I've regularly eaten soy and my menstruation has been completely regular ever since.
I rarely eat soy products and if I do, I make sure it is organic or non-GMO and fermented. I definitely don't depend on it as a primary source of protein.
Sources:
https://www.smallfootprintfamily.com/2009/11/19/soy-is-not-a-health-food/
https://www.foodrenegade.com/dangers-of-soy/
2. Veggie Burgers
Although they are commonly thought of as a health food, I would not consider them as such. Most store bought veggie burgers have tons of industrially processed chemicals, additives, MSG, GMOs and unhealthy oils. However, making homemade veggie burgers can be a great alternative! I often make my own with ingredients like sprouted lentils, vegetables, sprouted or soaked rice, quinoa and pasture raised eggs.
To show you an example of how processed store-bought veggie burgers actually are, I've written the ingredients for a morningstar burger below. It's a veritable cocktail of industrially processed oils, GMOs and MSG!
Food companies routinely mislead consumers by hiding MSG in packaged foods that would otherwise appear to be free of MSG. It is not only listed on ingredients labels as monosodium glutamate anymore, it's also hidden in many foods listing yeast extract, anything "hydrolyzed", textured protein and more (from Beautiful Babies).
Morning Star Burger:
GMOs are Highlighted in Orange
MSGs are Highlighted in Yellow
*Many ingredients are both MSG and GMO, but I just labeled one or the other.
TEXTURED VEGETABLE PROTEIN (SOY PROTEIN CONCENTRATE, WHEAT GLUTEN, WATER FOR HYDRATION) [GMO], CORN OIL [GMO], EGG WHITES, CALCIUM CASEINATE [MSG], CONTAINS TWO PERCENT OR LESS OF MODIFIED TAPIOCA STARCH [GMO], ONION POWDER, MIXED TRIGLYCERIDES [GMO], CANOLA OIL [GMO], HYDROLYZED VEGETABLE PROTEIN [MSG] (CORN GLUTEN, WHEAT GLUTEN, SOY PROTEIN), DEXTROSE [GMO], SOY PROTEIN ISOLATE [GMO] , NATURAL AND ARTIFICIAL FLAVORS [MSG], SALT, YEAST EXTRACT [MSG], SUGAR [GMO], CARAMEL COLOR [GMO], WHEY [MSG], METHYLCELLULOSE [GMO], SPICE [MSG], GARLIC POWDER, MALTODEXTRIN [GMO], DISODIUM INOSINATE, DISODIUM GUANYLATE [MSG], SOY SAUCE (WATER, SOYBEANS, SALT, ETHYL ALCOHOL, WHEAT) [GMO], AUTOLYZED YEAST EXTRACT [MSG], ASCORBIC ACID [GMO], THIAMIN HYDROCHLORIDE (VITAMIN B1), NIACINAMIDE, SESAME SEED OIL, SOY LECITHIN [GMO], IRON (FERROUS SULFATE), THIAMIN MONONITRATE (VITAMIN B1), PYRIDOXINE HYDROCHLORIDE (VITAMIN B6), RIBOFLAVIN (VITAMIN B2), VITAMIN B12.
Shocking right?! What you have left is egg whites, onion powder, salt, garlic powder and a bunch of synthetic vitamins… Yum!
Recommended Alternatives:
3. Soy Milk
Like I said above in regards to tofu, I avoid soy because of the health related concerns I have with it, because it is highly processed and because 94% is GMO unless labeled otherwise. Apart from that, soy milk also has additives and sweeteners that make it far from healthy.
Soy milk is rarely just soy beans and water. It often contains sugar, "natural flavor" (which usually contains MSG), and carageenan which has been shown to contribute to gastrointestinal problems and colon cancer in clinical trials (Carageenan Study).
Many years ago when I used to consume a lot of soy, I bought soy milk powder at a health food store so I could make my own. It didn't have any sugar or other additives, so I thought it would be a healthy money saver. I added the water to the
powder and took a sip…I spat it out immediately! It was disgusting! This is why almost all soy milk has added sugar because I don't think that most people would drink it without some kind of sweetener!

Recommended Alternatives:
4. Vegan Butter Substitutes or Earth Balance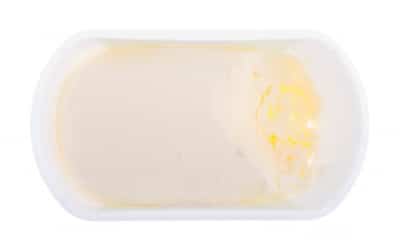 Most of these butter substitutes are full of canola and soybean oil. Canola and soy are both commonly GMOs unless stated otherwise, but I avoid them even if they are GMO free.
Although canola oil is vastly regarded as a healthy oil, many (including myself) agree that it is far from healthy and marketed as a healthy oil by big food companies hoping to make a profit on cheap oils. Read more about canola oil here.
I would consider pure olive oil or coconut oil to be a much better alternative for vegans (Find high quality olive oil and coconut oil here). Both soybean oil and canola oil are high in polyunsaturated fats (PUFAs) and the industrial processing of these oils creates free radicals which can cause all kinds of health problems and has been linked to cancer.
There's so much back story on canola oil and soybean oil that to go into it completely could merit a whole separate post. So, if you want to learn more about it I'll refer you to these posts:
https://butterbeliever.com/what-is-pufa/
Recommended Alternatives:
Ghee (the lactose is remove so it is often suitable for people with dairy allergies)
5. TVP (Textured Vegetable Protein)
Textured vegetable protein. It's meant to sound very nice isn't it? Like it's made all naturally from vegetables, but it's basically more soy! TVP is used in a lot of fake meat products like veggie burgers, soy sausage, tofurkey, etc.
Here's what wikipedia says about how it's made:
"The defatted thermoplastic proteins are heated to 150-200°c, which denatures them into a fibrous, insoluble, porous network that can soak up as much as three times its weight in liquids. Many TVP producers use hexane to separate soy fat from soy protein, and trace amounts of the solvent are left after manufacturing."
Doesn't sound so natural anymore does it? It sounds like a science experiment rather than food. I don't know about you, but I'd rather not have any trace of hexane in my food. The process of creating TVP also creates free glutamic acids which is MSG. MSG has been linked to brain damage, nervous disorders and hormone problems (from beautiful babies).