20 Delicious Gluten Free Side Dishes for the Holidays
This post may contain affiliate links. As an Amazon Associate I earn from qualifying purchases. Please read the disclosure policy.
These incredibly delicious gluten free side dishes for the holidays are the perfect healthy recipes for your thanksgiving or christmas table. With everything from gluten free stuffing to cauliflower gravy, these sides are sure to please!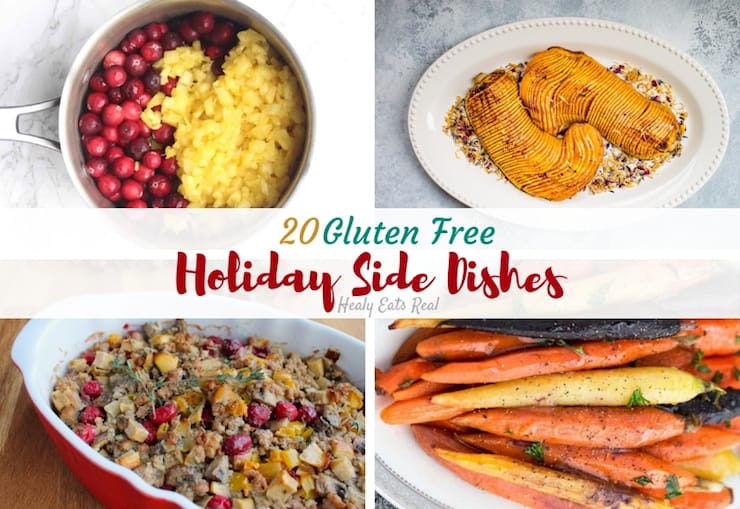 With the holidays just around the corner, it's time to start planning those thanksgiving and christmas menus! If you have a special diet like gluten-free, paleo or grain-free it can sometimes be hard to do an entirely traditional holidays, but luckily, myself and some fellow real food bloggers have you covered!
I've collected 20 delicious holiday gluten free side dishes to impress your family and friends!
20 Holiday Gluten Free Side Dishes:
1. Lemon Garlic Brussels Sprouts with Balsamic Glaze (Vegan)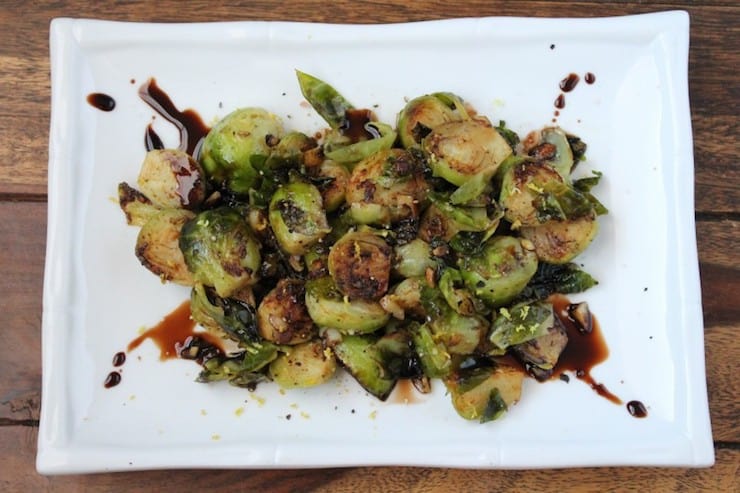 These lemon garlic sprouts will change your opinion of the humble yet often hated veggie. When cooked correctly they are absolutely delicious, healthy and the perfect side. These ones are roasted with garlic and lemon zest and drizzled with a delicious balsamic glaze!
2. Bacon & Broccoli Stuffed Sweet Potatoes
This loaded and stuffed sweet potato is bursting with savory rich flavors that you wont even remember that it's gluten and grain-free! It'll make the perfect special occasion side for any holiday table.
3. Baked Carrot Fries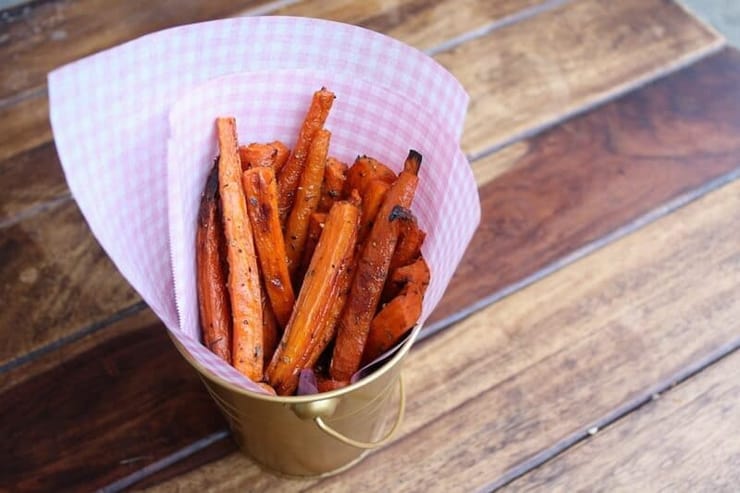 Carrot fries are one of my favorite snacks! They're nutritious, tasty and fun too. This recipe is pretty easy to make and they're baked instead of fried (like most french fries). Enjoy!
4. Honey Cinnamon Roasted Hasselback Butternut Squash
This Hasselback squash is a vegetarian showstopper that's sure to impress! Made with honey and cinnamon it's made with simple ingredients and so easy to make. The perfect way to celebrate fall produce!
5. Roasted Pumpkin with Cranberries & Pecans
Looking for a tasty and effortless side dish for the holiday season? Look no further than this Roasted Pumpkin recipe! With just a hot oven and a few simple steps, you can create a dish that boasts a crispy, flavorful exterior and a tender, succulent interior. Plus, by soaking dried cranberries in hot water, you can transform them into plump, juicy bites that perfectly complement the pumpkin.
6. Paleo Green Bean Casserole
A traditional green bean casserole that's Paleo friendly. This easy and delicious side is made with a creamy mushroom sauce, tender green beans and is topped with crispy onions. You can't go wrong with this side dish!
7. Roasted Brussels with Bacon & Feta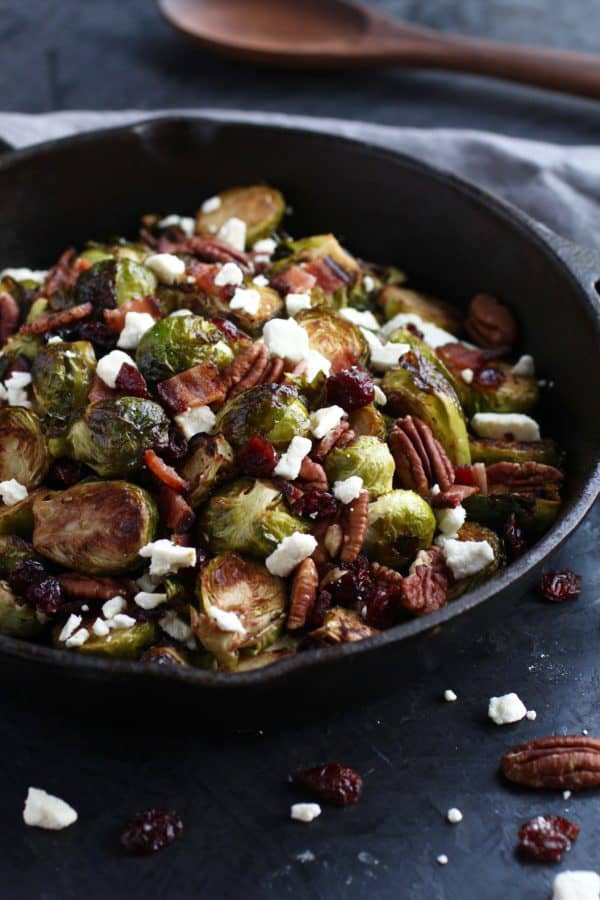 Add a little zing and sharpness to your Brussels sprouts with a sprinkling of feta cheese. These roasted sprouts are also mixed together with crispy bacon and toasted pecans. Better yet, it's super easy to put together!
8. Healthy Sweet Potato Casserole
Sweet potato casserole doesn't need to be loaded with sugar and unhealthy ingredients. This delicious side dish is sweetened only with applesauce. It's creamy on the inside with a festive cinnamon scented filling and has that crunchy pecan topping that we all love!
9. Roasted Delicata Squash with Tomatoes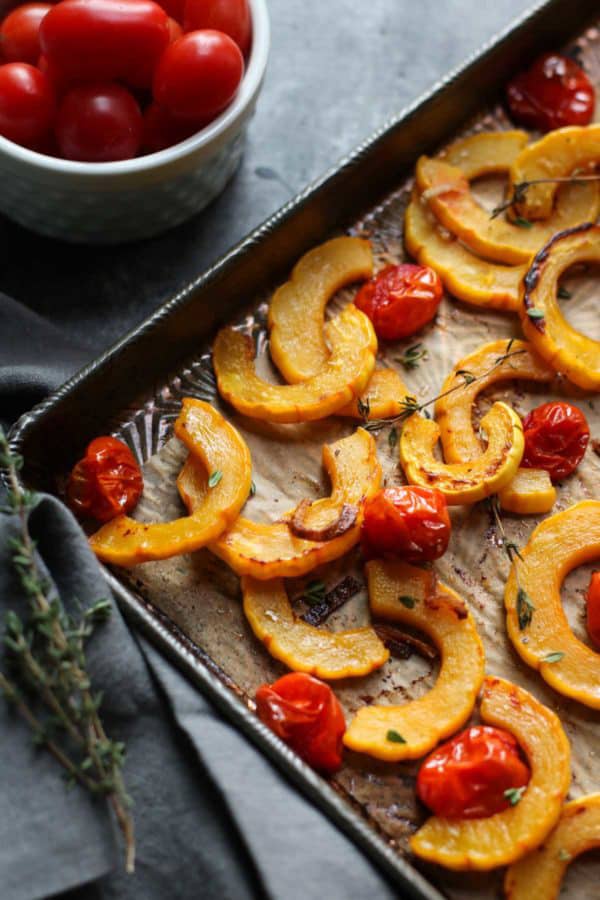 If you're looking for a great alternative to sweet potatoes then this delicata squash is for you! It's roasted to perfection with sweet cherry tomatoes and fragrant herbs plus it's all made in one tray!
10. Easy Garlic Butter Roasted Mushrooms
These garlic roasted mushrooms are an addictive little side dish that's both super easy to make and so impressive. It's a great alternative to sprouts and can be on the table in only 30 minutes!
11. Oven-Roasted Asparagus with Bacon, Garlic, and Asiago cheese
Plain old asparagus has had a makeover here! It's been roasted which gives a beautiful flavor to this veggie and is topped with crispy bacon, garlic and asagio cheese! Simple yet delicious.
12. Honey Herb Roasted Carrots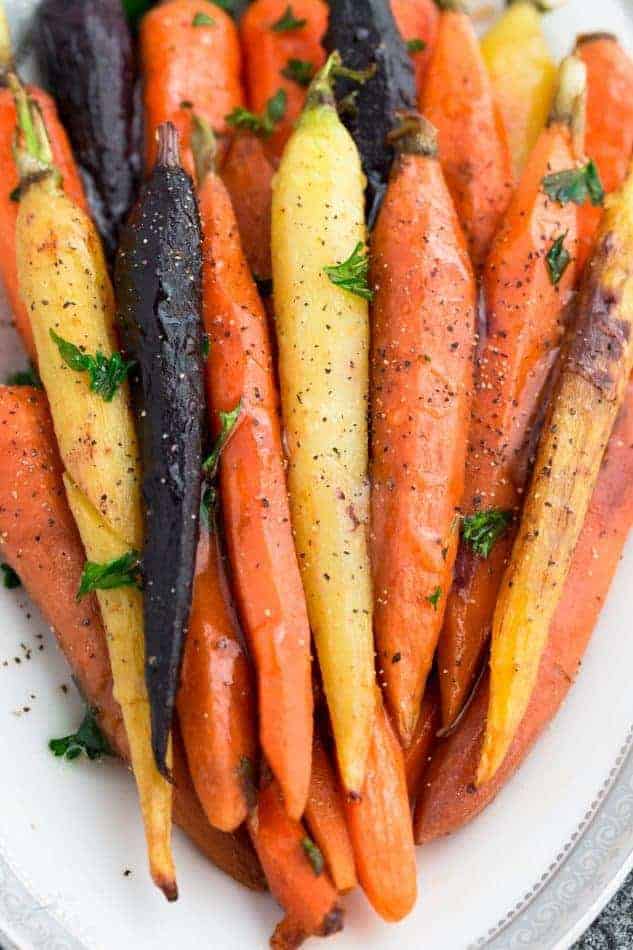 Honey and carrots are a match made in heaven and these ones are no exception. They're roasted with parsley and thyme and can easily be adapted with your favorite herbs and spices. A great gluten-free side dish for any family dinner celebration!
13. Cauliflower Mashed Potatoes
This creamy cauliflower mash is the ultimate low carb alternative to mashed potatoes. Made with garlic, butter and a little salt and pepper this easy mash side dish is super simple, creamy and comforting!
14. Best Ever Paleo Stuffing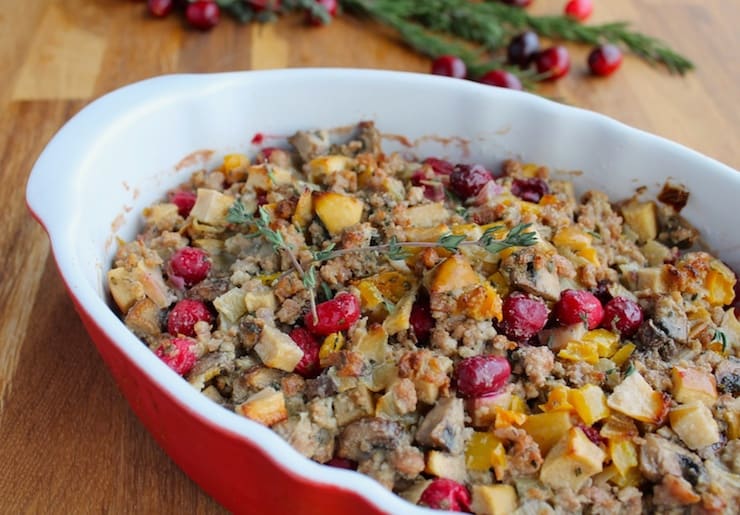 This paleo stuffing claims to be the best ever and sure looks like it could be! It's packed with everything you could possibly want in a stuffing from diced veggies such as mushrooms and onions, crispy bacon, festive herbs and sweet and delicious fruits. This looks like the kind of stuffing that everyone would be raving about afterward!
15. Low Carb Cauliflower Stuffing
A delicious low carb stuffing option that's made entirely from vegetables! This glorious stuffing is made from cauliflower, garlic, vegetable broth, and delicious herbs and spices.
16. Paleo "Cornbread" Stuffing
This stuffing is a paleo spin on traditional cornbread stuffing. It's completely grain free and is made with delicious fall flavors such as pecans, thyme and sweet onion.
17. The Best Paleo & Whole 30 Gravy
Made with only 3 ingredients and in only 5 minutes this delicious gravy is like a miracle! It's free from flour, butter, gluten, grain and dairy, wow! There's no need for anyone to skip the gravy boat this year.
18. Easy Cauliflower Herb Gravy
And just so you have options there's another delicious and easy gravy recipe right here. It's also free of gluten, grains and flour of any kind made with cauliflower, chicken broth and thyme this is a gravy that's packed with flavor and perfect for your Thanksgiving table!
19. Pineapple Apple Cranberry Sauce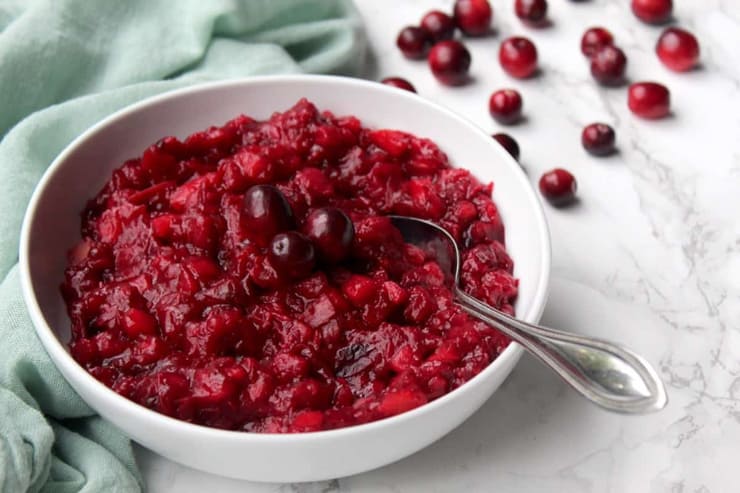 A Thanksgiving table wouldn't be complete without cranberry sauce and this one sure won't disappoint. It's made with only 3 ingredients and takes just over half an hour to make from start to finish. Plus it's free of any sweeteners!
20. Cranberry Orange Sauce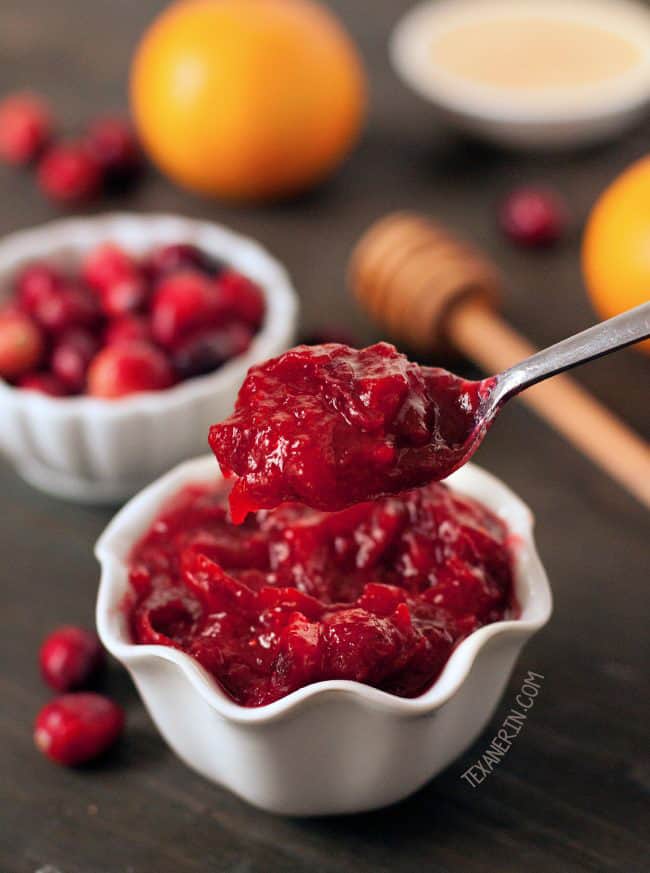 This cranberry sauce is loaded with sweet orange citrus flavors. Made with fresh cranberries and sweetened with honey this cranberry sauce with a fruity twist is sure to go down a treat!
This post was originally published in November of 2013, but has been republished in November of 2018 to include updated recipes and photos