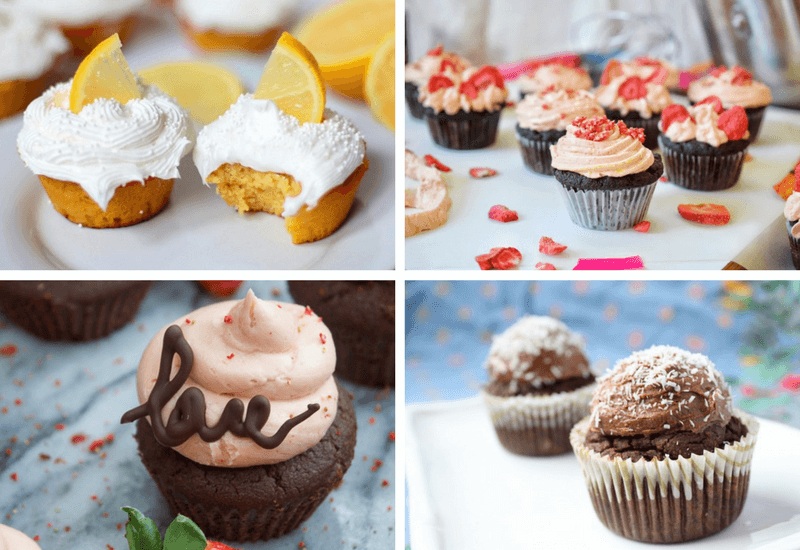 Paleo cupcakes are one of my favorite things! With all of these gluten free and dairy free recipes you can indulge with healthier cleaner ingredients.
I love how cupcakes are almost like little art pieces that you can decorate. You can use your creativity to make a beautiful edible sculpture.
Making cupcakes is a great activity for kids, but what's even better about these recipes is that kids can have fun making these cupcakes without all the refined sugar and processed ingredients in regular cupcakes.
Every single recipe in this list is paleo. That means it is free from gluten, grains, dairy and other processed ingredients. These recipes also use natural unrefined sweeteners like honey, coconut sugar, maple syrup and more.
These paleo cupcake recipes vary from your basic chocolate and vanilla all the way to gingerbread, red velvet, salted caramel and more! There are tasty cakes made with almond flour, coconut flour or other grain-free flours topped with frosting made from dairy-free delights like coconut cream, coconut oil and more!
35+ Paleo Cupcakes:
Double Chocolate Coconut Flour Cupcakes (Nut-Free)
Coconut Flour Vanilla Cupcakes (Nut-Free)
Apple Pie Cupcake
Gingerbread Cupcakes with Vanilla Bean Frosting
Frosted Chocolate Raspberry Cupcakes
Chocolate Cupcakes with Secret Ingredient
Dark Chocolate Cupcakes with Chocolate Frosting
Snickerdoodle Cupcakes Recipe
Beet Berry Chocolate Cupcakes
Birthday Cupcake (Nut-Free, Egg-Free)
Lemon Cupcakes
Chocolate "Peanut Butter" Cupcakes
Blackberry Lemon Cupcakes
Maple Bacon Cupcakes
Chocolate Cardamom Cupcakes with Sweet Potato Frosting (Vegan)
Chocolate Strawberry Cupcakes
Strawberry Shortcake Cupcakes
Chocolate Toasted Marshmallow Cupcakes