These paleo mug cake recipes are the perfect healthy dessert when you just want a single serving of something sweet! There are a huge variety of recipes using coconut flour, almond flour, almond butter and more. I've also collected a bunch of different delicious flavors from chocolate brownie to lemon to cinnamon roll to banana and more. Some are even low carb and keto!
You don't have to compromise your clean eating lifestyle when you want something sweet..
I've always had a sweet tooth. Ever since I can remember I've always loved any kind of dessert. However, once I started to lower my sugar intake and clean up my diet I knew I couldn't go out to the store and pick up the same old garbage sweets that I had eaten before. That is what caused my health to take a nose dive in the first place, so I didn't want any more of that inflammatory sugar or processed ingredients. That is when I learned how to make healthier versions of desserts that I have loved all my life. One of my all time favorites is cake!
The genius of the paleo mug cake…
I can't tell you how many times I've had a sweet tooth and a hankering for cake. Of course I don't want to make a whole paleo cake just for myself, and that's where the genius of the paleo mug cake comes in!
A paleo mug cake is just a single server cake that is made in a mug and can be cooked in a microwave in a few minutes or a bit longer in the toaster oven if you prefer. I love the simplicity and convenience of it. Only one dish is used and there's no need to turn on the oven. Plus there's no danger of overeating a whole cake, since there's just one serving! You can also make it keto, no sugar or low carb by replacing regular sweeteners with swerve or monk fruit sweetener.
25+ Paleo Mug Cake Recipes:
I've brought together an amazing collection of delicious paleo mug cake recipes by some amazing healthy food bloggers. There are tons of flavors to choose from below like cinnamon roll, raspberry, nut butter, lemon, coffee, pumpkin and more. There are also different grain free flours used like almond flour, coconut flour and more. Whatever your preference is, you are sure to find it in this incredible collection. If you try any of the recipes, be sure to comment below and let us know what you think!
Chocolate Nut Butter Mini Cake
Fudgy Double Chocolate Mug Cake
Chocolate Low Carb Dessert Muffin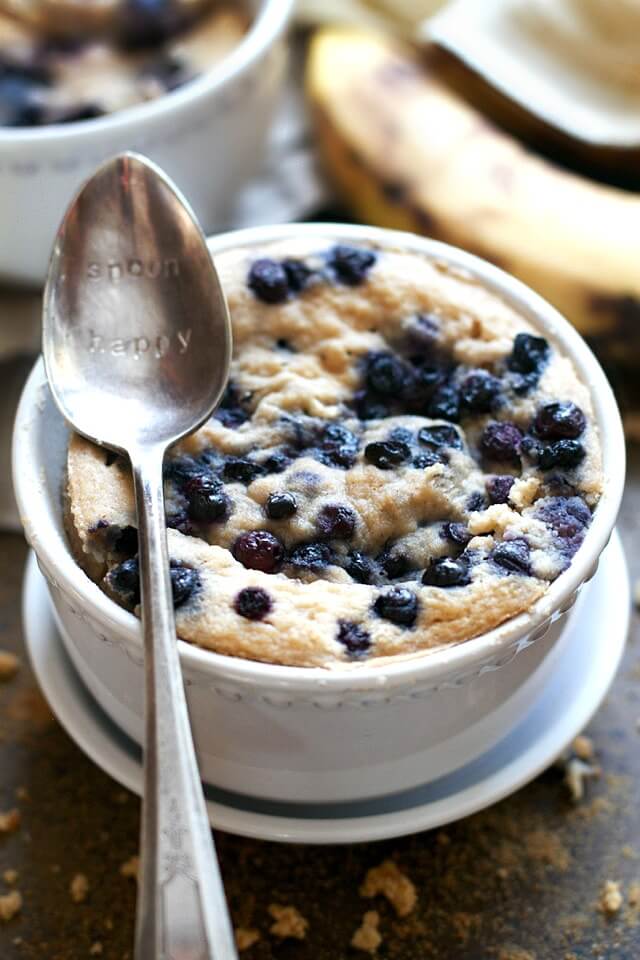 Blueberry Banana Bread Mug Cake
Microwave Paleo Chocolate Cake Recipe
Strawberry Shortcake Mug Muffin
Chocolate Protein Mug Cake (Sub collagen protein for whey for Paleo version)
Coconut Flour Vanilla Mug Cake
4 Ingredient 1 Minute Chocolate Raspberry Cake
FREE "6 Easy Tips to Quit Sugar" Guide!
By submitting your name and email you are consenting to receive a free copy of "6 Easy Tips to Quit Sugar" as well as regular newsletter emails from Healy Eats Real including information about our products and special offers. You can unsubscribe at any time.