25 Paleo Mug Cake Recipes (Gluten Free & Dairy Free)
This post may contain affiliate links. As an Amazon Associate I earn from qualifying purchases. Please read the disclosure policy.
These paleo mug cake recipes are the perfect healthy dessert when you just want a single serving of something sweet! There are a huge variety of recipes using coconut flour, almond flour, almond butter and more. I've also collected a bunch of different delicious flavors from chocolate brownie to lemon to cinnamon roll to banana and more. Some are even low carb and keto!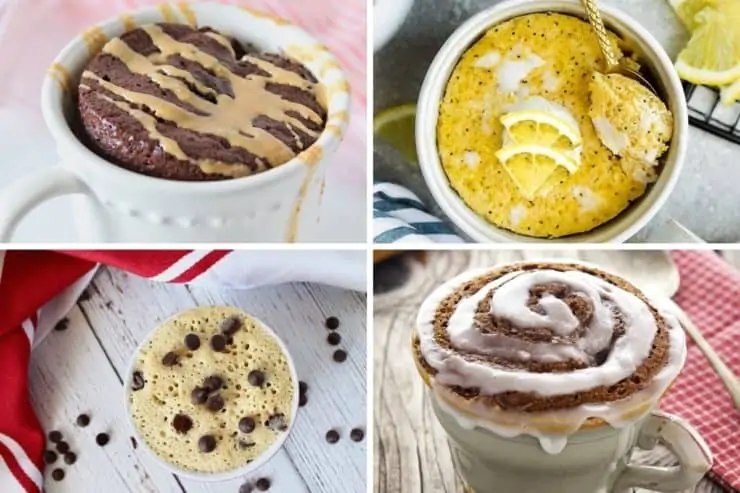 You don't have to compromise your clean eating lifestyle when you want something sweet..
I've always had a sweet tooth. Ever since I can remember I've always loved any kind of dessert. However, once I started to lower my sugar intake and clean up my diet I knew I couldn't go out to the store and pick up the same old garbage sweets that I had eaten before. That is what caused my health to take a nose dive in the first place, so I didn't want any more of that inflammatory sugar or processed ingredients. That is when I learned how to make healthier versions of desserts that I have loved all my life. One of my all time favorites is cake!
The genius of the paleo mug cake…
I can't tell you how many times I've had a sweet tooth and a hankering for cake. Of course I don't want to make a whole paleo cake just for myself, and that's where the genius of the paleo mug cake comes in!
A paleo mug cake is just a single server cake that is made in a mug and can be cooked in a microwave in a few minutes or a bit longer in the toaster oven if you prefer. I love the simplicity and convenience of it. Only one dish is used and there's no need to turn on the oven. Plus there's no danger of overeating a whole cake, since there's just one serving! You can also make it keto, no sugar or low carb by replacing regular sweeteners with swerve or monk fruit sweetener.
25 Paleo Mug Cake Recipes:
I've brought together an amazing collection of delicious paleo mug cake recipes by some amazing healthy food bloggers. There are tons of flavors to choose from below like cinnamon roll, raspberry, nut butter, lemon, coffee, pumpkin and more. There are also different grain free flours used like almond flour, coconut flour and more. Whatever your preference is, you are sure to find it in this incredible collection. If you try any of the recipes, be sure to comment below and let me know what you think!
1. Chocolate Whey Protein Cake in 2 Minutes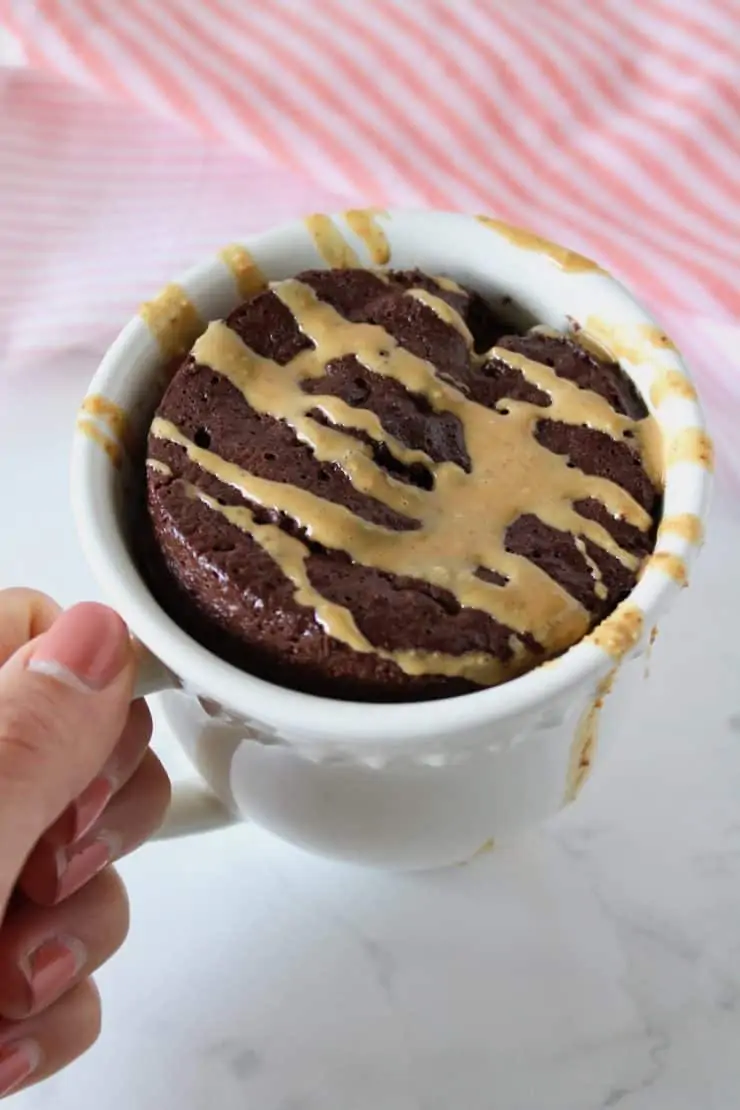 This mug cake stands out as one of the few that is chock full of protein. It's made with whey, almond flour and cocoa powder. The whey adds protein as well as a fluffy texture to the mug cake.
2. Chocolate Chip Gluten Free Single Serving Cake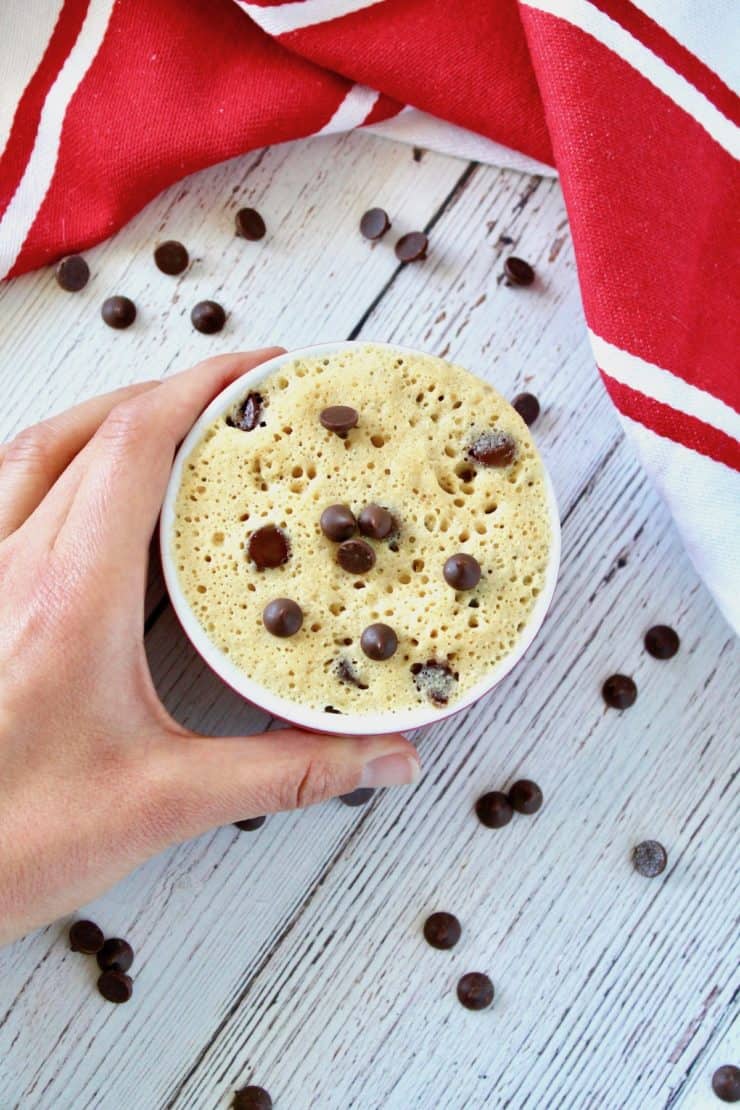 This simple mug cake combines an almond flour and coconut flour vanilla cake base with chocolate chips to create a rich and delicious 2-minute dessert. The texture is the same as a real cake thanks to the combination of paleo flours.
3. Chocolate Collagen Protein Cake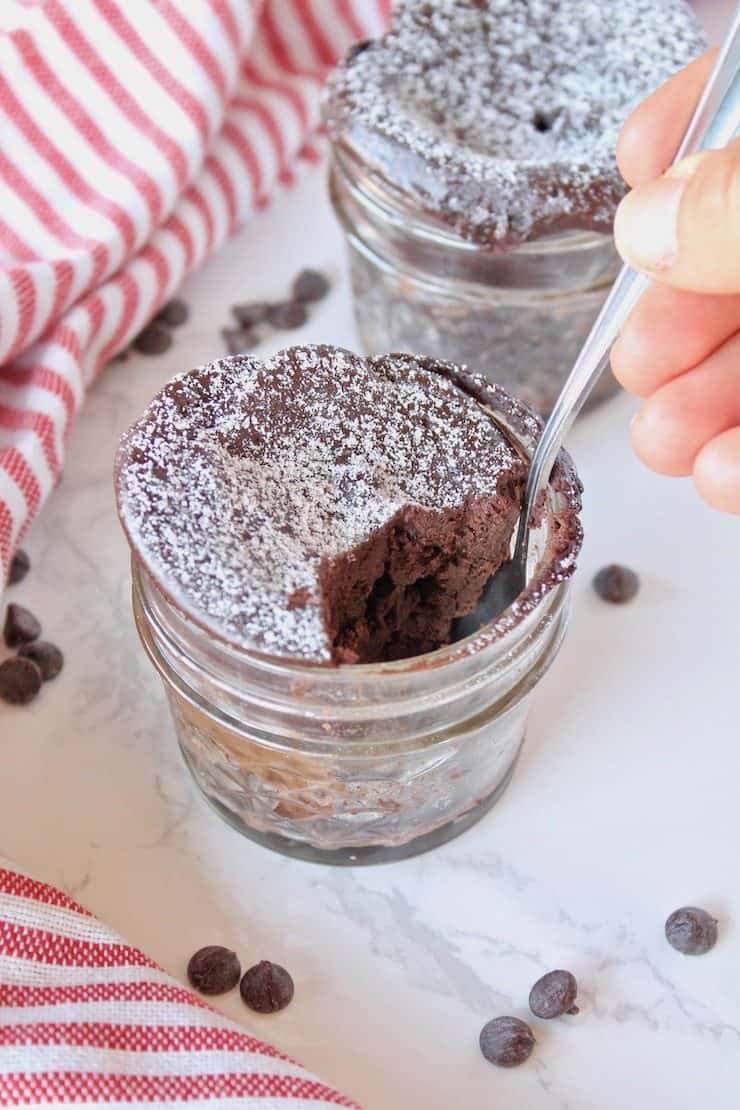 This chocolate mug cake uses gut-healthy collagen to create a protein-packed dessert. The combo of cocoa powder and collagen make for a fudgy texture almost like a brownie.
4. Lemon Mug Cake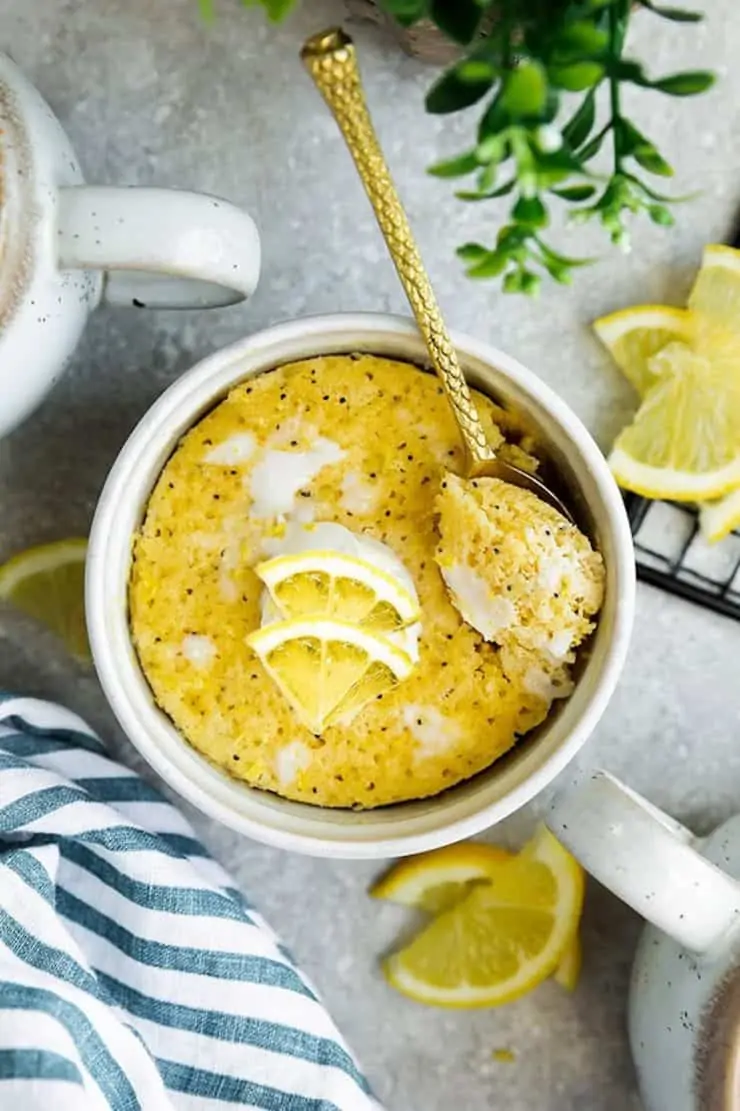 This paleo lemon mug cake has a tangy lemon poppyseed flavor with a moist texture. It uses simple paleo pantry ingredients s it can be made quickly and easily.
5. Cinnamon Roll in a Mug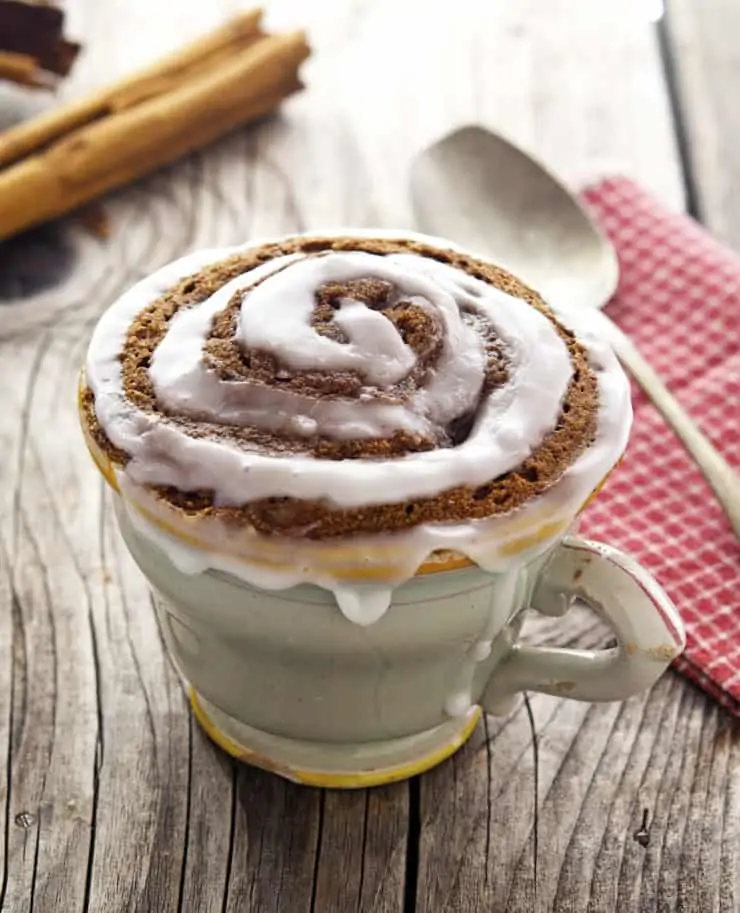 This cinnamon roll in a mug is a unique departure from the regular mug cake. The author rigorously tested this recipe to create the perfect cakey, moist, cinnamon-filled cake with the best frosting.
6. Funfetti Mug Cake
Who doesn't miss funfetti if you're gluten free or paleo? This simple recipe combines a rich paleo flour blend cake base with rainbow sprinkles to create a fun a easy treat.
7. Strawberry Shortcake Paleo Mug Cake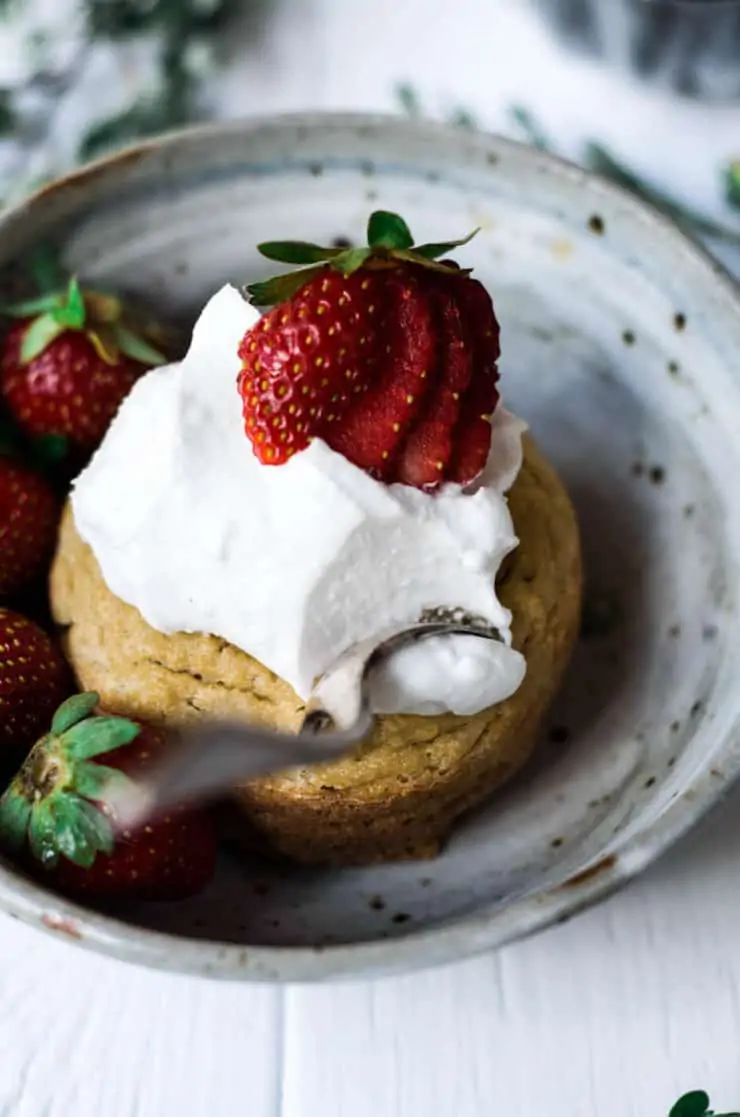 This simple paleo strawberry shortcake mug cake is made with coconut flour and sweetened with stevia. It can be made fast and topped with luscious whipped cream and bright sweet strawberries for a natural healthy dessert.
8. Fudgy Double Chocolate Single Serving Cake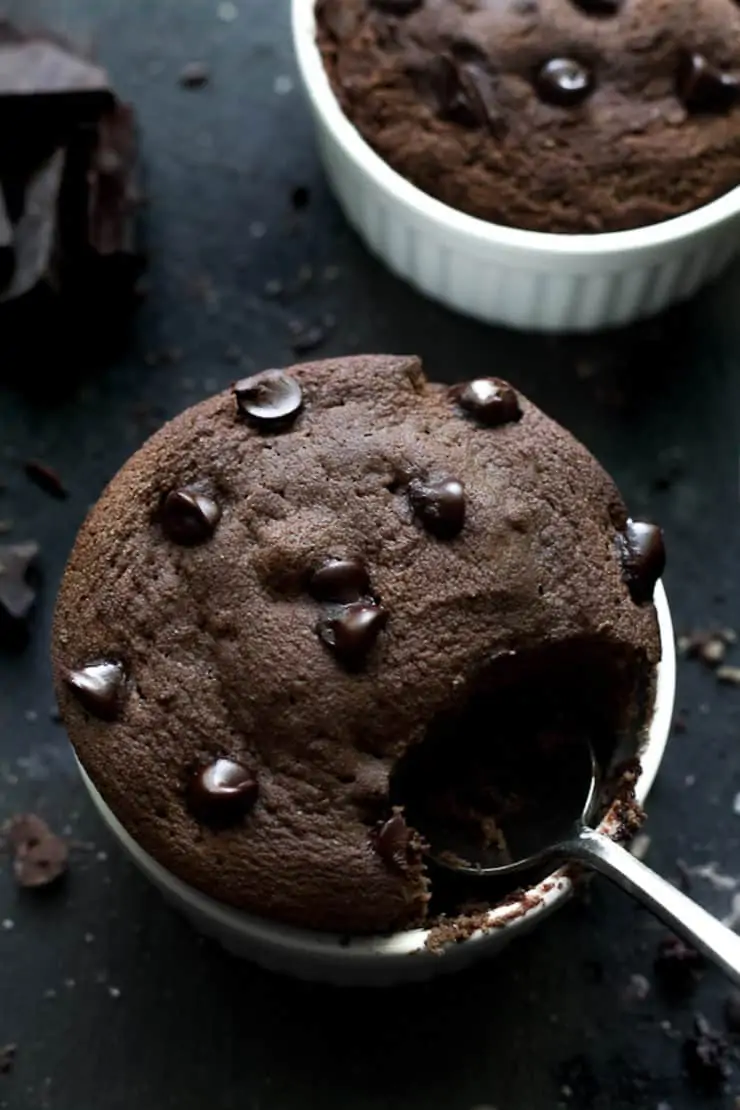 This double chocolate mug cake is a great way to satisfy your chocolate cravings in a healthier way! It's made with almond flour and cocoa powder and can even be made vegan with a flax seed substitute.
9. Matcha Mug Cake
This spongy green tea cake made with matcha is a great departure from the regular cake flavors. It has a nice earthy flavor along with some sweetness and can be made quickly and easily.
10. Carmel Apple Microwave Cake
This recipe features moist cinnamon spiced cake with apples and a quick caramel sauce. It's a fast paleo treat that is perfect for apple season!
11. Coconut Mug Cake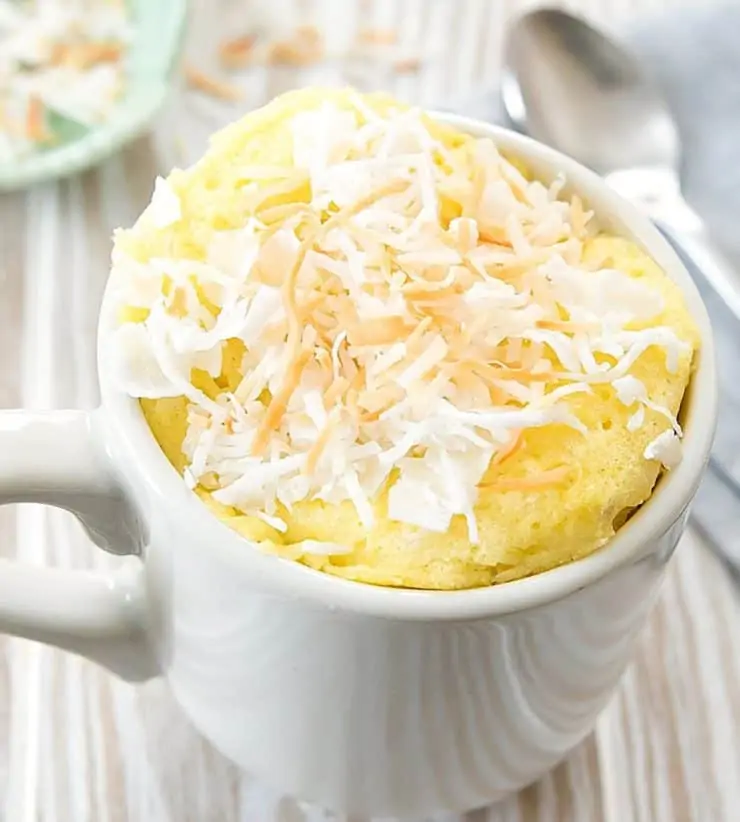 This coconut mug cake is fluffy and full of delicious coconut flavor. It combines coconut flour, coconut oil and coconut milk for the cake and is topped with shredded coconut.
12. Low Carb Snickerdoodle Microwave Cake
This mug cake is especially unique in that it's low-carb, keto-friendly and sugar free. The texture is fluffy and the flavor is just like a snickerdoodle cookie in cake form.
13. Maple Pecan Latte Single Serving Cake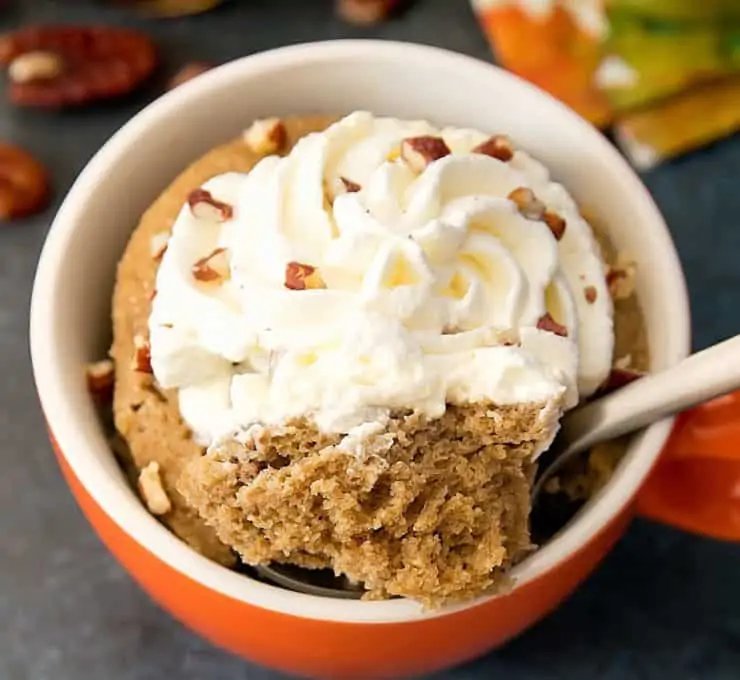 When you're missing your favorite seasonal coffee drink, this quick microwave cake is the perfect solution. This cake offers espresso and maple flavors topped with pecans for a delicious paleo dessert.
14. Mint Chocolate Mug Brownie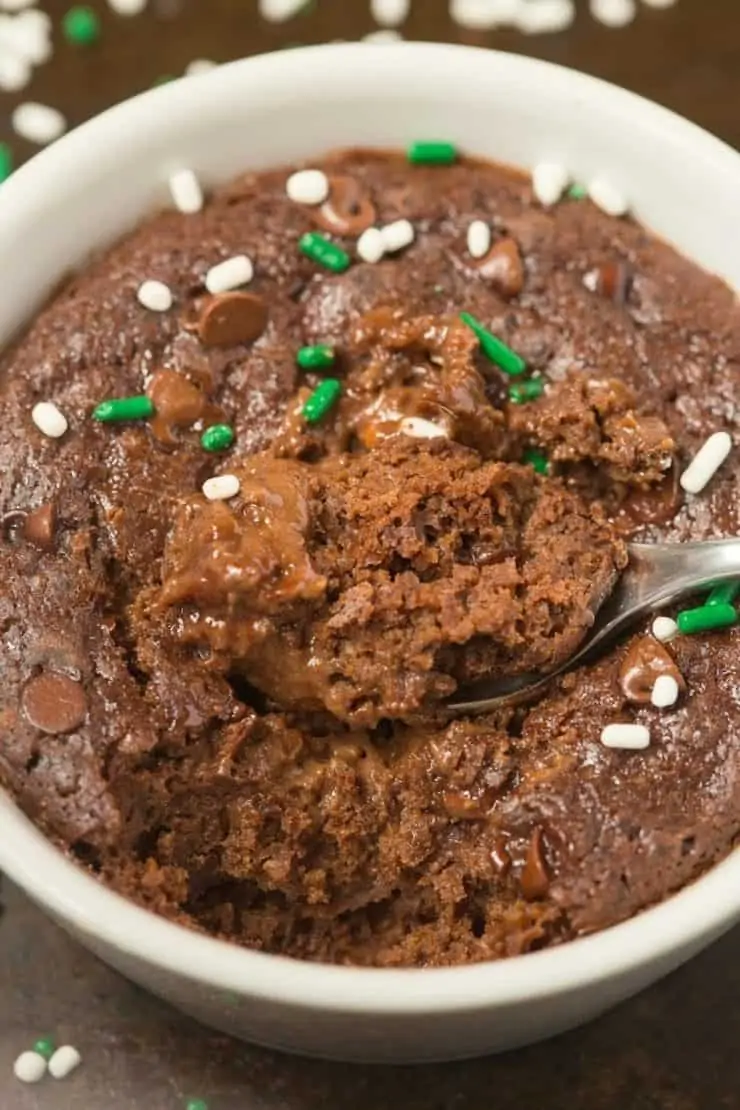 This healthier brownie is moist, fudgy and has a nice minty flavor along with the rich chocolate. The recipe uses almond and coconut flour along with cocoa powder. It can even be made vegan with a flax egg substitute!
15. Peanut Butter Chocolate Chip Microwave Cake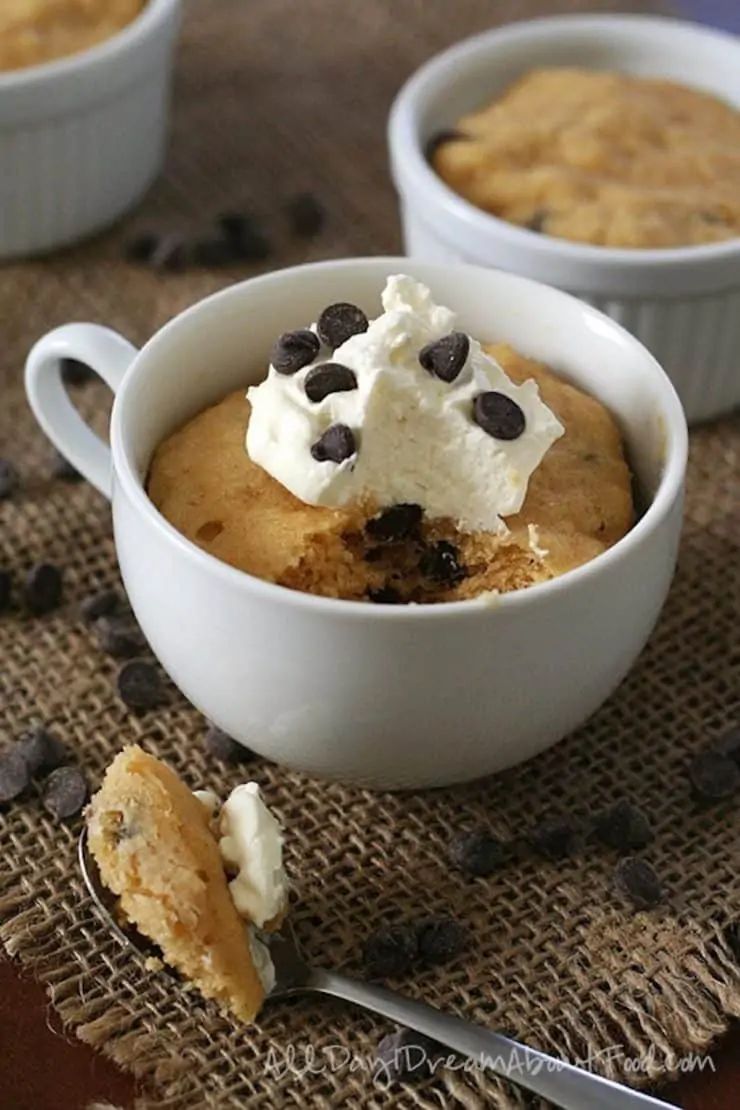 Although peanut butter is technically not paleo, I included this recipe because you can easily substitute it for almond butter or another nut butter (also I know a lot of mostly paleo people who still have peanut butter!). This delicious mug cake shouldn't be missed since it's so easy and combines peanut butter and chocolate…my favorite mix!
16. Keto Pecan Pie Mug Cake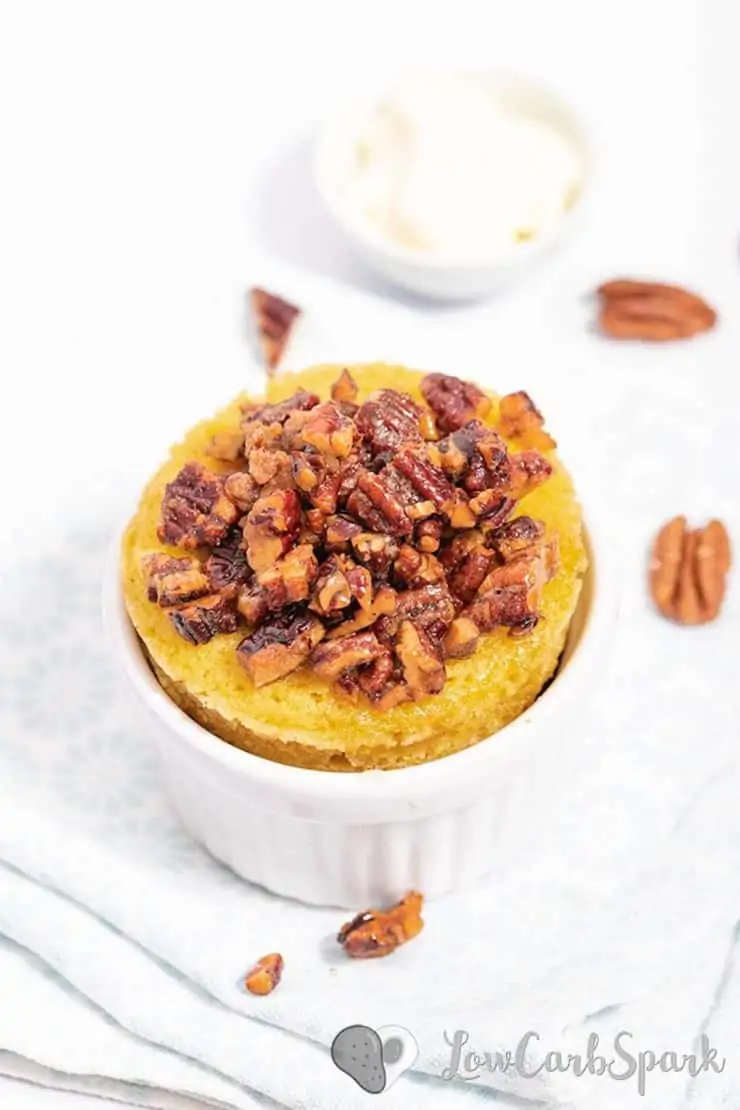 This rich cake is topped with caramelized pecans to evoke your favorite holiday pie in a single serve cake! Although this recipe uses some dairy, there are simple substitutes for paleo & dairy-free. You can substitute butter with coconut oil, heavy cream for coconut cream and paleo sweeteners for the keto sweetener.
17. Banana Pineapple Coconut Paleo Mug Cake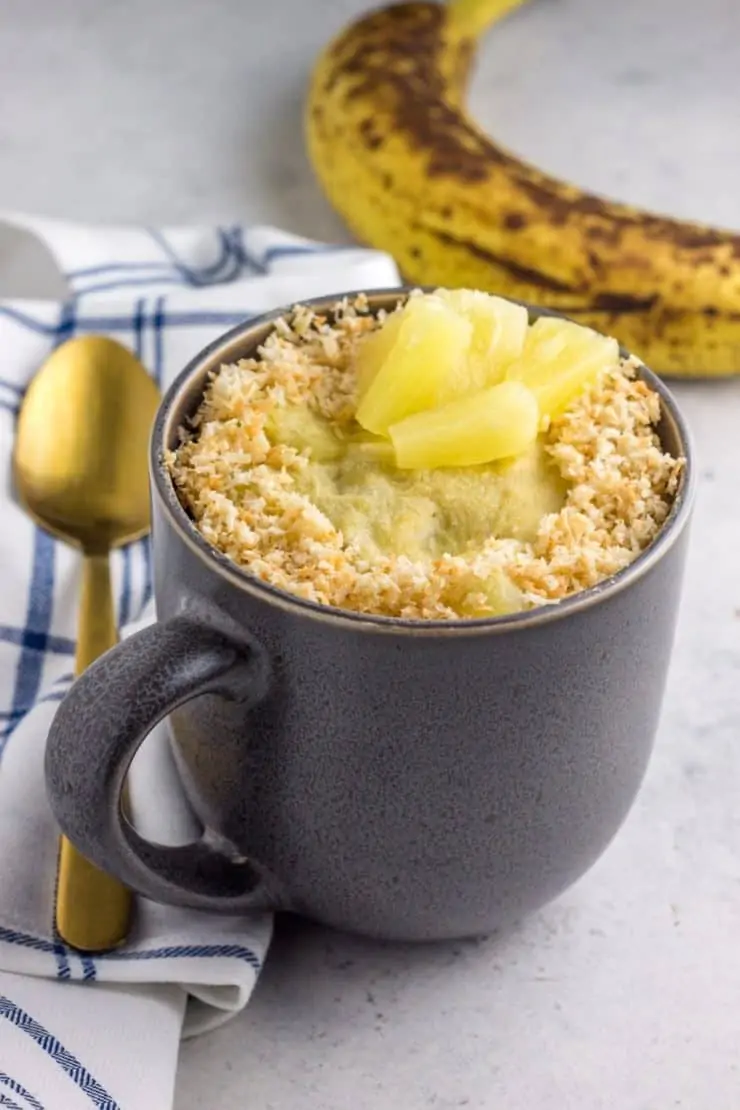 This mug cake is free from added sweeteners because the natural sweetness of the banana and pineapple is all you need! It only takes a few minutes to whip together and provides a variety of flavors for a fun treat!
18. Strawberries and Cream Single Serving Cake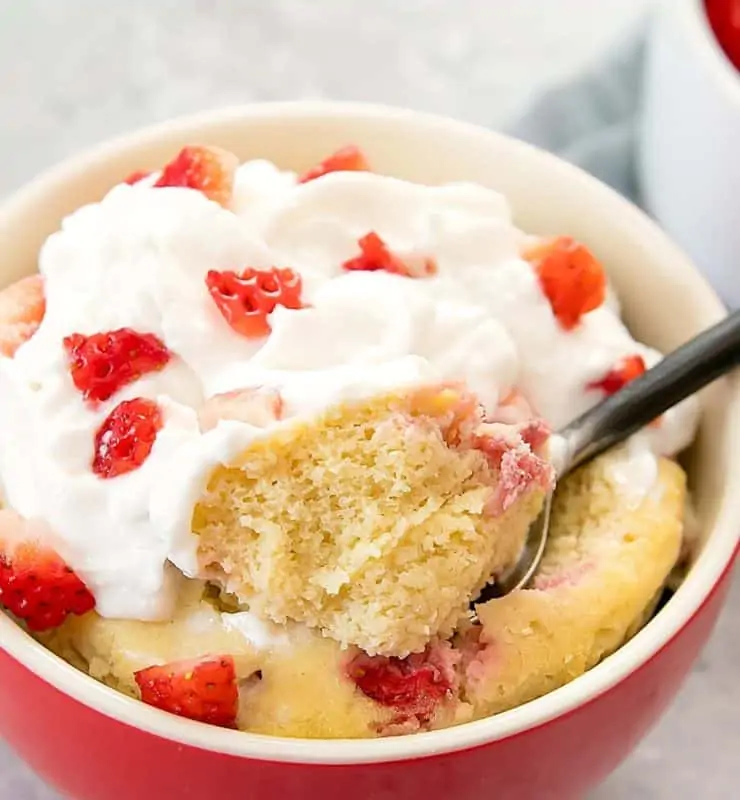 This is the perfect simple recipe for strawberry season or anytime you have some strawberries handy! The vanilla cake is moist and sweet with strawberries baked in, then it's topped with rich smooth coconut cream and fresh chopped strawberries.
19. Red Velvet Microwave Cake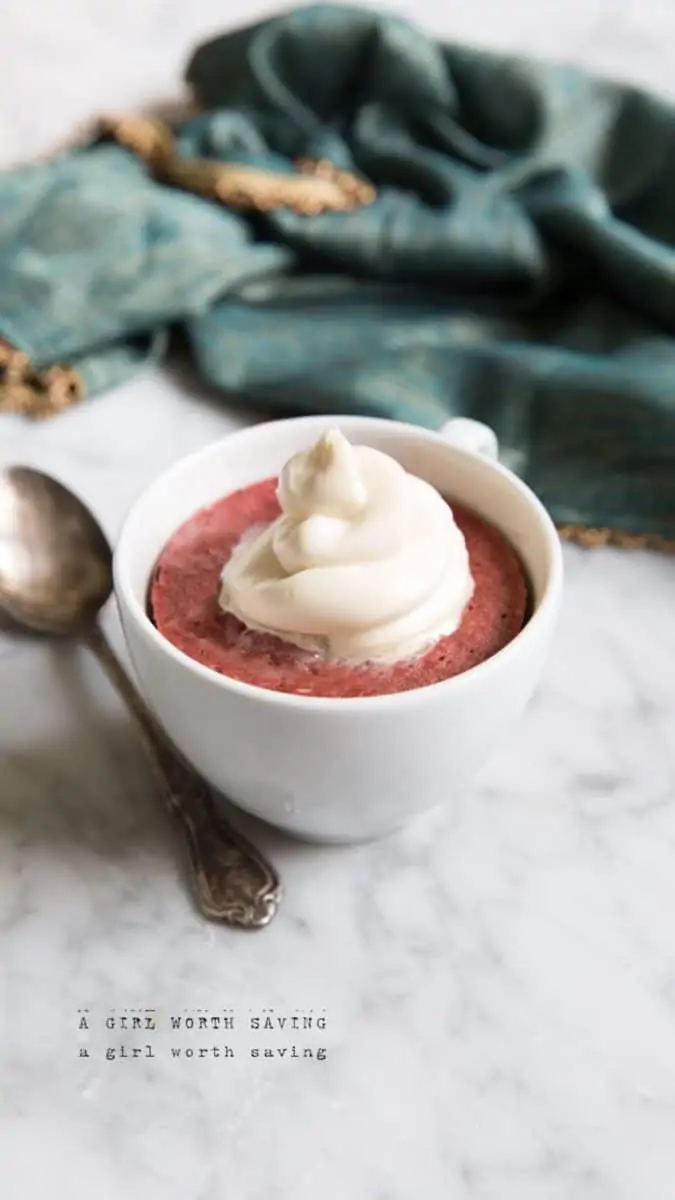 This healthier version of red velvet uses real beet juice for the red coloring along with cocoa powder and apple cider vinegar for the tangy slightly chocolatey flavor. It's a creative idea for a different spin on quick mug cakes!
20. 4 Ingredient Chocolate Raspberry Cake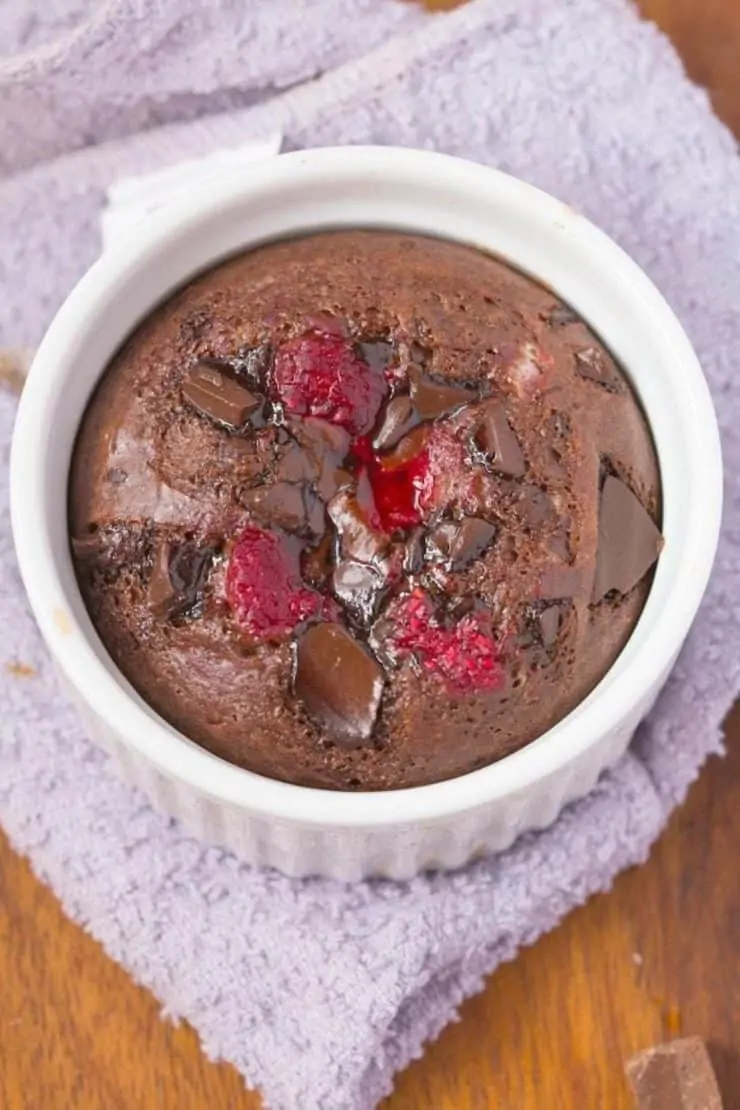 The alluring thing about this recipe is it only uses 4 easy ingredients including banana, an egg, cocoa powder and raspberries. It is truly one of the easiest mug cake recipes to create a satisfying and naturally sweet treat!
21. Carrot Mug Cake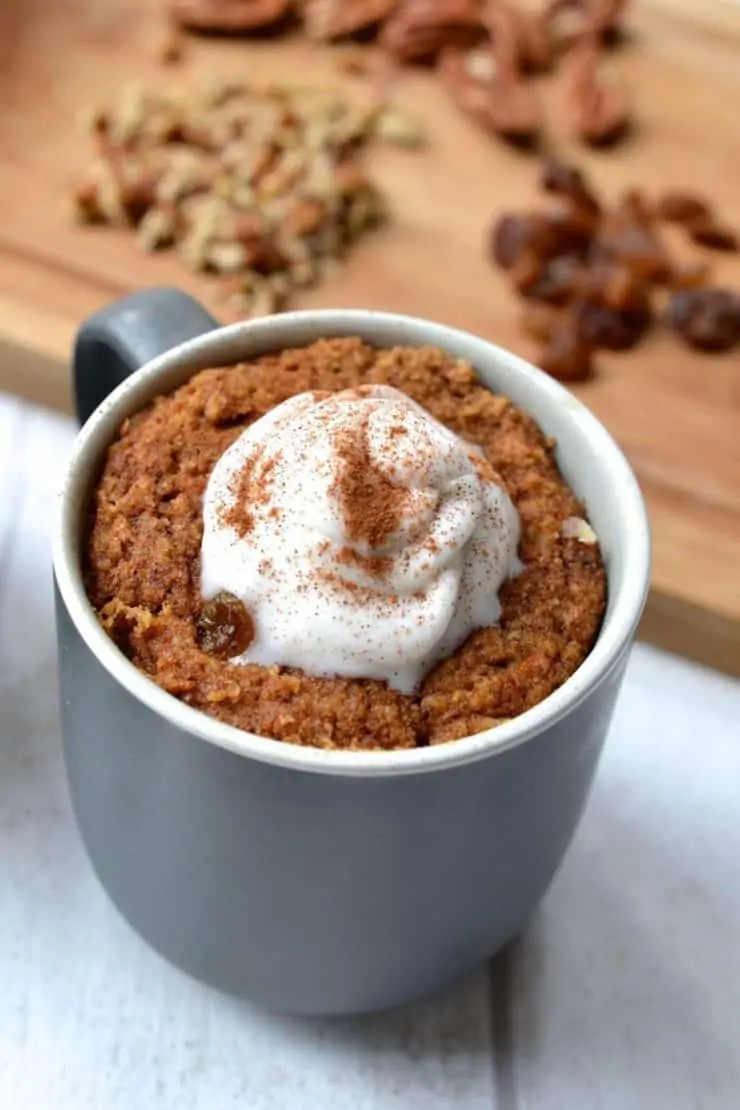 This quick carrot mug cake brings together the flavors of traditional carrot cake like raisins, cinnamon, nuts and carrot all in just a few minutes! It's a great way to beat those sweet cravings with a healthier paleo alternative.
22. Blueberry Banana Bread Cake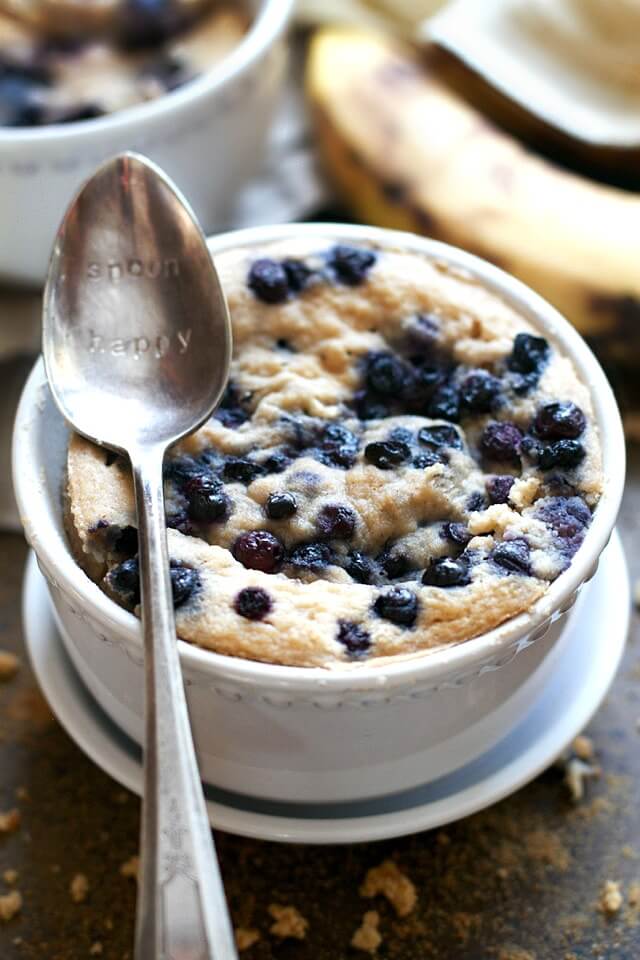 This is a great recipe to satisfy banana bread cravings with paleo and gluten free ingredients. With naturally sweet fruity flavors of banana and blueberry, it's the perfect quick breakfast accompaniment.
23. Coffee Cake in a Mug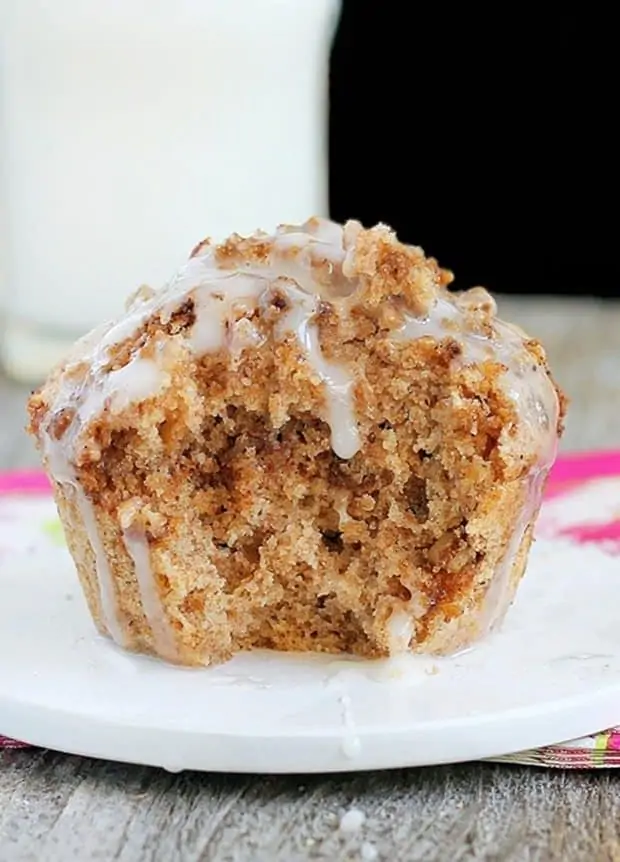 Coffee cake is such a fun treat to get out at coffee shops but is unfortunately loaded with sugar and gluten. This recipe creates a grain-free and dairy free alternative that is quick to put together and rich with real coffee cake taste!
24. Gingerbread Mug Cake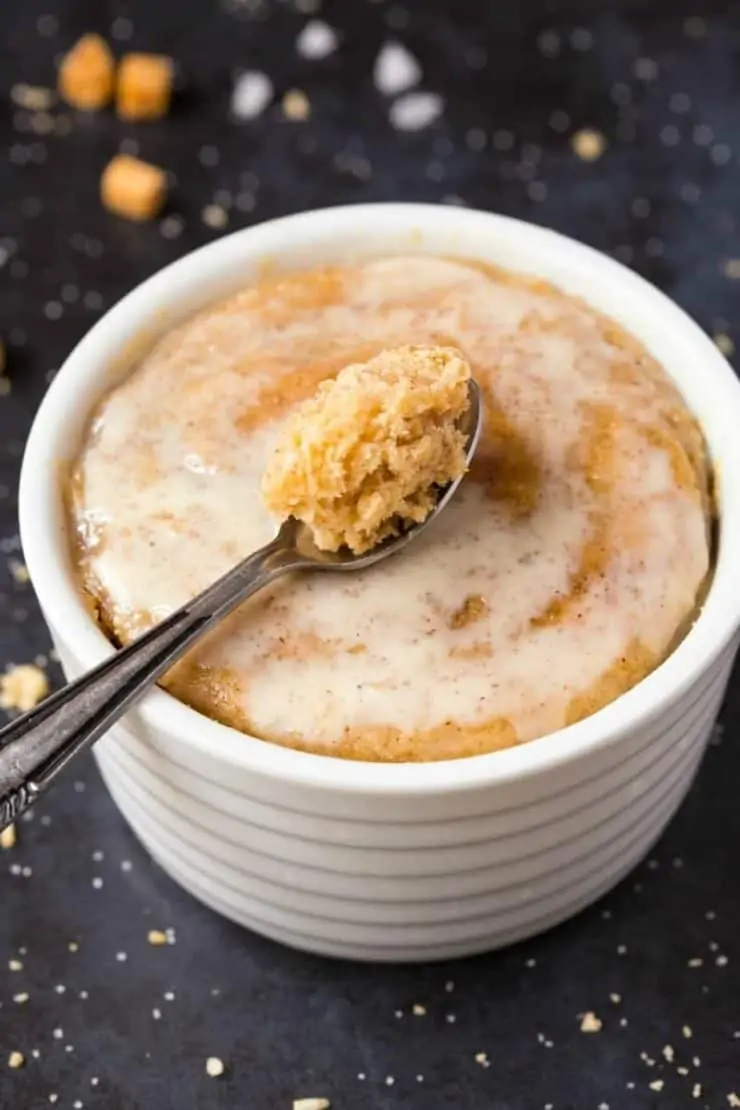 This quick mug cake combines warming spices like cinnamon and ginger to create a paleo version of a holiday classic. The cake is fluffy, moist and made with a combination of almond and coconut flour.
25. Keto Pumpkin Single Serving Cake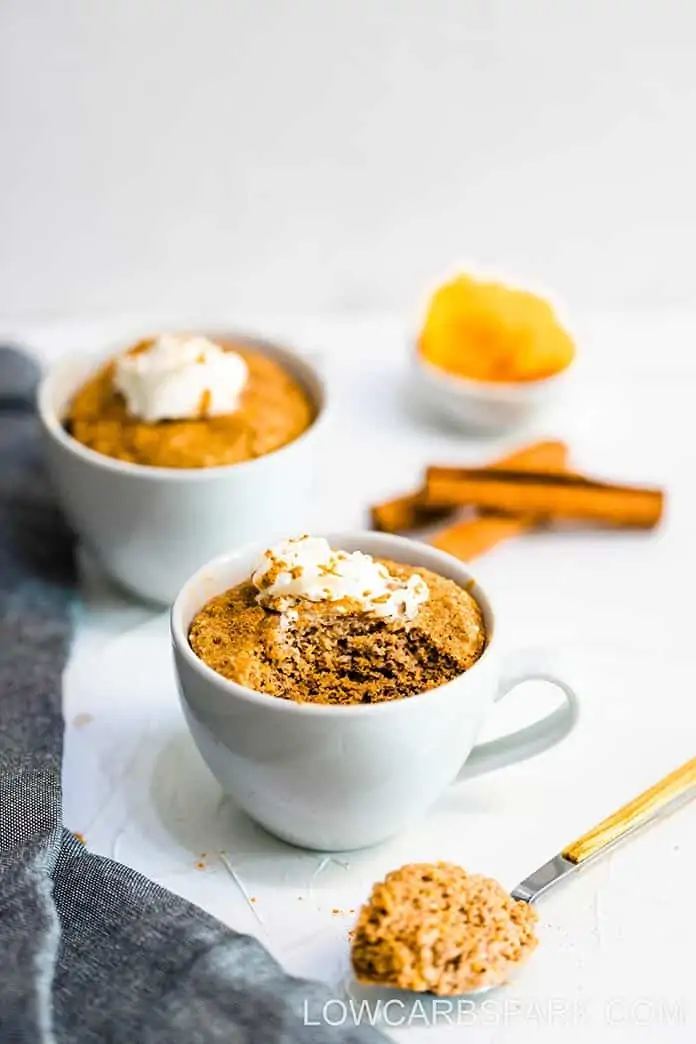 Even though I start to crave pumpkin flavored treats in the fall, the convenience of canned pumpkin puree makes this an easy recipe for the whole year! This pumpkin cake is keto and paleo with delicious pumpkin spiced flavors and airy moist texture.