30+ Autoimmune Paleo Holiday Recipes
This post may contain affiliate links. As an Amazon Associate I earn from qualifying purchases. Please read the disclosure policy.
Having an autoimmune paleo holiday can be difficult with all of the dietary restrictions. However, with so many incredible recipes out there, it's possible to plan a great thanksgiving or christmas feast while still remaining totally AIP compliant.

I've was on the autoimmune paleo diet for a while and it made such a big difference in how I felt. It really helped settle my blood sugar fluctuations, helped with low energy from adrenal fatigue, improved my sleep and totally eliminated my sugar cravings.
Although some might decide not to be so strict during the holidays, I wanted to put this list together to give you the option to make an incredible AIP holiday meal if you want!
What is the Autoimmune Paleo Diet (AIP)?
The autoimmune paleo diet is a protocol that helps people with autoimmune disorders remove foods that can trigger flare ups and figure out food sensitivities. Learn more about the details of the AIP diet here.
Where to Get A Pasture Raised Turkey
Eating pasture-rasied meat is one of the best things you can do for you health. It has a much better nutritional profile than conventional meat and it is not inflammatory like factory farmed meat.
Buy Locally:
Find a local farmer that offers pasture raised turkeys from your local farmers market (see farmer's markets in your area at Local Harvest). You can also look up local farms at the online database Eat Wild.
30+ Autoimmune Paleo Holiday Recipes
Main Dishes:
1. Classic Roast Turkey
Making a turkey for festive occasions can be rather stressful never mind taking special diets into consideration but with this recipe, you don't have to worry! There are a few simple and helpful tips and an easy to follow recipe to keep your holiday dinner as stress-free as possible. Plus there are even ideas for how to use leftovers!
2. Shepherds Pie with Sweet Potato Topping
*Can omit peas if needed
This shepherds pie recipe is the best simple classic fall or winter meal. Made with grassfed ground beef and veggies, it's a hearty, affordable and healthy dinner staple.
3. Mandarin Roasted Turkey
*sub lard or coconut oil for butter

This mandarin roast turkey is a great way to spruce up your turkey with festive cirtus flavors and delicious herbs. It's a very simple and easy to follow recipe that is sure to impress your guests!
4. Slow Cooker Ham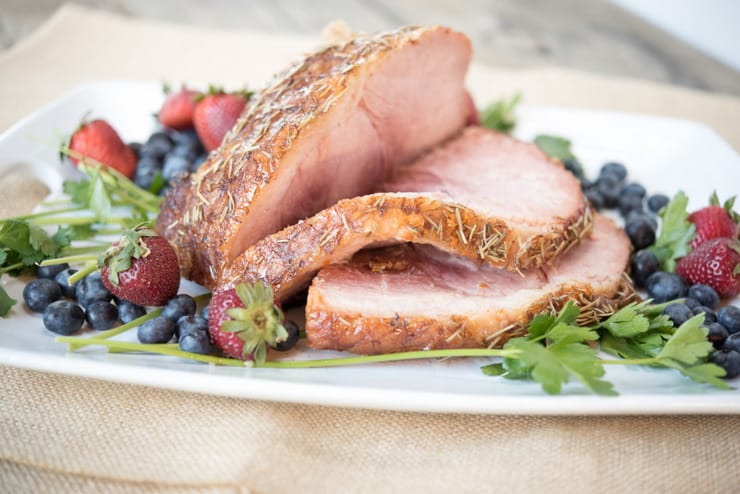 Let the slow cooker do all the work with this delicious, juicy ham. It's made with honey, rosemary and orange juice so it has all the delicious, festive flavors that we all love and it makes a great alternative to a regular turkey. Stress free, low prep and lots of flavor, what's not to like?
Soups:
5. Creamy Root Vegetable Soup
This root vegetable soup is made with celery root (celeriac), parsnips and Japanese sweet potatoes. It's creamy, comforting and has a delicious sweetness to it. This soup is great for festive occasions or after a long wintery walk when you need to warm up and get cozy!
6. Sweet Potato Broccoli Soup
You really can't go wrong with this comforting soup it's made with white sweet potato, broccoli and soothing chicken broth. You can even make this soup the day before and reheat when you need it!
7. Creamy Butternut Squash, Carrot and Ginger Soup
Squash soup is always a popular option during the festive season and for good reason! It's the perfect balance of sweet and savory, it's creamy and so warming and delicious. This version is made with fragrant ginger and earthy carrots!
Sides:
8. Stuffed Acorn Squash
This is definitely a showstopper of a side dish! It's packed full of nourishing fall flavors from pork and apple to cinnamon, sage, thyme and sweet and juicy cranberries. It's sure to go down a storm!
9. Roasted Sweet Potatoes, Squash & Apples
Delicious sides can be packed with flavor and be healthy too. This mix of roasted squash, sweet potatoes and apples is a great example of how simple a great side dish can be. It all made in one tray, mixed with sprigs of rosemary and it couldn't be easier!
10. Harvest Vegetable Hash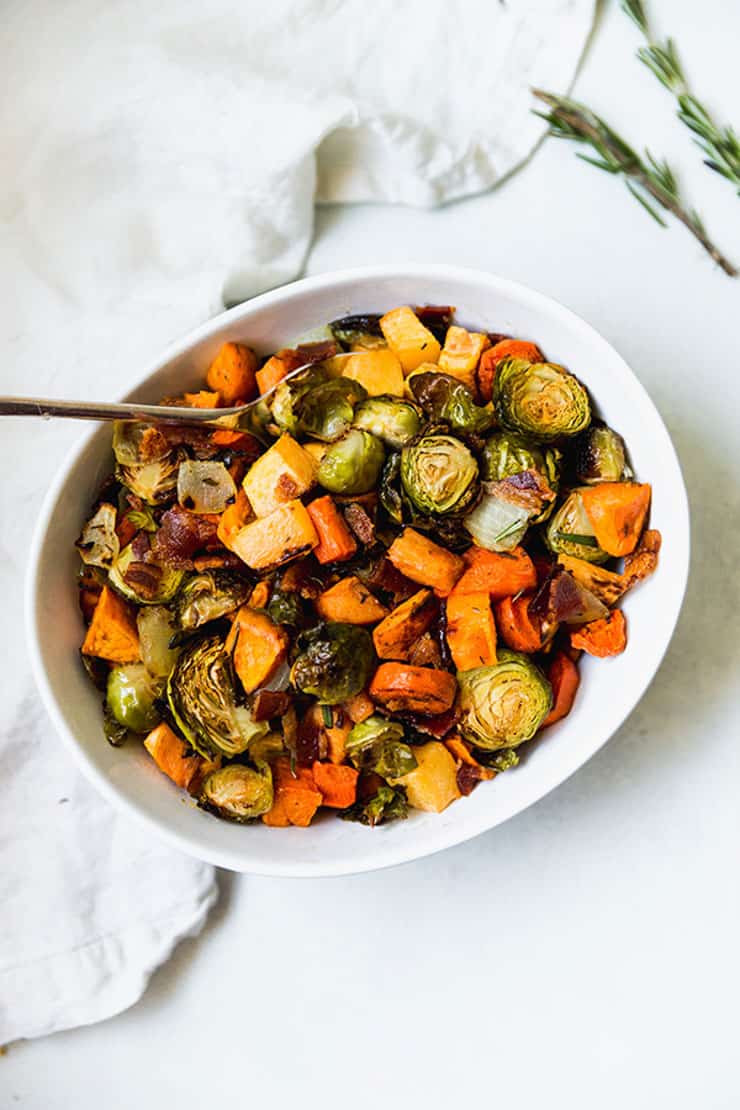 A delicious mix of roasted veggies including sprouts, carrots, and sweet potatoes. It's all tossed with crispy bacon and delicious herbs such as rosemary and sage. This is a side dish that's packed with incredible flavor and won't disappoint (even the sprout haters).
11. Lemon Garlic Brussels Sprouts with Balsamic Glaze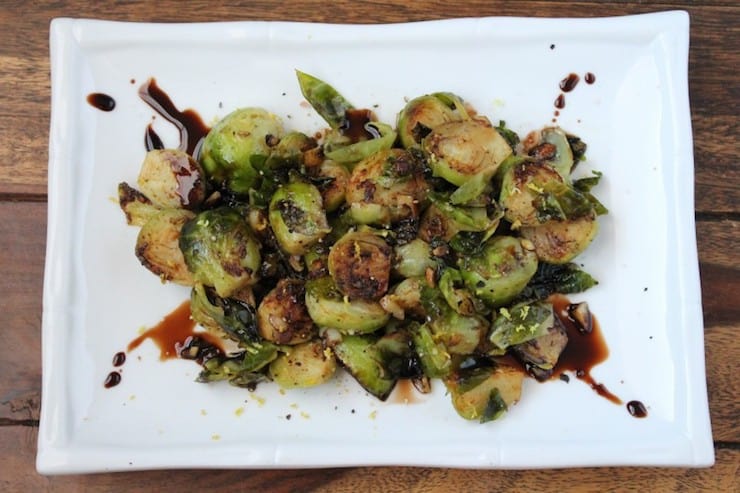 These Lemon Garlic Brussels Sprouts will change your opinion of the humble yet often hated veggie. When cooked correctly they are absolutely delicious, healthy and make the perfect side.
12. Baked Carrot Fries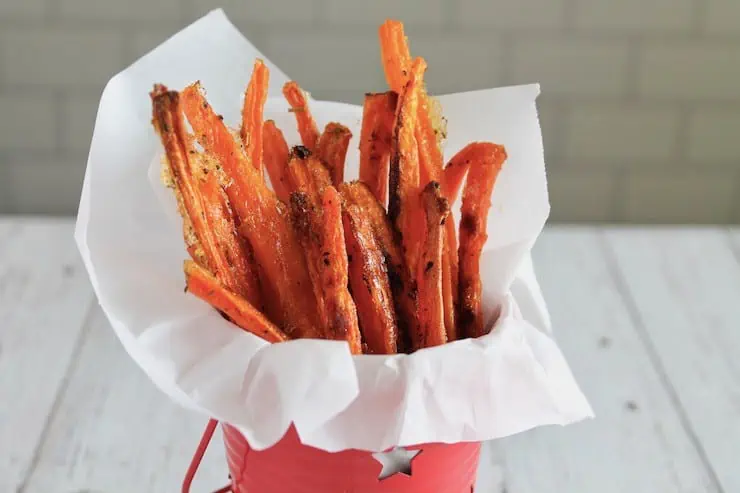 These simple baked carrot fries would make the perfect healthy AIP appetizer for any holiday table. They're crispy on the outside, soft on the inside and flavored with simple herbs and salt.
13. Cranberry Sauce with Apples and Ginger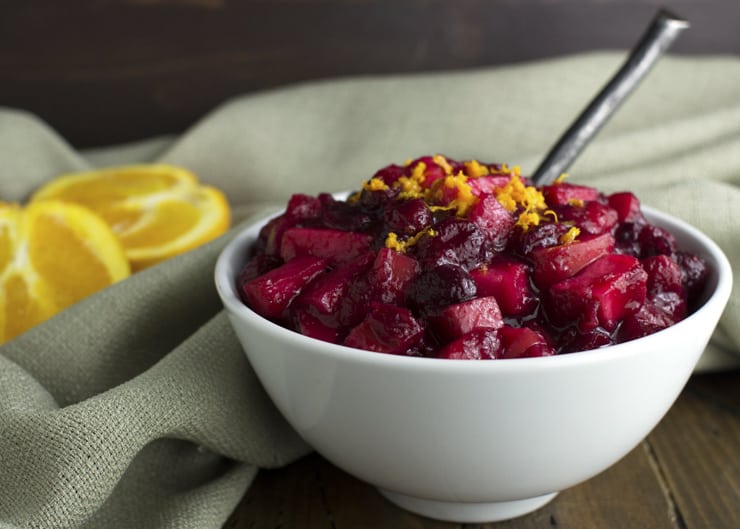 Cranberry sauce is a must, you can't have a festive dinner without it on the table so why not make sure it has all the flavor we love but is healthy too! This version is packed with ginger, orange, apples and honey, so delicious!
14. Apple Cranberry Holiday Stuffing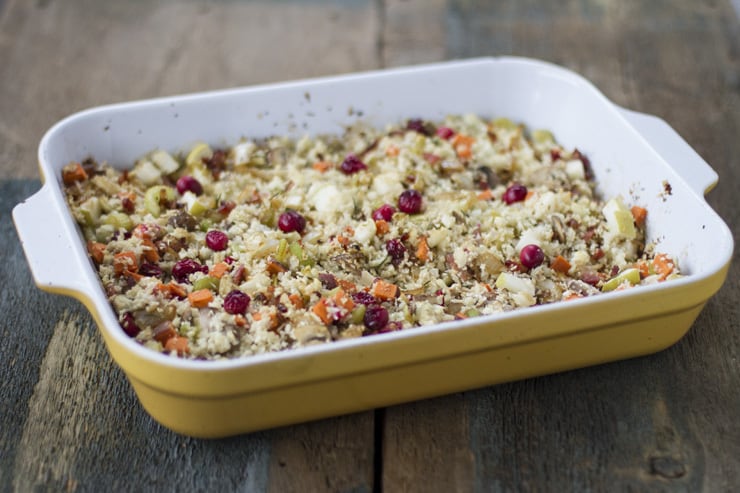 A hearty and flavorful stuffing made with a cauliflower rice base. If you're stuck in a rut with the same old boring stuffing recipe then this is sure to put a smile on everyone's faces. Made with cranberries, sweet potato, garlic, rosemary and mushrooms!
15. AIP Thanksgiving Stuffing
The combination of the tender, sweet biscuits combined with the delicious celery, carrots, zucchini, fresh and dried herbs make this easy stuffing both healthy and tasty. Better yet it tastes even better the next day so it can be made in advance keeping prep on the big day as low as possible!
16. Brazilian Couve a Mineira (Garlicky Collard Greens)
These greens are anything but boring and they couldn't be simpler to make! They're made with garlic, a little salt and olive oil, that's it. Sides don't have to be complicated to be delicious and this recipe is a great example of that.
17. "Cheesy" Sweet Potato Casserole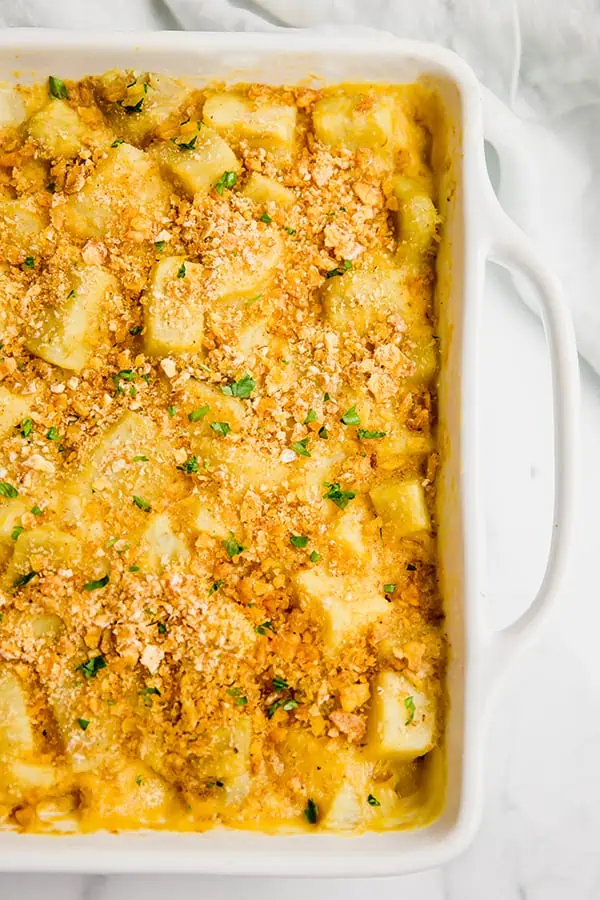 This delectable sweet potato casserole is the ultimate comfort food that utilizes only natural ingredients! It boasts a "cheesy" sauce made with butternut squash and a crunchy plantain topping that adds an extra layer of goodness.
18. Mom's Special Gravy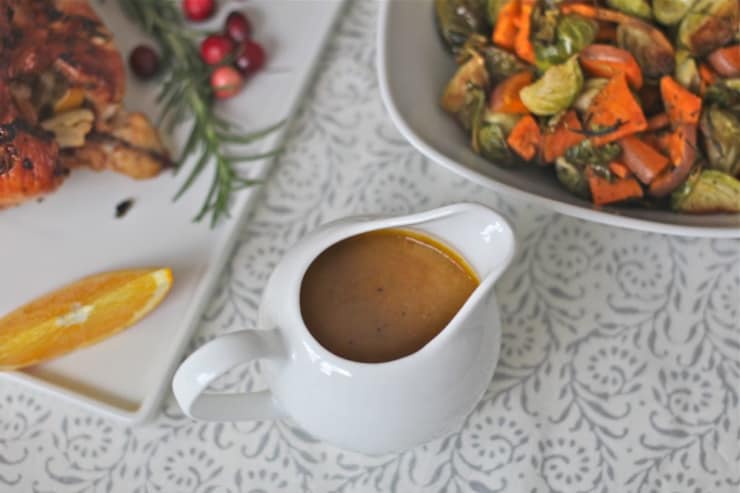 There's no question that gravy is such an important element to a festive spread and this one will have everyone talking (maybe double the recipe). It's made with leeks, apples, carrots, delicious chicken (or vegetable) broth and fragrant herbs such as rosemary, sage and thyme!
19. Fluffy Plantain Buns
Delicious soft and fluffy plantain buns, these are a great substitute for dinner rolls and not only are they great for that but they make perfect burger buns, sliders, sandwiches, you name it!
Desserts:
20. Apple Crisp
If anything screams fall it's this apple crisp, made with juicy sweet apples and a coconut cinnamon scented crunchy topping. This is the perfect end to a holiday dinner!
21. Pumpkin Fudge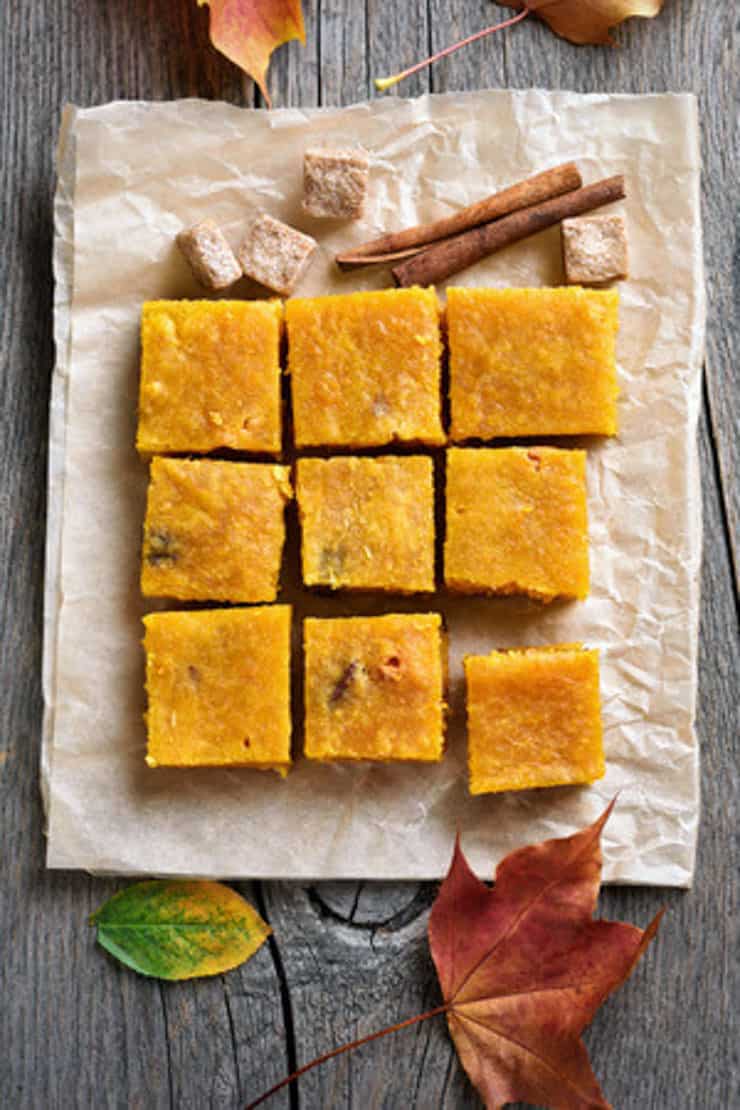 A creamy, super sweet, melt in your mouth pumpkin fudge. If you don't feel like a hearty or heavy dessert then this is the perfect treat for you! It also makes a perfect foodie gift for friends and family!
22. Pumpkin Spice Cake with Gingersnap Crust
Even on an autoimmune diet you can enjoy a super delicious pumpkin pie! This one is made with a ginger snap base and a creamy coconut, pumpkin filling and of course there's the perfect amount of festive spices involved too!
23. Pumpkin Date Cookies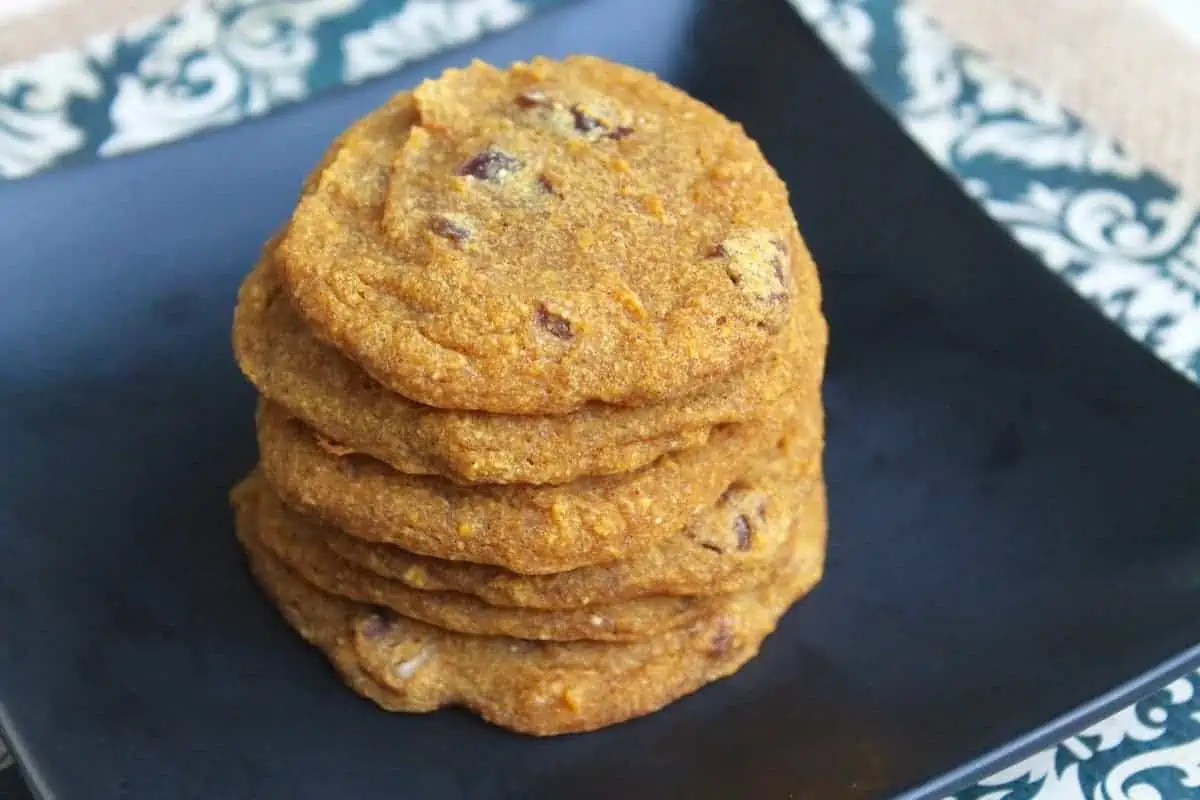 Healthy banana pumpkin cookies are the best fall recipe! This AIP, paleo, vegan and no sugar added recipe makes soft and chewy cookies with a sweet spiced flavor.
24. Pumpkin Ice Cream
Have you ever tried pumpkin ice cream? It's delicious, creamy and refreshing better yet this one is no-churn so you don't need any fancy equipment to make it, you can even eat it straight away!
25. Pumpkin Pie
You can't have Thanksgiving without pie and when I say pie I mean pumpkin pie. This one is made with an exceptionally tasty crust and a creamy and delicious filling made without any egg or dairy. Everyone will love this!
26. Chewy Thin Ginger Cookies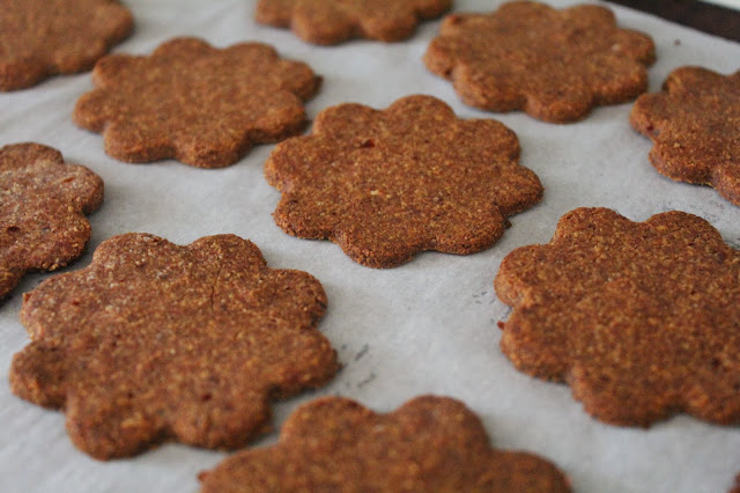 Made with just enough ginger to warm your soul these thin and chewy cookies and so festive and delicious without being overly sweet either. Serve them as a sweet treat at a holiday dinner or give them our as a foodie gift!
27. Pear Upside Down Cake
A moist and delicious pear upside down cake made with a super simple three ingredient caramel sauce. This cake looks so impressive and is sure to taste even better.
28. Caramel Apple Parfaits
These caramel apple parfaits are such a warming treat. Made with juicy apples, cinnamon and maple syrup you can't really go wrong here. The great thing is that they are served in individual portions so they're perfect for entertaining!
29. Chewy Banana Spice Cookies
These chewy banana spice cookies are filled with festive flavors! Sweetened with bananas and cinnamon these cookies will fill your home with the most amazing festive smell and will go down a treat with the whole family!
30. Blueberry Tart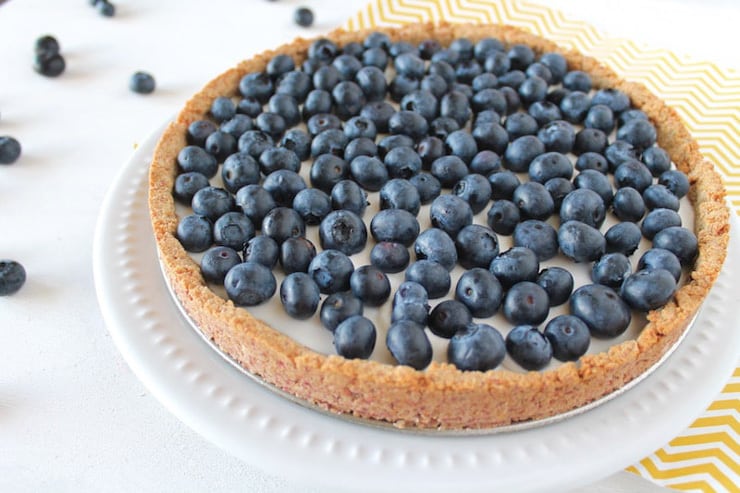 This gluten-free & autoimmune paleo blueberry tart is the perfect healthy treat! Even if you're not on AIP or the Paleo diet, you'll still enjoy this fresh and tasty tart!
31. Savory Breakfast Cookies
If you don't have much of a sweet tooth then fear not. These savory cookies have a delicious rosemary flavor are so easy to make. A note to add is that they take around 45 minutes to bake in the oven but they are so worth the wait!
This post was originally published in November of 2014, but has been republished in November of 2018 to include new and improved autoimmune paleo recipes for the holidays.