Creamy Vegan Garlic Cauliflower Puree
This post may contain affiliate links. As an Amazon Associate I earn from qualifying purchases. Please read the disclosure policy.
This creamy cauliflower puree recipe is smooth like mashed potatoes with savory, salty, garlic, and herb flavors! It's an easy side dish to make for a simple weeknight dinner or an elevated holiday meal.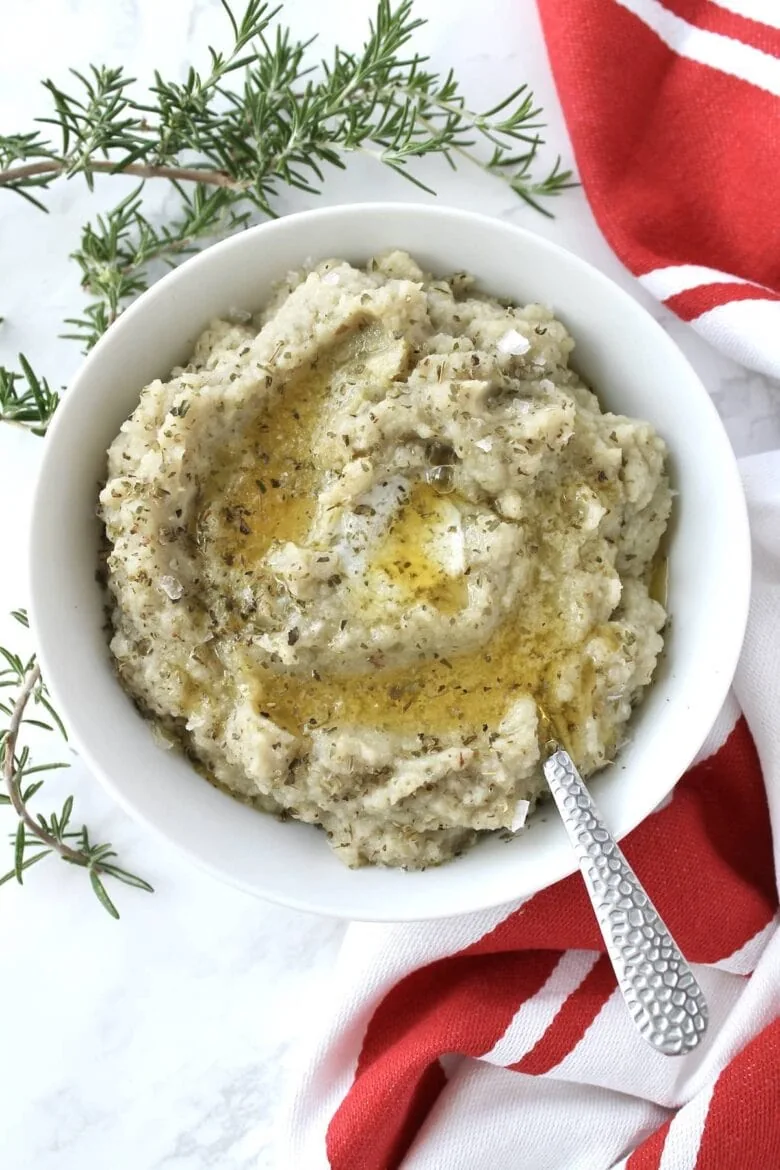 Why You'll Love This Creamy Cauliflower Puree Recipe
Who doesn't love smooth and creamy mashed potatoes? But for those who are trying to eat more vegetables and fiber or looking for a keto diet, low-carb alternative, this cauliflower puree is a win-win. You get a healthier, lower-calorie option that's full of flavor and lower in carbohydrates than regular mashed potatoes! Check the recipe card below for full nutrition information.
Many cauliflower puree recipes rely heavily on dairy and cream, but this one is vegan-friendly and can be made dairy-free!
This is a simple and easy recipe! The basic steps are: chop the cauliflower florets, boil them, and blend them with a hand blender, regular blender, or food processor. You can whip this dish up in about 30 minutes.
This is a great, healthy, veggie-packed side dish for any meal, but it can also be elevated for holiday dinners! Serve with your holiday turkey, pork chops, pot roast, or roast chicken.
Cauliflower is chock full of beneficial vitamins and minerals like Vitamin C and K while also being low in sodium. This puree is my favorite way to eat cauliflower!
What Is Cauliflower Puree Made Of?
The main ingredient in cauliflower puree is cauliflower, but different recipes may use cream, milk, or broth to puree the mixture. This recipe is a healthier option since it's dairy-free and vegan-friendly. It uses broth, herbs, spices, and oil to create a rich, savory cauliflower mash.
Ingredients and Substitutions
Cauliflower: For this recipe, I use a head of cauliflower cut into florets to boil with broth. To make this dish even easier, you can use frozen cauliflower or even cauliflower rice to cook it down, but this may bring different results to the dish. You may want to lower the levels of broth used, or lower the cooking time if using cauliflower rice.
Broth: For a vegan dish, you'll want to use vegetable broth. Otherwise, chicken broth, chicken stock or bone broth will bring a nice, richer, umami flavor to the dish.
Garlic: This adds a nice flavor to the puree, especially if you're a garlic fan like me. You can adjust the amount based on your love of garlic. Anywhere between 2 and 6 cloves of garlic should suffice. If you're not a garlic fan, you can omit this ingredient.
Herbs: I like to use dried thyme and sage for this recipe. You can also use fresh herbs or swap them for other herbs. Other options that would work well are fresh rosemary, marjoram, or oregano.
Spices: I use onion powder, sea salt, and black pepper in this dish. Since there isn't any cheese or dairy in this recipe, the onion powder helps to impart that sharper savory flavor that might come from cheese or dairy. You can omit this if you don't have onion powder, but it will change the flavor significantly.
Oil: Butter or ghee is the best flavor option for this recipe, but if you are vegan, a dairy-free butter substitute or olive oil works well too.
Extra add-ins: This recipe is primarily dairy-free and vegan, but if you want to add dairy for a more cheesy or sharp flavor, you can add 2-4 tablespoons of sour cream or cream cheese at the end when you are blending, which can add more creaminess with a sharp, dynamic flavor. Another nice touch is shredded parmesan cheese on top as a garnish.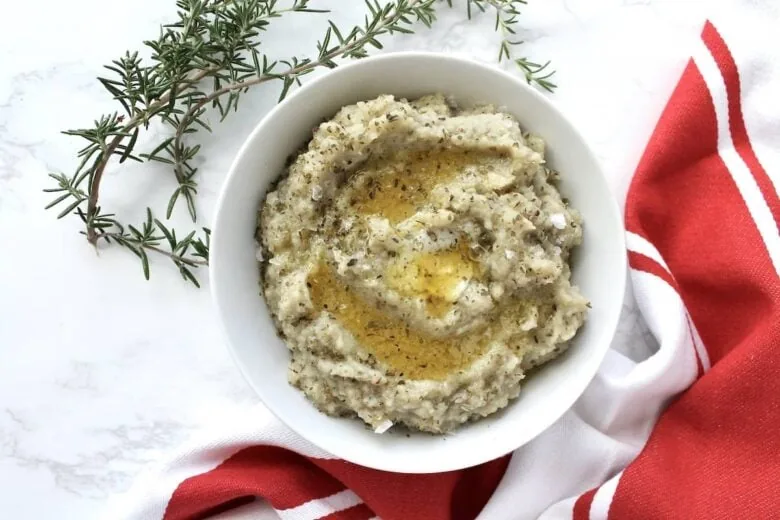 Leftover Storage, Reheating and Freezing
One main reason that I love this cauliflower puree recipe is because it keeps so well in the refrigerator or freezer.
Storage
Store pureed cauliflower leftovers in a sealed container in the refrigerator. It will last about 5-7 days in the refrigerator. This will keep for up to 30 days in the freezer in an airtight container or freezer bag.
Reheating
To reheat from the freezer, start by defrosting the container for a few hours. Once it's defrosted, the reheating process is the same as reheating it from the refrigerator.
Simply spoon out your desired amount into a small pot. You may want to add in some extra broth or water because it may stiffen a bit in the refrigerator. Heat it on low or medium heat covered, stirring frequently for about 5-10 minutes or until it reaches your desired heat. It can also be microwaved, but be sure to cover the bowl since it can splatter. Microwave for about 1-2 minutes, depending on your microwave strength.
What to Serve with Cauliflower Puree
How to Make Creamy Garlic Cauliflower Puree
Start by washing the head of cauliflower, then chop it into florets. Place the cauliflower florets into a large pot and add in one cup of broth. The broth won't cover the cauliflower.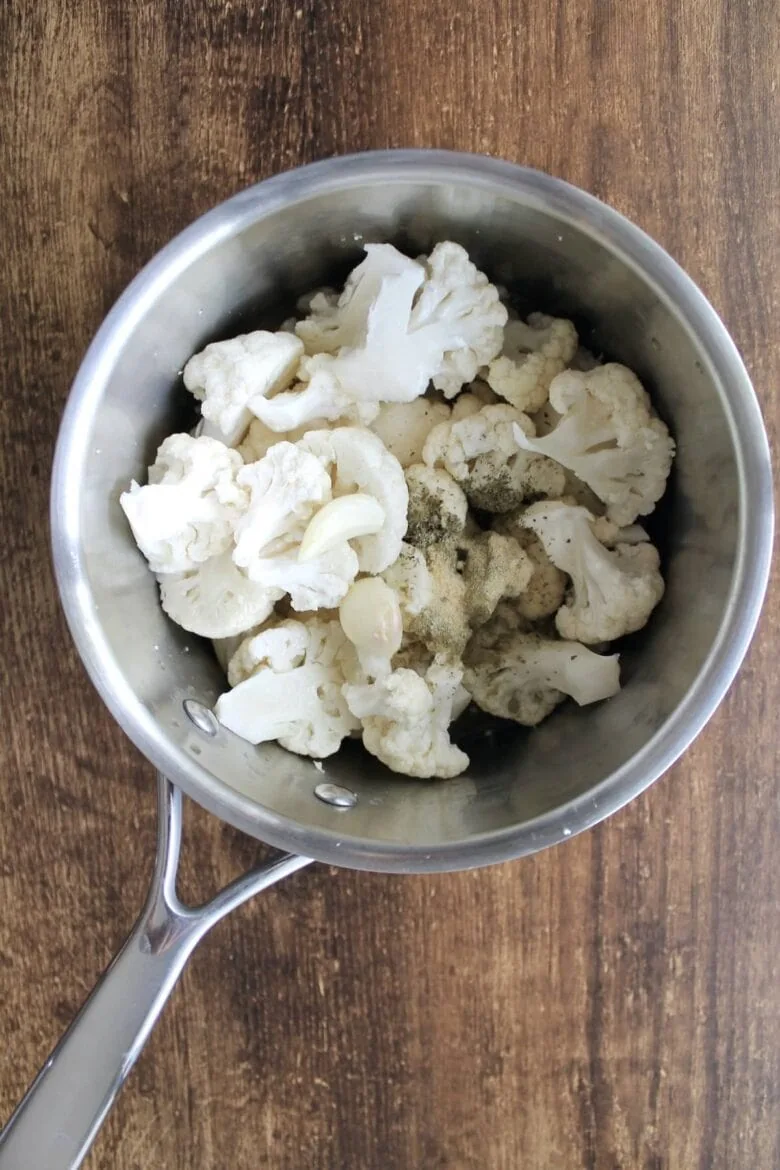 Add the fresh garlic, herbs, and spices to the pot and stir. Turn the heat to high and cover the pot. Once the broth starts to boil, turn it to a simmer and let it cook for another 7-15 minutes, or until the cauliflower is soft and tender.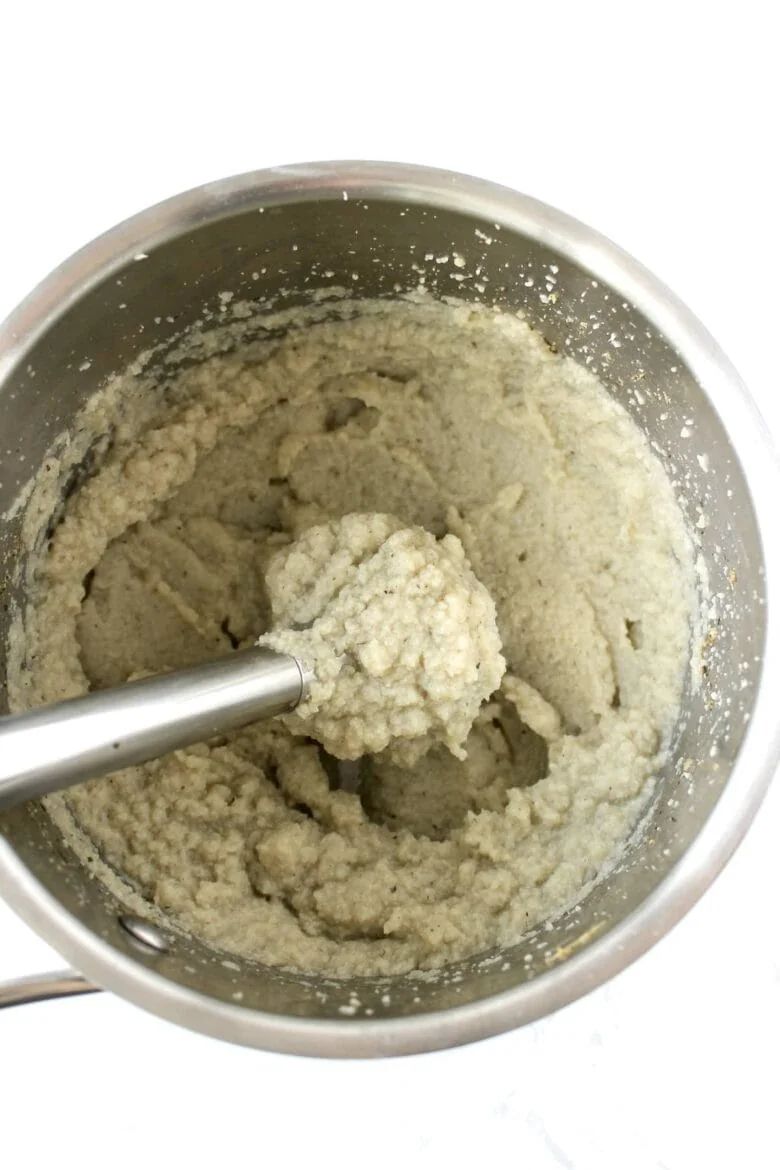 Once the cauliflower can be easily pierced or mashed with a fork, remove it from the heat. If it has soaked up all of the broth, add in another 1/4 cup of broth for blending. Add in the butter or oil and allow it to melt, then blend it in the pot with an immersion blender or let it cool and blend in a food processor or regular blender until it's turned into a smooth puree.
Serve with more butter, or add in sour cream or parmesan cheese!
Creamy Vegan Garlic Cauliflower Puree
This creamy cauliflower puree recipe is smooth like mashed potatoes with savory, salty, garlic, and herb flavors! It's an easy side dish to make for a simple weeknight dinner or an elevated holiday meal.
EQUIPMENT
1 Immersion blender or regular blender
Instructions
First, wash the cauliflower head and chop it into florets. Place the chopped cauliflower into a large pot and pour in 1 cup of broth. The broth won't be covering the cauliflower.

Add in the whole garlic cloves (they do not need to be chopped since they will be pureed later). Then add in the salt, pepper, spices and stir. Cover the pot with a lid and bring it to a boil.

Once the cauliflower is boiling, stir it and turn the heat to medium-high (it should continue to boil gently).

Let it cook for about 7-15 minutes or until the cauliflower is very soft and tender. You should be able to easily mash it with a fork. Turn the heat off.

If the cooked cauliflower has soaked up all of the broth, you can add about 1/4 cup more of broth to make blending it easier. Then add in the butter and allow it to melt.

If you are using an immersion blender you can immediately begin to puree the cauliflower until it is smooth, but be careful not to let it splash since it's hot. If you are using a regular blender or food processor to puree it, wait for it to cool. Then, once it's cooled blend it until it becomes a smooth puree.

Once you're done blending it's ready to be eaten! Add more salt, pepper, or butter to taste if necessary and enjoy!
Notes
Supplies Needed: Hand blender or regular blender
Nutrition
Calories:
75
kcal
Carbohydrates:
8
g
Protein:
6
g
Fat:
3
g
Saturated Fat:
2
g
Polyunsaturated Fat:
0.2
g
Monounsaturated Fat:
1
g
Trans Fat:
0.1
g
Cholesterol:
8
mg
Sodium:
385
mg
Potassium:
444
mg
Fiber:
3
g
Sugar:
3
g
Vitamin A:
102
IU
Vitamin C:
70
mg
Calcium:
39
mg
Iron:
1
mg
This recipe was originally posted in May of 2014 but was republished in October of 2023 to introduce updated recipe tips, images, and video.