Real Food Basics: 9 Steps to Real Food for Beginners
This post may contain affiliate links. As an Amazon Associate I earn from qualifying purchases. Please read the disclosure policy.
When it comes to real food, if you're just starting out, it can be a little overwhelming. There's a lot to take in and it's tough to do it all at once. That's why I've created this easy to navigate guide to real food basics. You can take it one step at a time and focus on implementing each category at your own speed.
1. Organics
It's important to choose organic in order to avoid toxic pesticide residue. Moving to organic foods can be tough, mostly because of budget constraints, but there are a few tips and tricks that you can implement to lower the cost.
Dirty dozen & Clean fifteen

If you can't afford all organic produce, just try to buy organic from the dirty dozen list. These are the fruits and vegetables that are most susceptible to soaking in pesticides. The clean 15 list are items that soak in the least amount of pesticides, but watch out for GMOs. Corn is on the clean 15 list, but is over 90% GMO, so I would always choose organic when it comes to corn. To see the list click here.

Buy in season and locally

Buying in season can help ensure that you're getting a lower price for your organic fruits and vegetables. Since produce that is out of season has to be imported from distant locales, it costs more to buy it because you're also paying for all the fuel and labor hours that it took to get to you. During the summer I've been able to buy delicious organic tomatoes for $1 per pound at my farmer's market, but if I were to try to buy organic tomatoes during the winter, they would probably be anywhere from $2-$3 per pound, and not worth buying. To find out what foods are in season in your area check out this eat well guide.
2. Grains & Legumes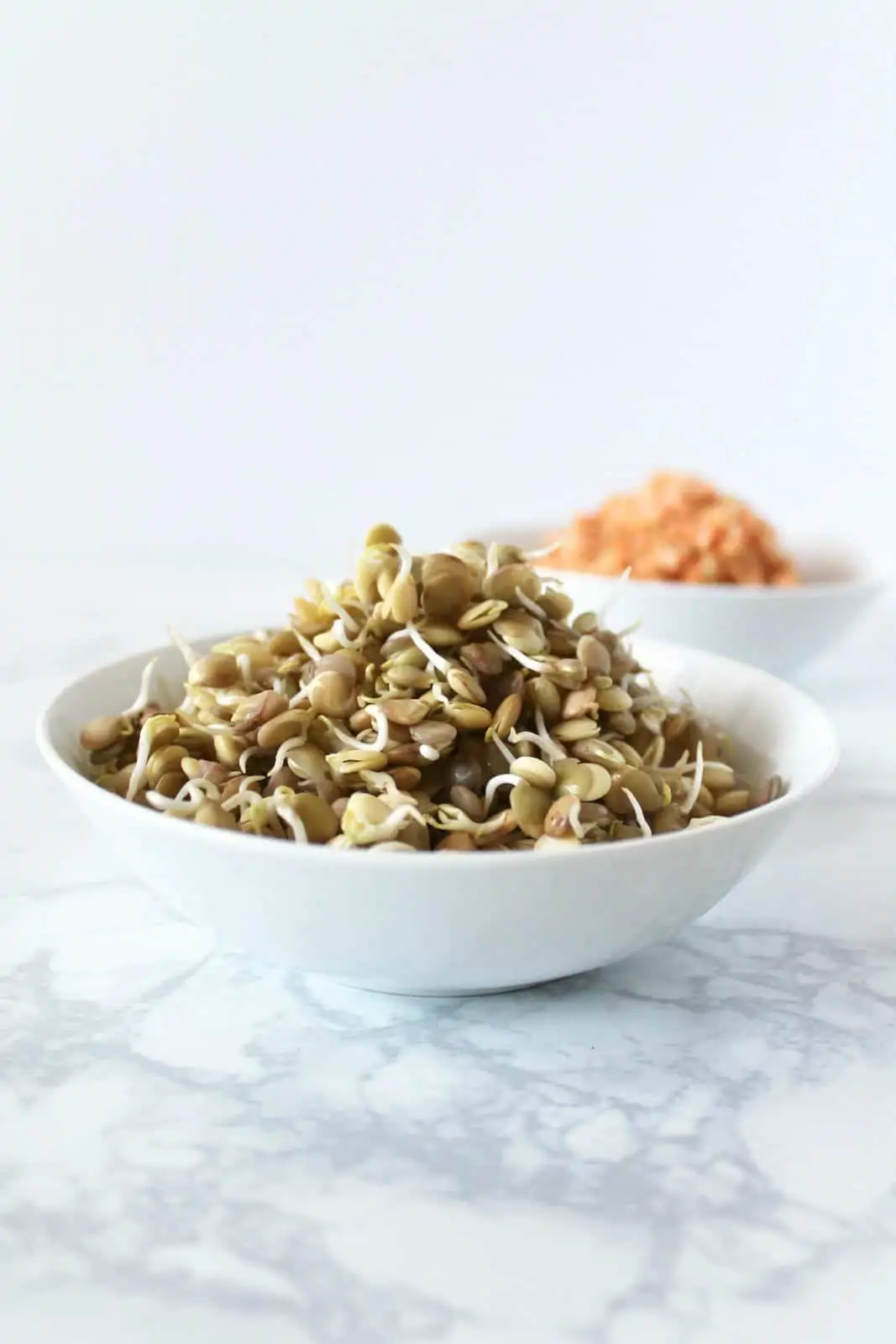 Grains are notoriously hard to digest and contain phytic acid, which can block the absorption of key vitamins and minerals. If you eat grains, it's important to either soak, sprout or ferment (sourdough) them in order to break down the phytic acid and improve digestibility.
Sprouting

Sprouting can be a simple process, all you need to start off is a jar and a sprouting lid.

Soaking

Although soaking grains and legumes takes time, it's actually very easy. See this article for more details on how to soak grains and legumes.

Sourdough

Once you get the hang of it, making sourdough becomes second nature. In addition, sourdough bread is just about one of the tastiest things ever! Once you have your sourdough starter alive and bubbling you can use this recipe to make sourdough bread.
3. Grain-Free
If you choose to avoid grains, learning to bake without them can be a little tricky. For the most part though, the main flours you can use for grain-free baking are coconut flour and almond flour. This is a great guide to tips on how to optimize your grain free baking.
For grain-free bread recipes, check out my post for the top 10 grain-free bread recipes.
4. Healthy Fats & Oils
Using the right fats and oils is a big part of getting into real food. Using the wrong oils can cause inflammation which can lead to allergies, heart disease and other autoimmune disorders. There is so much bad information out there about which oils are the right ones to use, that it can be so confusing. That is why I wrote these two articles to clear things up about cooking oils:
5. Natural Sweeteners
This is another important factor in switching to real food. Processed sugars can be very damaging to the immune system and can even feed cancer cells. One of the most eye opening articles I read that got me off of processed sugar for good was this article. It's best to limit sugar consumption overall, whether it's natural or not, but if you're coming from a background of eating lots of sugar, sometimes it's helpful to ease off of it by replacing regular sugar with natural sugar before reducing total sugar intake overall.
My favorite natural sweeteners are raw honey, coconut sugar, date sugar and maple syrup. If you need more ideas or want to know if a supposed "natural sugar" is in-fact natural, check this guide to natural sweeteners.
6. Fermented Foods
Fermentation is a great way to get more probiotics, improve gut health and the immune system. Fermentation is a time-honored traditional practice that even increases nutrient content to food and helps make it more easily digested.
Some of my favorite fermented foods are sauerkraut, fermented ginger carrots, yogurt, kefir and kombucha.
7. Pastured Eggs & Grassfed Dairy
When it comes to animal products, quality is of the utmost importance. Not only does this ensure that you're getting clean food without antibiotics or hormones, but you also know that you are getting more nutrients, more vitamins and minerals and that the animals are raised humanely.
Eggs are a great source of vegetarian protein (if you're a lacto-ovo vegetarian) and fat soluble vitamins that are easily absorbed because of the saturated fats in the yolks. When choosing eggs it's best to go with pastured eggs, that way you know that the chickens are allowed to forage on green grass like they are naturally supposed to rather than cooped up in a dark cage and fed GMO corn and soy. To read more about why organic pastured eggs are best read this article.
Dairy is best consumed grassfed. The same goes with any dairy products like yogurt, cheese, kefir or butter. If you can get them grassfed, you're getting the best of the best.
8. Dairy-Free Alternatives
Although I believe that grassfed dairy can be beneficial, some people are allergic or choose not to consume it. There are a lot of dairy-free alternatives out there when it comes to milk, but not all of them are good.
I don't believe that soy is healthy and I try to avoid it for the most part, so soy milk is not a good option in my opinion.
Almond milk can be a good option, but only in certain circumstances. Store-bought almond milk has a lot of added sugar and even if you get unsweetened almond milk it still has a lot of additives in it that I wouldn't want to consume on a regular basis. Homemade almond milk is the best choice, that way you know what's in it and exactly where it came from. Learn how to make almond milk (and a few other DF milks) Here.
Coconut milk is by far my favorite option. It tastes delicious, it's good for you and contains a lot of beneficial fats. However, like almond milk, most store-bought ones can have a lot of additives and in addition to that, many of them come in BPA lined cans. I always buy this brand online to avoid additives and BPA.
9. Avoiding processed foods
Just because this is last in the list doesn't mean it's any less important…on the contrary! It's probably the most important! Learning how to make your own meals at home and cutting out processed and boxed foods is such an important step when it comes to real food.
Check out my article 5 "Vegetarian Foods" I Never Eat to learn more about which processed foods I avoid.