16 Ridiculously Easy Camping Food Ideas
This post may contain affiliate links. As an Amazon Associate I earn from qualifying purchases. Please read the disclosure policy.
You don't have to give up tasty and filling meals when you go camping. Camping food can be one of the best parts of a trip if you have the right ideas. We've put together a list of delicious camping meals that are easy to make and don't require a lot of time or ingredients. So, you can spend less time cooking and more time enjoying the great outdoors.
Lemon And Herb Chicken Kabobs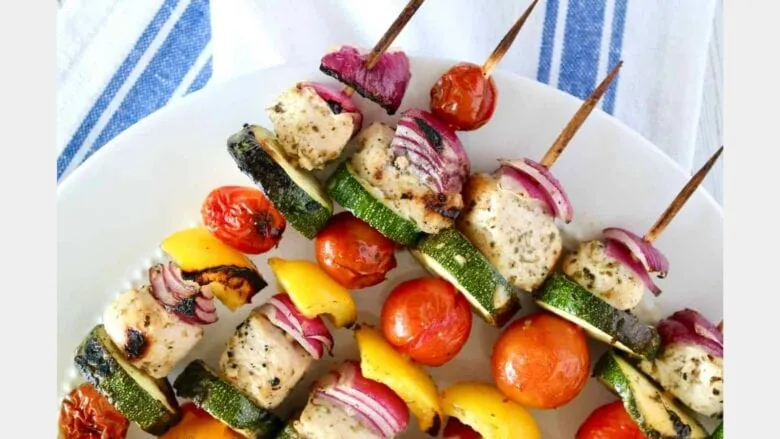 The lemon-herb marinade makes these chicken kabobs juicy, fresh, and fragrant. Before your camping trip, you can easily pack these skewers in the marinade and put them on the fire to caramelize the ingredients, giving the vegetables a nice, flavorful char.
Tandoori Chicken Drumsticks
This tandoori chicken recipe requires a little prep before getting to the campground, but once you're there, all you have to do is throw the drumsticks on the grill over the fire to get them going. The chicken can sit in the aromatic marinade until they're ready to cook. The result is an exotic, juicy dinner that was easy to make right next to your tent!
Walking Tacos
These walking tacos are so easy and portable that you can literally walk around while eating them! All you have to do is add taco fixings to a bag of chips, and your camping meal is done.
Honey Dijon Chicken Foil Packets
This honey-dijon chicken features juicy chicken breasts, fresh seasonal vegetables, and a sweet and tangy sauce. It's sealed in foil packets and can be cooked on a grill or over a campfire in just 30 minutes.
Sausage Pineapple Skewers
Want a super easy grilling recipe for your camping trip? These sausage pineapple skewers are the perfect camping food: quick to make, easy to pack, and cook in about 5 minutes. The flavor is salty, sweet, cheesy, and smoked!
Grilled Foil Pack Shrimp Tacos
These shrimp tacos are a tasty and healthy meal to enjoy in the great outdoors. The ingredients won't take up much packing space, and you can make them quickly and easily at your campsite.
Campfire Corn On The Cob
Corn on the cob is a camping classic! This recipe walks you through step by step to make the perfect flavorful, charred, and tender corn to enjoy in nature.
Steak, Potato, and Mushroom Foil Packs
Foil-pack meals are the perfect camping food. These grilled steak, potato, and mushroom foil packets are full of tender cuts of ribeye steak, chunks of creamy potatoes, and flavorful mushrooms.
Orange BBQ Salmon with Foil Packet
Even elevated meals like orange bbq salmon can be easy when you're sleeping outdoors with the help of a foil packet! This fresh and tangy recipe also includes savory garlic soy vegetables to enjoy with your fish.
Vegetable Frittata
Breakfast is the most important meal of the day, especially when you need energy for hiking and other camping activities. This tomato herb frittata is a great way to pre-cook breakfast for your camping trip. With just eggs and vegetables as the main ingredients, it's an inexpensive recipe that tastes great. Plus, it packs easily and will taste great hot or cold!
Overnight Oats
These overnight oats can be made ahead of time or at the campsite. They're soaked in water, so you don't have to worry about bringing milk! Top them with berries and maple syrup for a sweet, nourishing breakfast.
Foil Packet French Toast
Entrees with meats and vegetables are pretty common with foil-packet meals, but who knew you could even make a delicious foil-packet French toast breakfast over the campfire? This recipe reshapes how you think of camping food by featuring rich flavors of cinnamon, strawberry, and walnuts.
3-Ingredient Peanut Butter Cookies
All you need is peanut butter, sugar and eggs to make these easy peanut butter cookies. They're a simple treat to pre-make before your camping trip to pack with you. They last for a while unrefrigerated and make a great hiking snack!
5-Minute Fudge Balls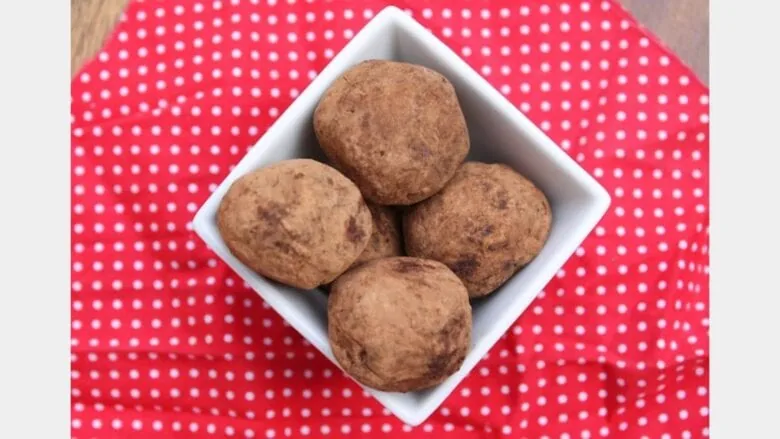 Don't forget about dessert! These simple fudge balls only require a few ingredients and are a healthy way to get your chocolate fix! All you have to do is dump the ingredients in a bowl, mix, and roll them into balls.
Campfire Apple Crisp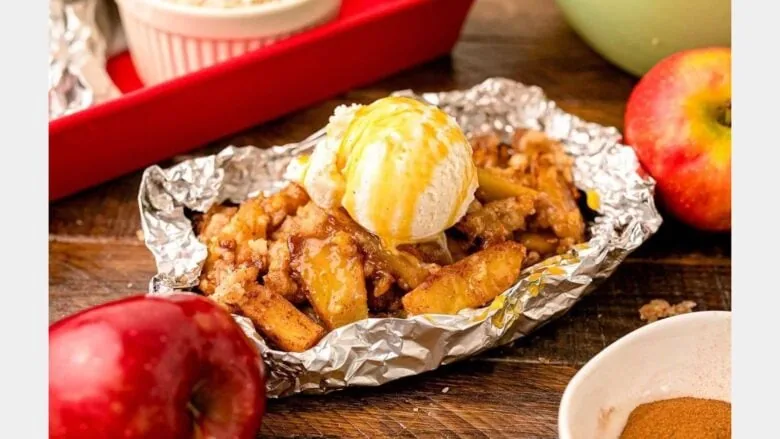 You don't have to have s'mores every night for dessert when camping. Delicious homemade apple crisp can be made over an open flame so that you can enjoy fresh juicy cinnamon-infused apples with a crumbly topping in about 20 minutes.
No Bake Peanut Butter Chocolate Chip Bites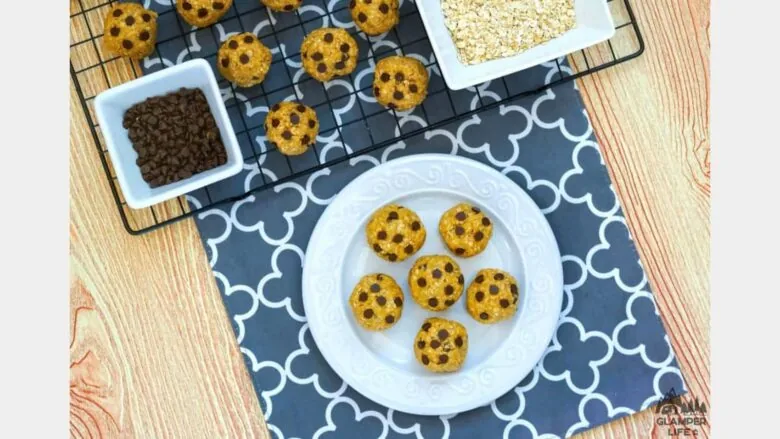 Who knew you could make cookies without an oven? These camping-friendly peanut butter chocolate chip energy bites are the perfect snack or dessert to whip up quickly while on vacation. With just a few simple ingredients, all you need to do is mix it together and roll into balls.
More Articles From Healy Eats Real
These 15 Pizza Crusts Made From Vegetables will wow you with flavor! These pizzas are full of healthy vegetables like cauliflower, broccoli, zucchini, butternut squash, and more, so you don't have to worry about getting your daily veggie amount.
Top 12 Grain-Free Bread Recipes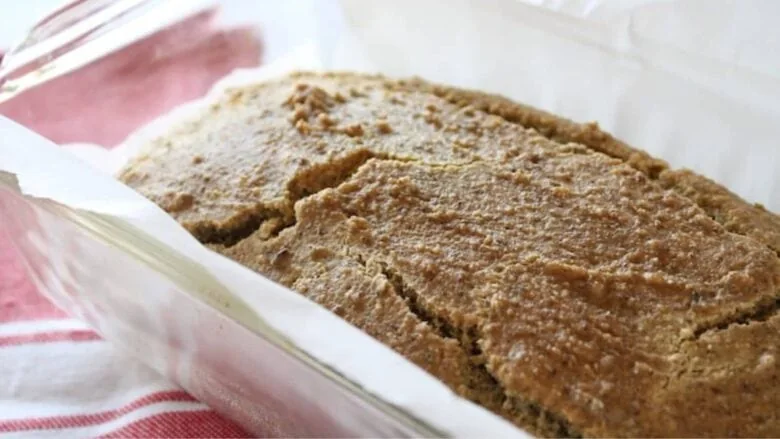 Wanting to cut down on carbs? These 12 grain-free bread recipes really taste like bread but contain healthier ingredients like almonds, flax, and coconut!
30+ Sugar-Free Desserts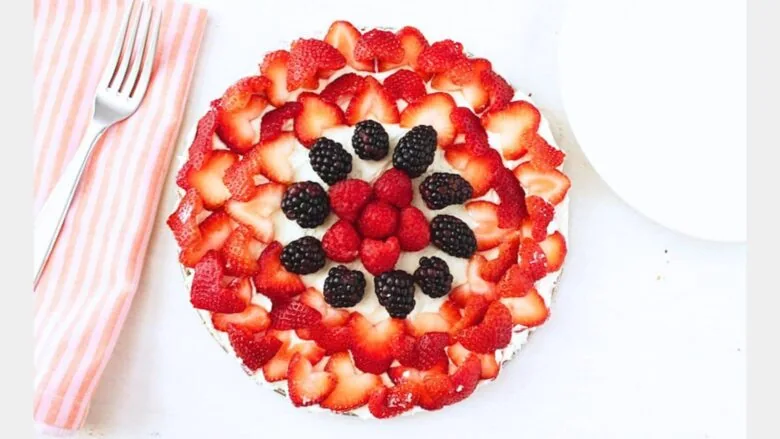 These 30 sugar-free dessert recipes are so tasty and rich that you won't even miss the sugar! Try these no added sugar treats when you're watching your weight or sugar intake.