Having a paleo thanksgiving can sometimes be a challenge. Although the turkey and veggies can sometimes be paleo friendly, usually the desserts, stuffing, gravy and condiments have flour or another that is not gluten free.
That's why I created this easy to navigate comprehensive list of delicious paleo Thanksgiving recipes all in one place! I want to make it easy for you to find your tried-and-true holiday recipes without sacrificing your dietary needs or flavor.
The recipes below are organized by sides, salads, soups, mains, desserts and condiments/gravy. Bookmark your favorites and have a fantastic paleo thanksgiving!
90+ Paleo Thanksgiving Recipes:
Sides:
Although thanksgiving sides may seem basic, they are a super important part of the holiday table. Sides bring healthy filling veggies, they round out the meal and leave room for lots of creativity. You can stick with the basics like roasted squash and green salad or you can mix it up with things like cauliflower puree and balsamic glazed brussels sprouts.
Butter Savory Cabbage with Bacon
Bacon Wrapped Brussels Sprouts
Lemon Garlic Brussels Sprouts with Balsamic Glaze
Roasted Sweet Potatoes with Cauliflower Cream Sauce
3-Minute Pressure Cooker Butternut Squash
Pan Fried Brussels Sprouts with Bacon
Roasted Pumpkin with Cranberries & Pecans
Cranberry-Balsamic Braised Butternut Squash
Prosciutto "Cheese" Stuffed Mushrooms
Healthy Low Carb Sweet Potato Casserole Recipe
Maple Roasted Beets and Carrots
Roasted Carrots with Gremolata
Orange and Thyme Roasted Rainbow Carrots
Healthy Maple Sweet Potato Casserole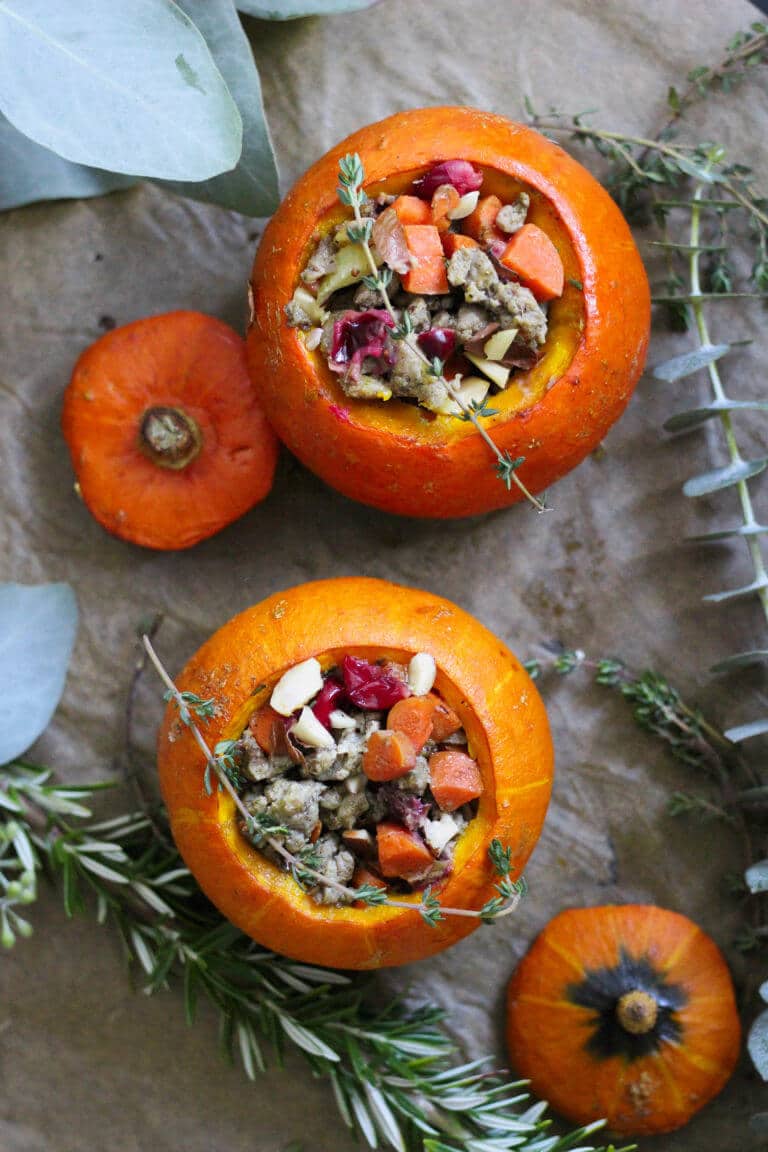 Paleo Thanksgiving Bacon Sausage Apple Stuffing
Roasted Jicama with Green Beans
Roasted Green Beans with Kalamata Olive Vinaigrette
Coconut Creamed Spinach with Pork Crackling
Paleo Grain Free Egg Free Green Bean Casserole
Garlicky Oven Roasted Mushrooms
Salads:
Sides bring brightness and crunch to the Thanksgiving meal. A nice salad can really make a beautiful addition to the table with fun and flavorful ingredients like pomegranate seeds, fennel, pancetta and more!
Roasted Delicata Salad with Maple Balsamic
Pimped-Up Celeriac Slaw with Pancetta & Pine Nuts
Soups:
There is nothing quite as soothing as a nice warming fall soup. Squash and root vegetables are in season in fall and winter so it's a perfect time to incorporate these ingredients into you soups. Whether it's a smooth puree or a hearty chunky stew, it's sure to win over your dinner guests!
Paleo Pumpkin Soup with Pepitas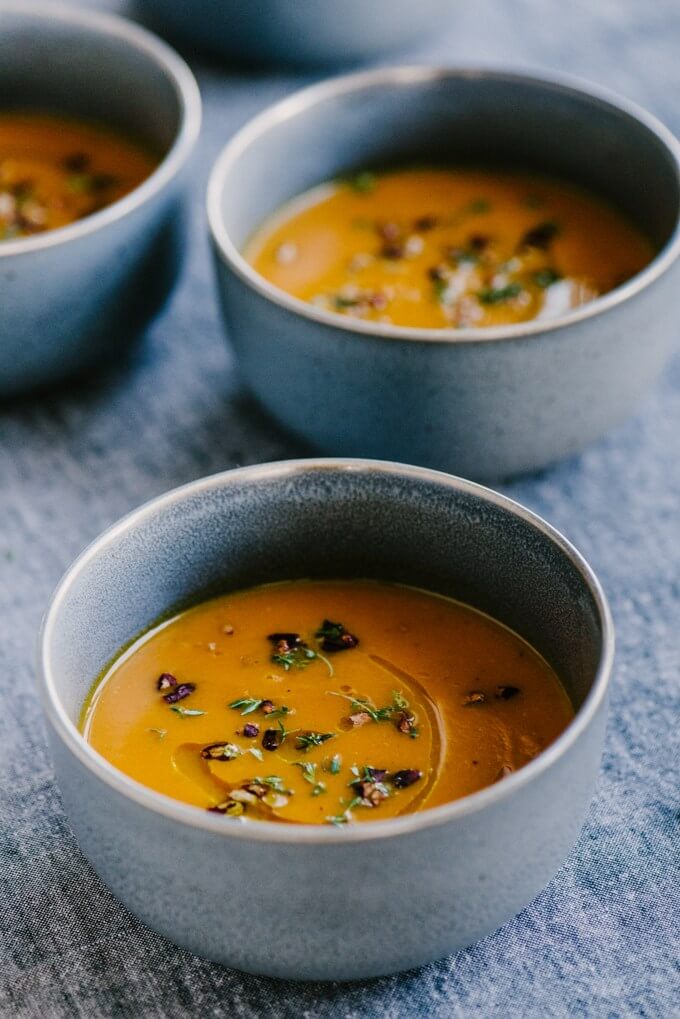 Main Dishes:
The turkey is the centerpiece of the paleo thanksgiving table! However, if you're not up for turkey or you want to add in another main dish like ham, chicken or another dish, check out the options below. They all fit perfectly into the fall holiday menu and taste delicious!
Bacon Wrapped Maple Cornish Game Hens
Shepherds Pie with Sweet Potato Topping
Super Flavorful Paleo Turkey Brine
Butternut Squash & Beef Meatballs
Desserts:
Thanksgiving desserts are one of the highlights of the evening! Who doesn't love a slice of pie with fresh whipped cream on top (or coconut cream for dairy-free!). These paleo thanksgiving desserts are all free of gluten, grains, dairy and refined sugar. You have your classic holiday favorites like pumpkin pie and pecan pie, but don't miss out on the fun new ideas like pumpkin date cookies and salted caramel apple parfaits!
Paleo Maple Cinnamon Candied Pecans
AIP Salted Caramel Apple Parfaits
Paleo Cranberry Grapefruit Cookies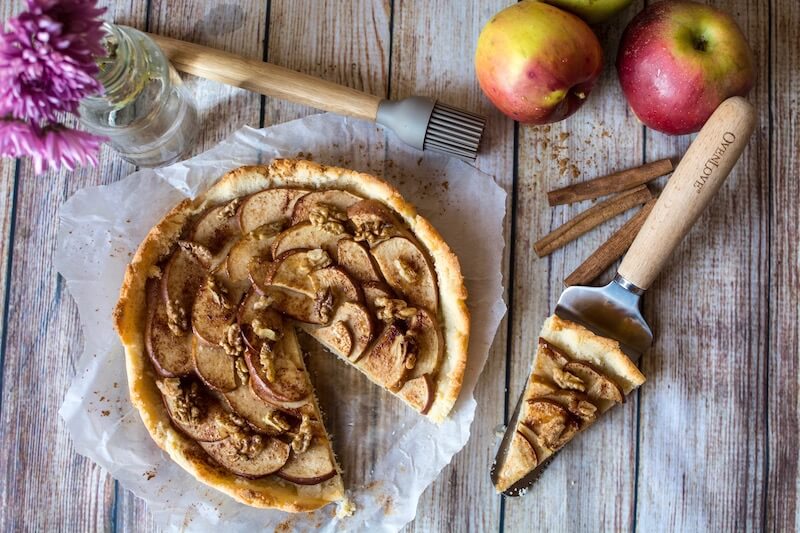 Rustic Apple Tart with Walnuts
Low-Carb Slow-Cooker Pumpkin Custard
Butternut Casserole Bacon-Pecan Streusel
Condiments & Gravy:
A paleo thanksgiving table is not complete without cranberry sauce and gravy. Luckily, it's not hard to make these recipes grain-free. There are a number of grain-free gravy thickeners to use in place of wheat flour as well as naturally sweetened cranberry sauce.
Caramelized Shallot & Bacon Gravy
5-Ingredient Slow Cooker Cranberry Sauce
Homemade Cider & Elderberry Cranberry Sauce
Fresh Cranberry and Orange Relish
Cranberry Satsuma Relish with Coconut and Ginger
FREE "6 Easy Tips to Quit Sugar" Guide!
By submitting your name and email you will receive a free copy of the 6 Easy Tips to Quit Sugar Ebook and are consenting to receive regular newsletter emails from Healy Eats Real including information about our products and special offers. You can unsubscribe at any time.
FREE "6 Easy Tips to Quit Sugar" Guide!
By submitting your name and email you are consenting to receive a free copy of "6 Easy Tips to Quit Sugar" as well as regular newsletter emails from Healy Eats Real including information about our products and special offers. You can unsubscribe at any time.