90+ Paleo Thanksgiving Recipes
This post may contain affiliate links. As an Amazon Associate I earn from qualifying purchases. Please read the disclosure policy.
Having a paleo thanksgiving can sometimes be a challenge. Although the turkey and veggies are often paleo friendly, usually the desserts, stuffing, gravy and condiments have flour or something else that is not gluten free.
That's why I created this easy to navigate comprehensive list of delicious paleo Thanksgiving recipes all in one place! I want to make it easy for you to find your tried-and-true holiday recipes without sacrificing your dietary needs or flavor.
The recipes below are organized by sides, salads, soups, mains, desserts and condiments/gravy. Bookmark your favorites and have a fantastic paleo thanksgiving!
90+ Paleo Thanksgiving Recipes:
Sides:
Although thanksgiving sides may seem basic, they are a super important part of the holiday table. Sides bring healthy filling veggies, they round out the meal and leave room for lots of creativity. You can stick with the basics like roasted squash and green salad or you can mix it up with things like cauliflower puree and balsamic glazed brussels sprouts.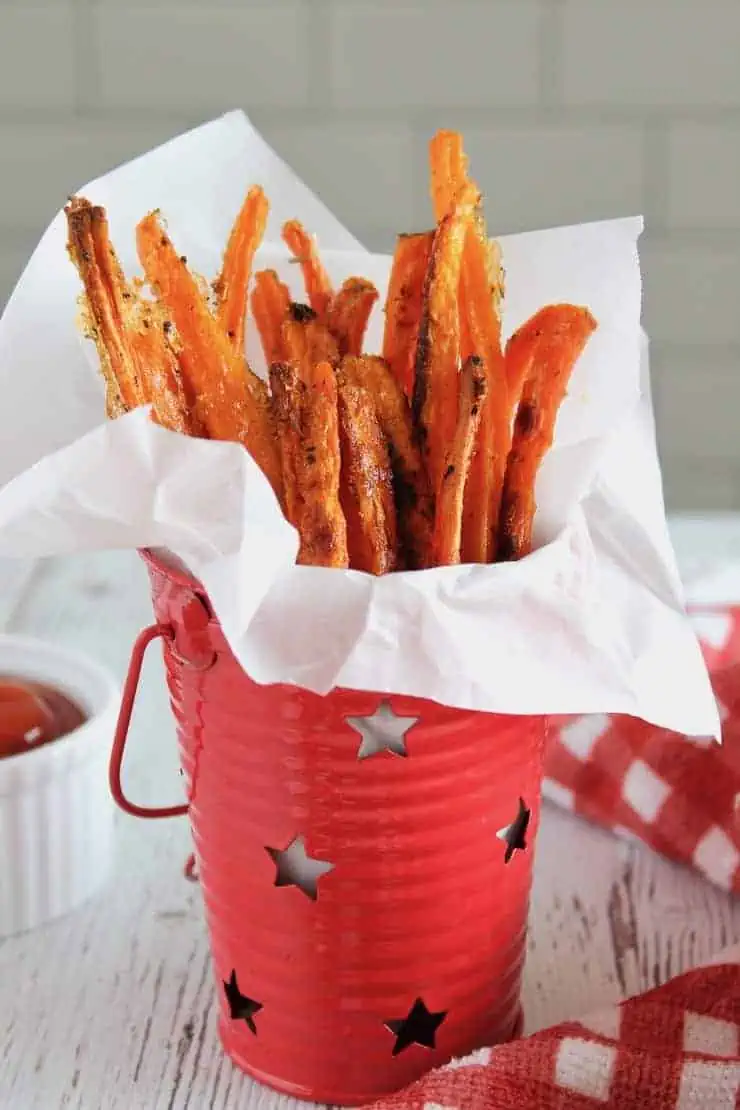 If you have a picky eater at home who insists vegetables aren't their thing, this recipe will be life-altering to them and to you. This easy recipe integrates aromatic herbs while roasting carrots to bring out a whole new flavor from this classic side. This upgraded recipe is simple yet effective and in no time, you'll have a tender, delicious side dish that even the kids will want seconds of.
2. Bacon Wrapped Brussels Sprouts
Simple yet delicious. With only 2 ingredients, this recipe is an easy addition to any meal. You get the smoked crispiness of bacon while increasing your vegetable consumption. Win-win. Also, if you're looking to add that extra sparkle – you can drizzle some maple syrup on them to enhance the smoky flavor and tame that sugar craving. Win-win-win.
3. Bacon and Broccoli Stuffed Sweet Potatoes
This recipe brings out the natural sweetness of the sweet potato and bacon with savory elements like mushrooms and broccoli. This rich and hearty side dish is sure to please everyone at the Thanksgiving table!
4. Cranberry-Balsamic Braised Butternut Squash
This beautifully crafted dish is quick to prep (only 5 minutes) and cooks in half an hour. In no time, you can have a tart and tangy side dish that will look like a professional made it.
5. Maple Roasted Beets and Carrots
This recipe is another quick and easy fix. Even if beets aren't your thing, you should still give this dish a try as they are literally sugar coated in maple syrup. In one comment, a user even states she "used to hate [beets]" but now she is "a huge fan" of the recipe.
Four years in the making, this family recipe was perfected by a determined lactose and gluten intolerant food lover. This flavorful souffle is topped with cinnamon but you can also add your own twist such as chopped pecans, coconuts shavings, sliced almonds and the list goes on! This dish is so delicious and healthy, it might even make its way to your Christmas meal.
7. Healthy Maple Sweet Potato Casserole
Gain the full health benefits of traditional sweet potato casserole but without all that guilt! This dish is sweetened with maple syrup and honey-sweetened walnuts and can be baked to perfection in less than 30 minutes. You can enjoy all the nutrients without missing out on the sweetness.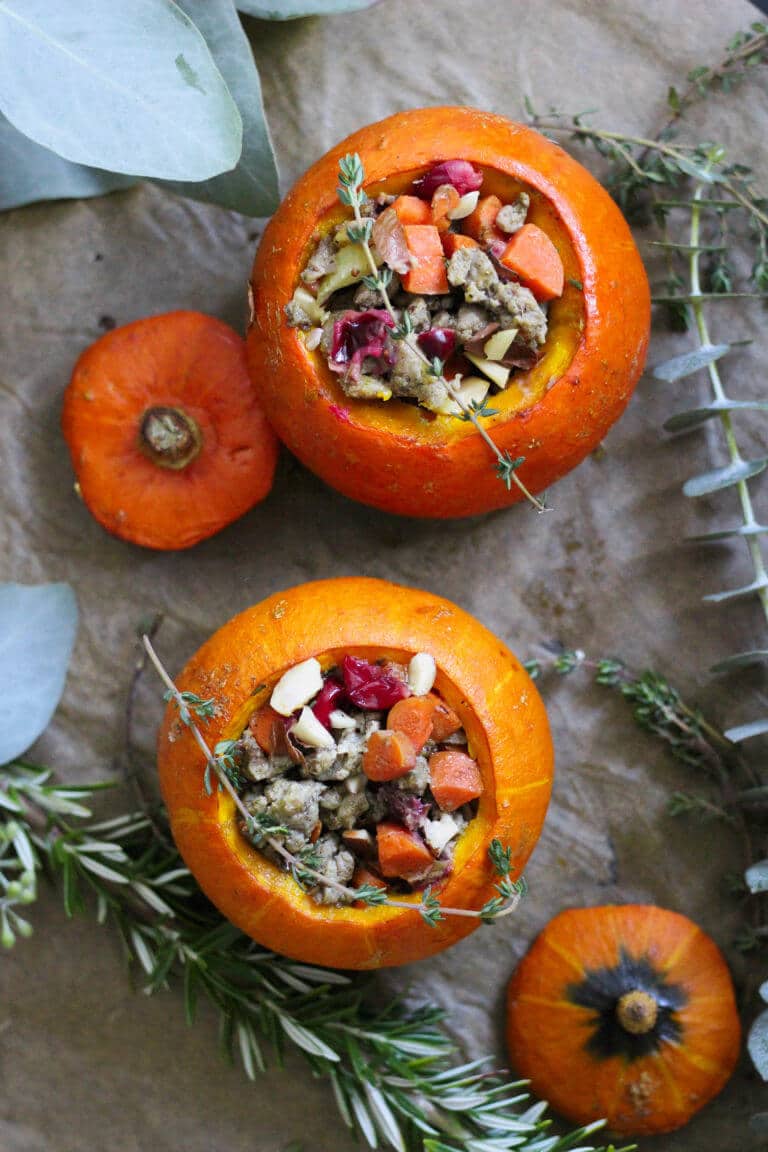 Say that five times fast. This artfully crafted dish is presented so well you might not want to eat it – that is until you get a delicious whiff of the stuffing. It's guaranteed to make those colors on your Thanksgiving table pop. A delicious way to serve your stuffing and sure to be a family favorite.
You can't have a Thanksgiving without stuffing – it's a classic. This dish is just as good if not better than the classic stuffing recipe and cooks in about 30 minutes. So yummy even your non-paleo friends will ask for more!
10. Microwave Spaghetti Squash
The holidays can be stressful enough without worrying about preparing food. This recipe is a timesaving and stress-relieving addition. It's ready in about 30 minutes and won't take up any room in the oven. Decadently rich browned butter mixed with the crunch of walnuts, this sweet treat is sure to be a hit.
11. Butter Savory Cabbage with Bacon
13. Green Beans with Shallots and Lemon
14. Lemon Garlic Brussels Sprouts with Balsamic Glaze
15. Cauliflower Mash
17. 3-Minute Pressure Cooker Butternut Squash
18. Pan Fried Brussels Sprouts with Bacon
19. Roasted Pumpkin with Honey, Thyme and Pecans
20. Prosciutto "Cheese" Stuffed Mushrooms
21. Healthy Low Carb Sweet Potato Casserole Recipe
22. Vanilla Carrot Parsnip Puree
24. Roasted Carrots with Gremolata
25. Orange and Thyme Roasted Rainbow Carrots
26. Mini Sweet Potato Pomme Anna
27. Roasted Sweet Potato Purée
28. Savory Sweet Potato Biscuits
30. Paleo Thanksgiving Bacon Sausage Apple Stuffing
31. Roasted Jicama with Green Beans
32. Balsamic Green Beans with Walnuts
33. Paleo Green Bean Casserole
34. Roasted Green Beans with Kalamata Olive Vinaigrette
35. Grandma Julia's Green Beans
36. Coconut Creamed Spinach with Pork Crackling
39. Paleo Grain Free Egg Free Green Bean Casserole
40. Garlicky Oven Roasted Mushrooms
Salads:
Sides bring brightness and crunch to the Thanksgiving meal. A nice salad can really make a beautiful addition to the table with fun and flavorful ingredients like pomegranate seeds, squash, pecans and more!
41. Roasted Delicata Harvest Kale Salad
Hearty, flavorful, and warming, this colorful salad is perfect for the fall season. The balance of flavor between the delicata squash, kale, apples and cider vinaigrette dressing is, as one reviewer put it, "to die for!". Visually designed to be a centerpiece dish, this salad is perfect for your Thanksgiving table.
Yes, bacon! This beautiful holiday salad will compliment any meal. Decadent and delicious with a homemade apple pecan vinaigrette – you can't get much better than this. If kale isn't your thing, you can easily swap it out for arugula or baby spinach.
43. Fall Harvest Salad with Maple Apple Cider Vinaigrette
44. Carrot Celeriac Spiralized Salad
Soups:
There is nothing quite as soothing as a nice warming fall soup. Squash and root vegetables are in season in fall and winter so it's a perfect time to incorporate these ingredients into you soups. Whether it's a smooth puree or a hearty chunky stew, it's sure to win over your dinner guests!
46. Roasted Butternut Squash Soup
When I think of the perfect fall soup, this is it. It's creamy texture and rich, sweet flavor combine artfully to give you that warm fuzzy fall feeling. Visually vibrant and highly nutritious.
47. Paleo Pumpkin Soup with Pepitas
This soup is a fall classic. It has a bright, sweet flavor with a creamy texture. A delicious combination of coconut milk, roasted sugar pumpkins, and classic fall herbs and spices.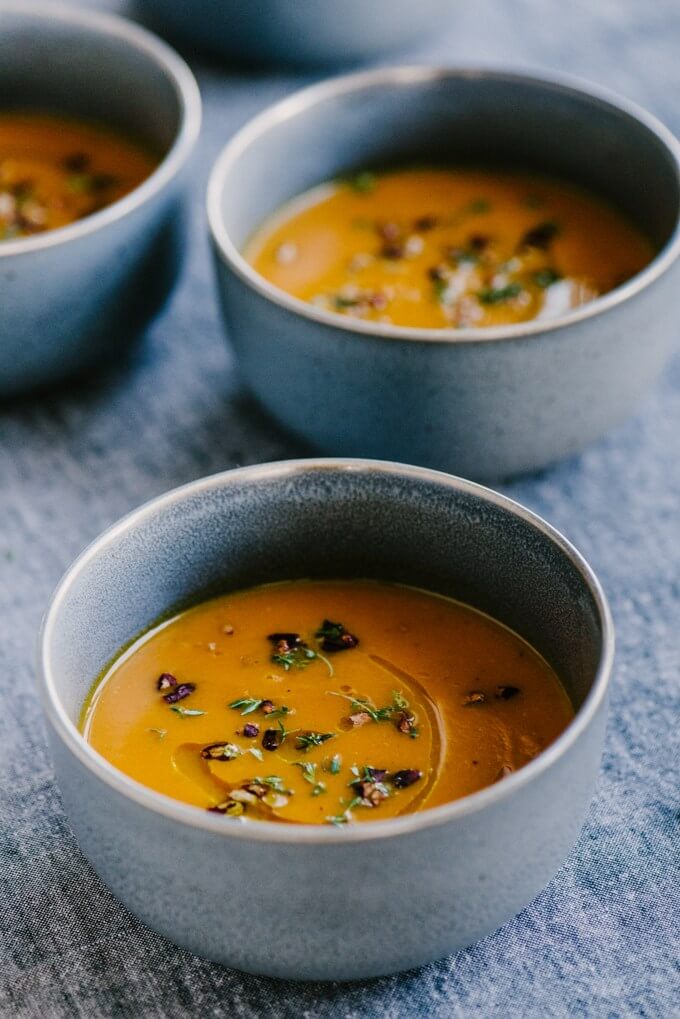 This soup is smooth, warm, and nourishing for the body and soul. The roasted carrots add a special hint of smokiness and depth of flavor that take this recipe above and beyond. You can easily use vegetable broth to make this meal vegetarian.
49. Broccoli Soup
50. Golden Goddess Sunshine Soup
Main Dishes:
The turkey is the centerpiece of the paleo thanksgiving table! However, if you're not up for turkey or you want to add in another main dish like ham, chicken or another dish, check out the options below. They all fit perfectly into the fall holiday menu and taste delicious!
51. Bacon Wrapped Turkey Roast
An instant family favorite. This recipe is a well-balanced upgrade of your traditional Thanksgiving turkey (honestly anything with bacon is an upgrade). With this technique, you are guaranteed a succulent, tasty turkey every time so get ready for second and third servings.
52. Honey and Citrus Glazed Ham
This dish is simple to make with few ingredients. It's covered with a fresh citrus glaze that gives the dish a dewy glow. The tangy and sweet outside mixes well with the tender and savory flavor within. You won't be able to get enough!
53. Shepherds Pie with Sweet Potato Topping
This is a staple fall dish that is also one the simplest to make. This recipe even includes step-by-step pictures to make it even easier. The filling is hearty, flavorful and juicy while the crust is creamy smooth. As one user states, it's "wholesome and yummy!"
54. Butternut Squash & Beef Meatballs
Easily trick picky vegetable eaters into asking for more vegetables with this recipe. Say goodbye to dry meatballs and enjoy these tender and rich ones. The butternut squash enhances the depth of flavor of the beef and Italian spices.
58. Bacon Wrapped Maple Cornish Game Hens
59. Super Flavorful Paleo Turkey Brine
Desserts:
Thanksgiving desserts are one of the highlights of the evening! Who doesn't love a slice of pie with fresh whipped cream on top (or coconut cream for dairy-free!). These paleo thanksgiving desserts are all free of gluten, grains, dairy and refined sugar. You have your classic holiday favorites like pumpkin pie and pecan pie, but don't miss out on the fun new ideas like pumpkin whoopie pie cookies and salted caramel apple parfaits!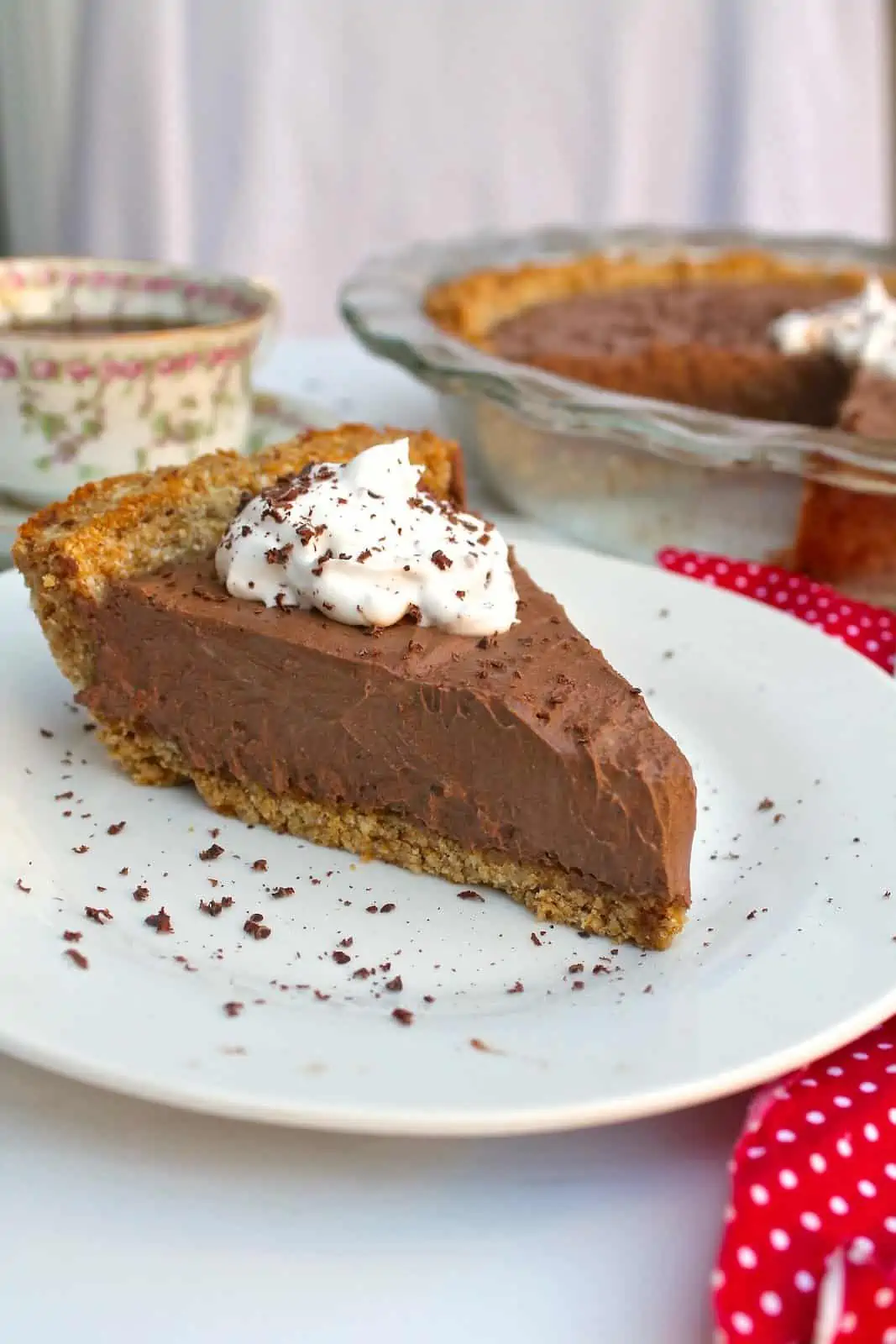 Chocolate is already great but mixed in this pie – it's amazing. This pie has a rich chocolate flavor without being overwhelmingly sweet and has a smooth creamy texture that is balanced with a nutty, crumbly crust.
This adorable bite-sized carrot cake recipe is just what you need to make your home feel and smell like autumn. Made from scratch, this dessert is a healthy alternative to original carrot cake without sacrificing any flavor. You can easily swap out the raisins for pecans, walnuts, or other nuts.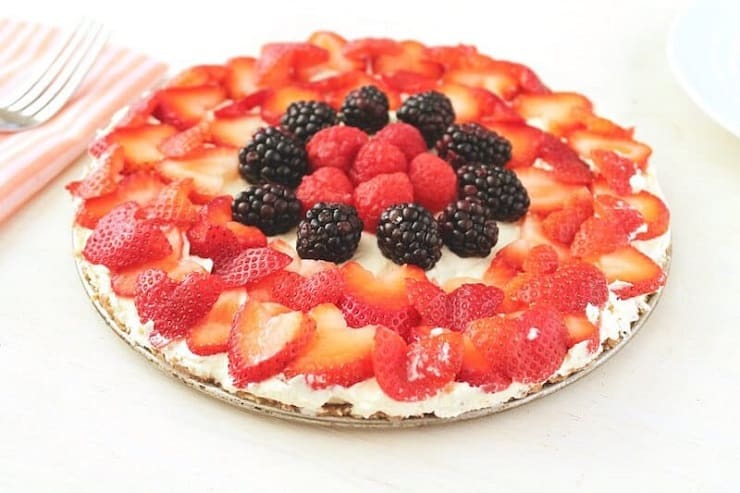 63. Sugarless No Bake Fruit Tart
Save room in your oven by adding this beautifully presented fruit tart to your Thanksgiving dinner. No added sweeteners, only the natural sweet flavors of the fruit combined with a nutty crust and rich creamy filling. Strawberries, blueberries, and raspberries are used in this recipe, but you can easily swap them out for your favorite fruit.
This fall-inspired cheesecake utilizes cashews (yes cashews!) to get it's creamy, satisfying texture. The addition of pumpkin spices makes this dessert delight the senses. Also, there's no baking required, not even for the crust!
65. Blueberry Tart
This pretty treat is the perfect healthy addition to any Thanksgiving dinner. It's fresh and tart so it will fill you up without making you feel heavy. Also, since it's healthy, you don't have to feel bad for eating the whole treat yourself (no judgments).
66. AIP Salted Caramel Apple Parfaits
These pretty parfaits are packed with flavorful nutrients. They are the perfect warm and comforting fall treat to satisfy that sweet tooth. These sweet treats are simple and travel well so prepare to start carrying them in your bag daily.
Thanksgiving is great but it can leave you feeling heavy especially with all the loaded sides and dishes. This sorbet will fix that right up and it's easy to make. This light, refreshing treat will be a breath of fresh air after a loaded meal. After a taste, you'll be making this dessert part of your traditional meal every Thanksgiving.
This easy-to-make dessert can satisfy all your cravings. It's sweet, spicy and tart while still being light. Easily swap the apples out for other fruits and make it all your own.
People are already putting up their Christmas lights so no shame in bringing a Christmas inspired dessert to Thanksgiving dinner. Flavorful and moist, with a balanced ginger flavor. Easily double or triple this batch to really spice up the festive spirit (or even save a secret stash for yourself).
71. Paleo Maple Cinnamon Candied Pecans
72. Paleo Chocolate Pecan Tart
75. Apple Crisp
81. Pumpkin Brownies
84. Paleo Cranberry Grapefruit Cookies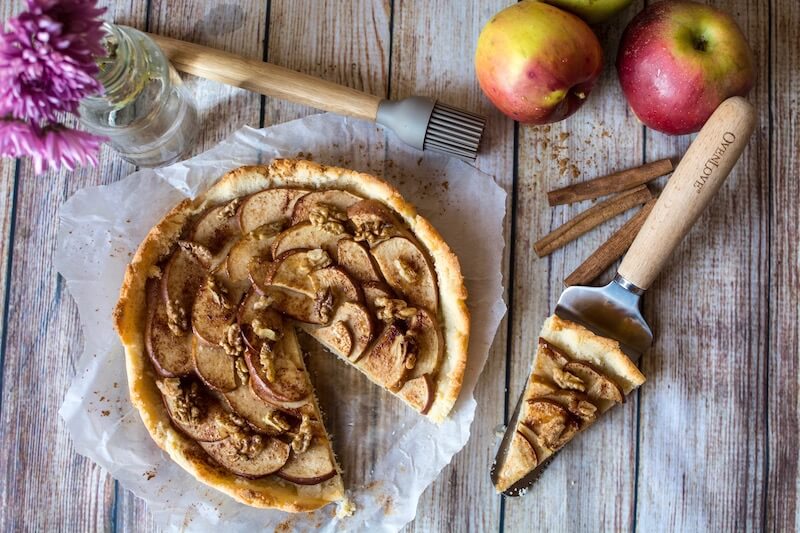 85. Rustic Apple Tart with Walnuts
86. Paleo Pumpkin Pecan Treats
87. Low-Carb Pumpkin Pecan Bars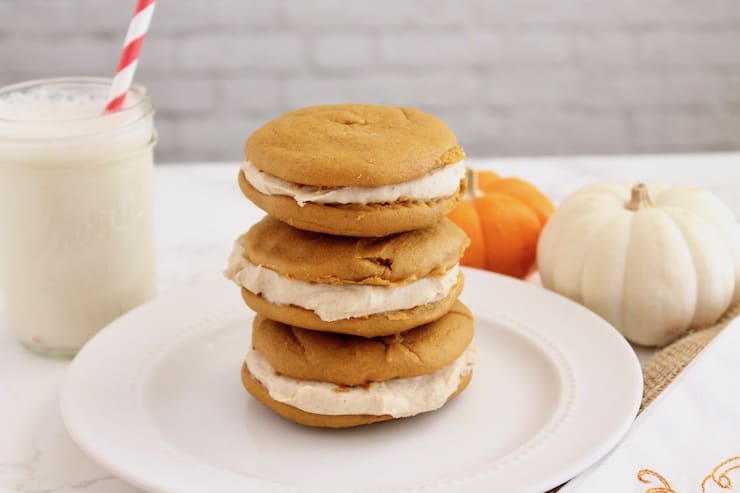 88. Pumpkin Whoopie Pie Cookies
89. Low-Carb Slow-Cooker Pumpkin Custard
Condiments & Gravy:
A paleo thanksgiving table is not complete without cranberry sauce and gravy. Luckily, it's not hard to make these recipes grain-free. There are a number of grain-free gravy thickeners to use in place of wheat flour as well as naturally sweetened cranberry sauce.
90. Caramelized Shallot & Bacon Gravy
No more missing out on gravy for your turkey this year. Smoky, smooth, and flavorful, you might start putting this gravy on everything. This recipe has a quick 10-minute prep time and an only 25-minute cook time. It can even be kept up for a week so if you're an early planner – this is for you.
91. Cranberry Cherry Apple Sauce
A delicious, artful mix of cranberries, cherries, apples, orange juice, cinnamon, and honey. Healthy and flavorful, this sauce will make you toss out those canned cranberry sauces and never look back.
92. Cranberry Satsuma Relish with Coconut and Ginger
The unique combination of cranberry and satsuma oranges is so refreshing and bold. This recipe also includes the fresh flavors of lime, ginger, walnuts, shredded coconut, cinnamon, and maple syrup. For those who like to prep early, this can be made up to 4 days in advance.
93. 5-Ingredient Slow Cooker Cranberry Sauce
94. Homemade Cider & Elderberry Cranberry Sauce